Feature:

YDE Young Creatives Programme
Youth Dance England's Young Creatives programme gives 15-19 year olds the opportunity to develop their skills in choreography. As part of the scheme the young choreographers participate in residential programmes at the Royal Opera House and Royal Ballet School, they are mentored by professional choreographers and their work is performed in the Linbury Studio Theatre at the Royal Opera House.


Laura Dodge visited the Royal Ballet School earlier this month to watch the final day sharing of work…
The Royal Ballet Lower School, White Lodge, set in the beautiful surrounds of Richmond Park, is usually filled with elite ballet students. But for four days during the Easter holidays, it was taken over by Youth Dance England's Young Creatives, the next generation of talented choreographers.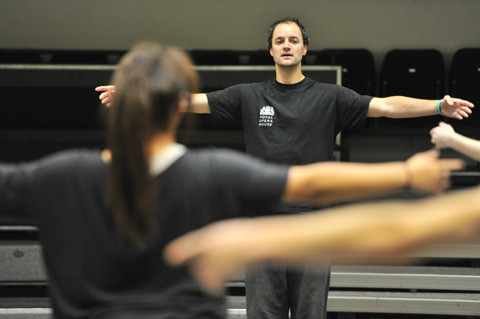 I joined some of them mid-way through a ballet class, led by the Royal Ballet School's Assistant Director Jay Jolley. In their baggy t-shirts and brightly-patterned socks, they seemed a far cry from White Lodge's usual residents. There was a collective groan as Jolley suggested they performed chaînés across the studio, but the young dancers were more than capable. "How good was that?" Jolley exclaimed, to which a student replied "sick"!
In the Margot Fonteyn Theatre, the young choreographers then shared their work with a small audience of parents and teachers from their home towns across the UK as well as YDE, Royal Ballet School and Royal Opera House (ROH) staff.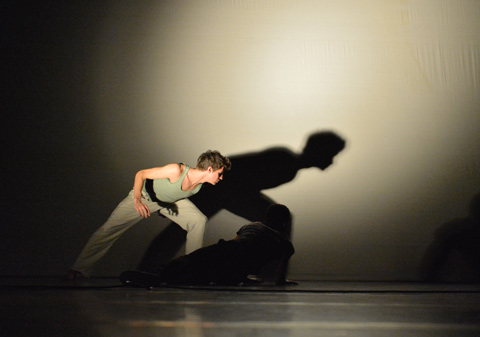 The completed works are to be performed at the ROH Linbury Studio Theatre on 17 May, so the sharing was of choreography in varying stages of draft. But although the pieces were unpolished, the choreographers' creativity and ingenuity was unquestionable. All the young people selected – Richard Chappell, Asmara Cammock, Barny Sharratt, Charlotte Statham, Chloe Green, Daniel Hammond, Danielle Campbell, Henry Ward, James Rosental, Molly Roberts, Morika Richmond and Robert Bridger – have a level of talent that is remarkable considering they are aged between 15 and 19 years.
My favourite piece was the as yet untitled self-performed solo by Daniel Hammond. In silence, he alternated between impressively athletic break-dancing and normal day-to-day activities, such as cleaning his glasses, made irresistibly comic. I am sure his name will be metaphorically 'in lights' in the near future, as will no doubt many of the other YDE Young Creatives.
Director of Youth Dance England, Linda Jasper, says,
"Young Creatives is a collaboration between Youth Dance England, the Royal Ballet School and the Royal Opera House and we couldn't do it without these important partner organisations. The project is important because it gives young people a chance to express their choreographic voice and that's so unique."
Laura Dodge writes for a number of publications including Dancing Times, londonist.com and English National Ballet's Dance is the Word blog.




The choreographers tell us more about their experience on the Young Creatives programme…
Barny from London:
"The experience has given me a fresh injection of new ideas and I look forward to creating more work in the future." Read the full interview
Asmara & Morika from London:
"It changed our approach to choreography, the way in which we throw ourselves into challenges and complex ideas." Read the full interview
Danielle from Wolverhampton:
"It was very interesting to see the influence people's individual backgrounds and training have had on their process of crafting their own masterpiece." Read the full interview
Daniel from Cambridge:
"It has given me many ways to generate ideas and be more confident with choreography." Read the full interview
YDE Young Creatives is run by Youth Dance England in partnership with the Royal Opera House, The Royal Ballet School, Yorkshire Dance and professional choreographers.
Review of the Performance on 17 May at the Linbury Studio Theatre: Donald Hutera
Find out more:
YDE Young Creatives