Review:

Breakin' Convention 2013 - Sadler's Wells
The dance world's a better place for having Breakin' Convention in it. Hell, it may even be that the world's a better place. Among the things I love about this annual festival of hip hop dance theatre – and why I faithfully return every year since it began in 2004 and, confessions of a completist, have seen everything on offer whether on the mainstage of Sadler's Wells or in the Lilian Baylis Studio – is how all-embracing and communal it feels. Although it might seem to attract mainly young people, it's actually a completely non-elitist, all-ages event in which artists and audiences enjoy a more direct and immediate communication than in just about any other dance-related performance context I can think of. It's loud and raucous (I take earplugs) and a great night out, but there's more to it than that. What I appreciate about curator and co-host Jonzi D's programming is that the focus has always been as much on art as popular entertainment. If I add that hip hop dance still has tremendous potential as an art form, it's largely because of all I've seen each Bank Holiday weekend in early May during the past decade.
So here's what I made of 2013's 10th anniversary edition…
Day one, Saturday 4 May:
Nearly half of tonight's roster of artists hailed from the UK. That includes self-described 'theatrical funk collective' Nomadic Souls. Featuring four locking specialists (girls in bright orange t-shirts, guys in lime) plus live drumming and digitally-triggered electric guitar, their curtain-raiser Talking in Tongues was abstract without being off-puttingly obscure. Another, even artier yet visceral quartet was Men on a Mission by Robby (Bad Taste Cru) Graham's Kompany Rep. The cast of b-boys shared a look – lank hair a la James Dean and booted, buttoned-up and almost neo-Nazi garb – and a shake, fling and spin style off-set by dry ice and dramatic shafts of light, all at the service of a moody take on addictive behaviour.
Ukweli Roach, a founding member of BirdGang, dealt quite differently with a roughly similar theme in Vice. Cleverly supported by eight other males, a man (Roach himself, presumably) sat at a table faced with his own near-demonic needs of smoke, drink and desire (the latter personified by a woman in a short nightdress). The result was surreal dark comedy set to a killer soundtrack. (It's worth noting that this year boasted some of the most rhythmically sophisticated instrumental tracks yet heard in the festival.)
It was good to see the resources of Sadler's Wells put at the disposal of younger groups. In PPL's Cosmic Revolution (choreography: Sia Gbamoi and Dani Harris-Walters) a huge, mixed crew held nothing back, delivering full-bodied emotion both individually and collectively; it was, as a friend remarked, an outpouring of 'passion without kitsch.' Kloe Dean's energised b-girl ensemble Myself lent classy speed to what at times were almost South Asian patterns and shapes. Aptly, the work was called Liberated. And how could you not love the 10Tens [pictured], an ad hoc gang of as many youngsters who share the same age as Breakin' Convention? They did the choreography of Vicky 'Skitylz' Mantey and Bruno 'Boom' Perrier proud.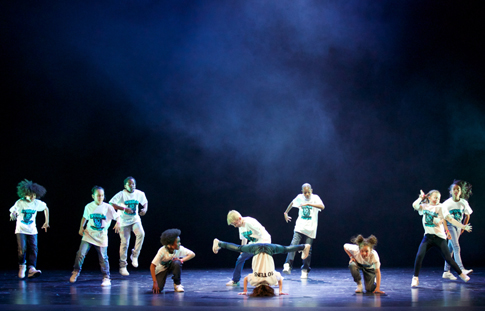 On the foreign front, the six show-bizzy vamps of French collective Zamounda lived up the title of their work Crazy, Sexy, Cool with strength and style. The all-male Next Level Squad hail from Brooklyn, where they've developed a freakily enjoyable technique dubbed 'flexing' that's predicated on the dancers dislocating their shoulders and twisting their own and each other's arms. Wearing gas masks, in Bonebreak-king they augmented this spidery, groan-inducing aesthetic with dry ice (rather a lot of it at this year's fest). Although I'm unsure how far the Squad's circussy gimmick can go, for now it's unique.
As is ILL-Abilities [pictured], an international crew who transcend their various disabilities (deafness, artificial limbs, genetic bone deformation, etc) through sheer will and devotion to dance. As they prove in Limitless, these five guys are so much more than poster boys for the arts and disability. Each is a fearless performer fuelled by a philosophy (conveyed via voice-over) that means something to them and us. Their honesty and fierce conviction earned these Olivier Award nominees a standing ovation.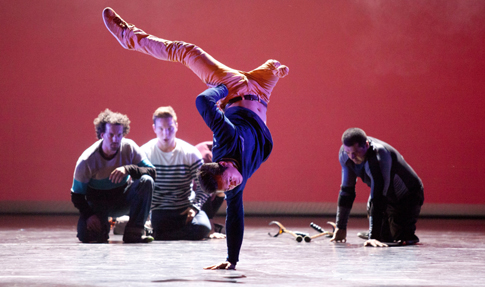 There was more autobiography in 28 Years in 28 Minutes. Staged in the Baylis by Germany's Storm (real name: Niels Robitzky), this solo was a charming mix of dance and simple yet ingenious animation. Besides being a wonderfully unpretentious slice of personal history, it also showcased its creator's undeniable kinetic skills.
Back on the mainstage Korea's Project Soul Collective brought the night to an audacious close with Urban Arirang (the latter word refers to an anthemic national folk song). What a curious, imaginative, ceremonial blend of wacky humour and politics it was, loosely pitting the forces of gangnam-style commercialism against rampant militarism à la Kim Jong-il. The lighting in choreographer Duck Huyn's production was notably colourful, the soundtrack highly Korean-flavoured and the film backdrop a mix of quick, subliminal imagery and film animation (both comic, including a field of dancing black calves, and strangely beautiful, especially a seal perpetually rotating in water). What's more, the ten-member crew were all virtuosos.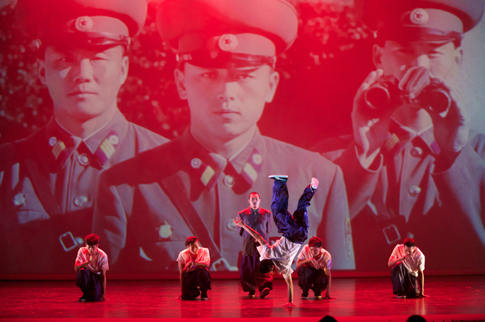 ---
Day Two, Sunday 5 May:
Again the emphasis was on UK outfits. Tonight got a fresh kick-start thanks to the tumbling together of lindy, tap and breaking in
Grounded's
Alien States
(choreography:
Temujin Gill
and
Sunanda Biswas
). There followed in quick succession
Protocol's
Antibody
(choreography:
Lanre Malaolu
), in which seven buff, shirtless blokes put themselves through some arrestingly slick, smart mechanics, and
IMD

Legion's
Here to Show
(choreography:
Omar Ansah-Awuah
and
Warren Gordon-Scott
), a chunk of ensemble ferocity set to battering rhythms.
After a screening of the short youth-led film The Exhibit, the Soul Mavericks brought the house down with The Sole Maverick (choreography: Lee Crowley, Ashley Patricks and Gavin Vincent). Here a dozen or so sensational male rhythm acrobats were matched every step of the way by 'Eddie and Terra' Atkinson, age nine and six. I'm uncertain which is which, but I did learn that these scene-stealing b-girls have been training in hip hop since they were, respectively, three and two years old. It doesn't seem off the mark to dub them the supremely confident future of a thriving art form.
There were welcome repeat performances from Zamounda and NextLevelSquad, whose work seemed both brighter and tighter than the previous night. Afterwards the Baylis hosted a British double bill: TrashDollys Dance Theatre's Chaps in Stripes, a pretty engagingly stylised face-off between b-boys Sam Amos and Alex Rowland, and Waistman, a solo by Clown By Law aka mO'sEAn, a theatre-trained rapper, popper and contemporary clown whose incarnation of a possibly unhinged hobo was a fine, deliberately shambolic springboard for his multiple talents.
Part two of the evening's mainstage fare built beautifully, starting with a solo for Emilie Sudre by Anthony Egéa of France's Compagnie Revolution. Soli 2 (possible translation: solitude?) likely rank as the flat-out sexiest – and in a truly adult fashion – dance in the festival's history. The floor was a square island of white on black. Shapely and strongly sensual, the superb Sudre stalked on in heels and a little black dress made of stretchy fabric; eventually one, then the other shoe was discarded, while the garment worked its way over her face (note well: to Middle Eastern music) before it, too, was removed. Sudre's moves – controlled twists, sharply-calibrated somersaults and limbs tracing the floor – possessed both a mesmerising clarity and an inexplicably mysterious element of suggestion. In this publicly-executed study in privacy she came across like both a solitary person and Everywoman.
From there to the living history that is the Electric Boogaloos [pictured]. In The Museum these pioneering 'papas' of popping and boogaloo initially appeared on platforms in silver suits, like robotic mannequins ushered through time via a pop/r&b soundtrack, before gradually relaxing into extended solos. The simple premise acknowledged cultural history and the Boogaloos' place in it, the bulk of their act affording us the pure pleasure of watching Mr Wiggles, Suga Pop, Popin' Pete and second-generation Shonn Boog strut their stuff either separately or as a unit.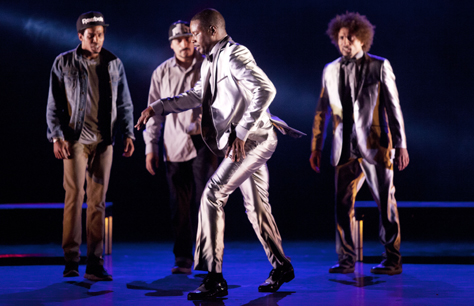 The finale was another utterly inspiring shot of lump-in-throat personal political activism from ILL-Abilities. The men really nailed it, surpassing their own performance the night before.
---
Day three, Monday 6 May:
After Saturday and Sunday's combined five-star high the closing night – boasting ten commissions from UK companies only, no mean achievement – was almost inevitably going to be at least a bit of a come-down. It seems obvious, too, that not everything on a roster of completely untried, untested short works was going to automatically be a winner. Afterwards I was reminded of the words from a member of
ILL
-Abilities:
'Our biggest challenge is ourselves.'
Here the challenge for each group was to live up to creative standards they'd set for themselves, and to my mind not everyone did.
First out of the gate were Breakin' Convention veterans Unity in Tashan Muir's E50, part two of the company's 2012 festival work The Intro. An impressively disciplined bunch, full of attitude and hard-limbed flash, their dancing apparently signalled a drama involving gangs in rival but neighbouring postcodes. You coulda fooled me, but I didn't not enjoy watching them.
Cardiff's Jukebox Collective contributed Liara Barussi's Rising Five, in which a handful of roaming, high-sprung youths survive an onslaught of graphic digital game environments. The dancing was lively and the piece fairly captivating visually. In its wake seven plainly more than competent members of Birdgang tried stretching, in a piece called Murmur, what theatricalised dance can do by using hats and hoods, flashing lights and a lot of smoke (but no mirrors). I didn't mind any of it, but failed to perceive the purpose behind what seemed at best a diverting enigma.
Mickael 'Marso' Riviere's Company Decalage took a risk in ConsuMorphosis, showing a side of hip hop slanted more towards contemporary dance than the fast shuffling of big group formations so many others favour. It began with a brief series of filmed images (stacks of refuse and, poignantly, the corpse of a bird that had swallowed plastic). Each of five male dancers, including Riviere, then shifted out of a mid-stage clump and into solo and group moves that put a struggling, sober-minded spin on b-boying. Although the piece never coalesced into anything conclusive, it betrayed an integrity that seemed worth sticking with if only to discover how the dance might refine and define itself. Interestingly, too, in a genre often top-heavy with beats I don't even recall the music; but this I like.
Tony Adigun's Avant Garde Dance closed the first half with Milk +lus [pictured]. Like Birdgang's work, but with a bigger cast, the piece seemed hell-bent on inducing a state of 'confusion' not as 'delightful' as a programme note hinted it was meant to be. Among the images, sounds and props were a giant digital clock, doctored Beethoven, butchers' garb, three faux swinging carcasses, men as posturing abusers and the victimised women who let them get away with it, plus the by now over-familiar sight of rows of people dancing fast in unison. All-told, it was an ambitious but wayward work that I lacked an ability to decipher.
Things didn't turn out appreciably better after the interval. Peace Ends: Summit: Piece Ends by Hakeem Onibudo's Impact Dance was a state-of-the-world abstraction for a handful of business people in half-garments wheeler-dealering to a live drummer on a high platform centrestage. Desperately, and unsuccessfully, they tried to clamber up near to him until the mass of dormant bodies draped on or in front of his perch awoke, arose and then…damn it, the piece just stopped. Talk about an anti-climax. Or was impotent protest the whole point of this experiment?
Bad Taste Company's prolific Robby Graham bounced back with Faust [pictured]. Here three men apiece sat at two tables swilling drink to the music of Dave Brubeck. Gradually they waxed more expansive, springing up and cavorting on chairs and with each other to hot big-band jazz. The piece had a knowingly sloppy, rumbustious spirit almost guaranteed to please the crowd.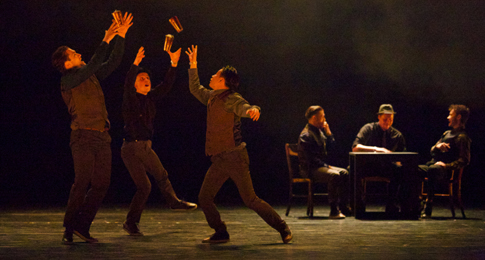 I'd rather thought hip hop dance theatre had wearied of simplistic fables about the apocalyptic opposition between good and evil, but I guess was wrong. Plague's take on HG Wells' War of the Worlds, choreographed by company director Brooke Milliner, seemed more nullified than egregious. Like a few too many other groups, Plague was guilty of flashing lights in our eyes (a practice I rarely understand). There was an adept female contortionist, people in gas masks (another 2013 motif) and protective white bodysuits, more dry ice and robotics and squadrons of dancers scurrying into place so they could slam out fast, full-body gestures. By now, I fear, hip hop's limitations were beginning to show and dance did not seem, alas, like it could save the world.
Love Is was a disappointing collaboration between ZooNation's Teneisha Bonner, Tommy Franzén and Kate Prince. Bonner and Franzén are certifiably top-notch dancers, while Prince's gift for dance-theatre approaches genius. Here, however, they surrendered their considerable combined talents to a scenario of longing, loss and less than illuminating overstatement that took its cues and tone from some mightily annoying pop-soul ballads. (Why do so many of today's young female vocalist's expressions of heartache all sound so nasal-whingeingly similar?) Maybe the piece will deepen and grow, but on the night subtlety and beauty were missing.
This historic but hit-and-miss bill climaxed with Boy Blue Entertainment's Emancipation of Expressionism. Set in part to a blast of bullet-riddled beats, the piece posited a small army of dancers in prison-like blue-grey mainly krumping with precision-tooled grandeur. Head honcho Kenrick 'H20' Sandy, always a mega-powerful presence, slunk in and out of centrestage and also shared a notable popping duet with one of the women. He and his crew are among those who'll be unleashed on the stage of Harlem's famous Apollo Theater next month when Breakin' Convention goes overseas for the first time. Wish I could be there.
Donald Hutera writes regularly about dance, theatre and the arts for The Times, Dance Europe, Animated and many other publications and websites
Leave a comment
You must be signed in to post comments.