News:

WEEKLY DANCE GUIDE 24 SEPTEMBER 2018
Hofesh Shechter's Clowns. Photo by Todd MacDonald.
Monday
If you missed Hofesh Shechter's Clowns on BBC Two at the weekend, you can catch up on this macabre comedy of murder and desire on iPlayer. Directed, choreographed and composed by Shechter himself, this bold and exhilarating work is performed by ten of his company dancers and translates beautifully on to the screen.
Tuesday
Berlin-based collective Transforma present the UK premiere of Manufactory at the Barbican on Tuesday. Inspired by industrial processes and a bygone era of manufacturing, the work forms part of the Barbican's The Art of Change season. An ensemble of dancers perform a choreography of process, while a score by electronic musician Sascha Ring (Apparat) takes the form of a series of phasing loops that both respond to and trigger the performers' actions, creating an intriguing system of interdependence.
Wednesday
Tony Adigun's Fagin's Twist comes to The Place for two performances this week, offering the chance to see Dickens' famous characters in a whole new light. The much-loved Victorian tale is turned on its head – and into a contemporary hip hop dance theatre piece.
Thursday
Dance Umbrella – London's international dance festival – opens this week, and first up is a romp through the writings of 17th century diarist Samuel Pepys, from New York City ensemble Big Dance Theater. 17c at the Old Vic asks what the Baroque 'hipster's' compulsions tell us about our own social media-obsessed times.
Friday
Choreographer Tara D'Arquian collaborates with poet Jemima Foxtrot and designer Fridthjofur Thorsteinsson to depict a story of self-deception at Laban Theatre. Bad Faith follows the story of Nora, 20 years after disappearing, wandering through a parallel world and encountering uncanny manifestations of her inner darkness.
Saturday
Everything That Rises Must Dance is a large-scale dance piece created with over 200 women from across London – mostly non-dancers, of various ages and backgrounds, who applied to take part in this inclusive celebration of female movement. It's the brainchild of director and choreographer Sasha Milavic Davies, and devised with composer Lucy Railton. The work receives its premiere at Peninsula Square in Greenwich, with further performances in BOXPARK, Croydon and Somerset House as part of Dance Umbrella, all free to attend.
Sunday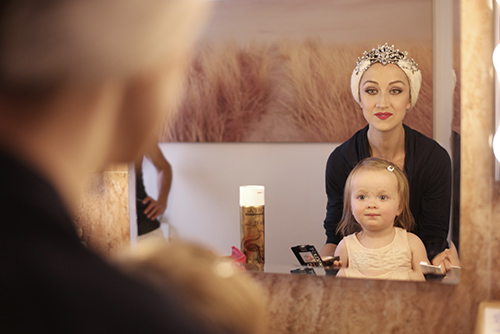 The Feminista Film Festival at The Tabernacle in Notting Hill celebrates female athletes and artists from around the world through documentary film. The inspiring programme of works includes a number of films featuring dancers, including Lauren Cuthbertson and Sarah Lamb of The Royal Ballet (on Friday and Saturday respectively). The Sunday Family Programme includes Balance, a short documentary following Laura Purkiss of Birmingham Royal Ballet, a mother of two (pictured), and Journey to your Dream with Ingrid Silva of Dance Theatre of Harlem.