News:

WEEKLY DANCE GUIDE 15 - 21 OCTOBER 2018
Photo: Tomorrow's Stars Today – BA3 Commissioned Works at Trinity Laban
Monday
Discover more about the historic auditorium of the Royal Opera House, built in 1858, on one of the regular Velvet, Gilt and Glamour Tours – and be sure to take a wander around the recently-refurbished foyer areas, which feature costume and artwork displays within the stunning architecture.
Tuesday
Dance Umbrella brings experimental Greek choreographer Dimitris Papaioannou to Sadler's Wells this week with The Great Tamer. Expect visual trickery, dreamlike images and nightmarish creations in this visually-rich piece, which draws on Greek classics and Papaioannou's visual arts background to create a surreal investigation of life and death.
Wednesday
Colin Dunne is arguably Irish dance's most celebrated contemporary artist. He comes to the Barbican this week as part of Dance Umbrella, with something of a challenge: the 'undanceable' music of virtuoso fiddle player Tommie Potts. Concert sees Dunne enter into a creative dialogue with Potts' 1972 album The Liffey Banks, armed with a turntable, portable speakers and sheets of flooring.
Thursday
A great opportunity to catch the dance stars of the future, Tomorrow's Stars Today – BA3 Commissioned Works features work by choreographers Gary Lambert, Zoi Dimitriou and Struan Leslie performed by third-year Trinity Laban students (pictured above).
Friday
There are still a handful of tickets left for Akram Khan Company's much-loved family show Chotto Desh, which returns to the Lilian Baylis Studio at Sadler's Wells. Meaning "small homeland," Chotto Desh draws on Khan's unique quality of cross-cultural storytelling, following a young man's dreams and memories from Britain to Bangladesh using a unique mix of dance, text, visuals and sound.
Saturday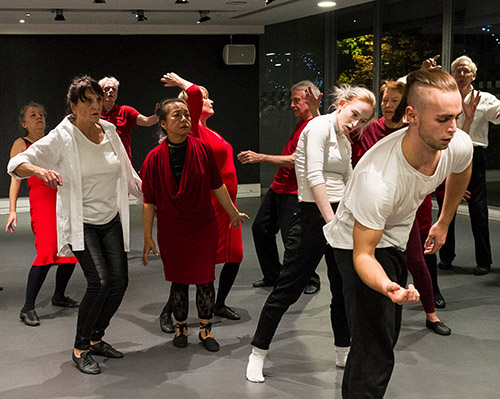 The V&A celebrates the opening of its Photography Centre with playful new pop-up performance Dancing Memories, created and performed by Sadler's Wells' National Youth Dance Company alumni and dance company for over-60s, Company of Elders. Each 40-minute participatory performance will encourage movement participation from its audience, inspired by its surroundings, with performances at 11am, 1pm and 3pm.
Sunday
Montreal-based quintet Le Patin Libre do dancing on ice like no others. Threshold, which comes to Alexandra Palace Ice Rink this weekend as part of Dance Umbrella, combines athletic virtuosity with joyous physicality. It follows the company's last performance in London in 2014 with the award-winning Vertical Influences, recently seen on BBC2 and available to watch on the Dance Umbrella website.