News:

Weekly dance guide 10 September 2018
Monday
Award-winning physical theatre company Gecko returns to Battersea Arts Centre with Missing, the show that was interrupted by the devastating fire of the Grand Hall in 2015. Missing uses choreography and a multi-lingual vocal landscape to delve into the depths of the human psyche, and forms part of Battersea Arts Centre's celebratory Phoenix Season as the first theatre show to be staged in the newly-restored Grand Hall.
Tuesday
The beloved all-male comedy ballet troupe Les Ballets Trockadero de Monte Carlo – known by their fans as 'The Trocks' – return to The Peacock with two programmes of side-splitting send-ups and hilarious homages to classical ballet – expect Swan Lake, and The Little Humpback Horse like you've never seen before.
Wednesday
Natalia Osipova: Pure Dance at Sadler's Wells is a handpicked programme of classical and contemporary repertoire performed by the superstar ballerina and Royal Ballet principal. The programme includes Antony Tudor's The Leaves are Fading and Roy Assaf's Six Years Later, alongside three world premieres: two duets by Alexei Ratmansky and Iván Pérez (performed with American Ballet Theater principal David Hallberg and Jonathan Goodard respectively), and a solo by Yuka Oishi specially commissioned for the programme.
Thursday
The intimate and voyeuristic new work from choreographer and dancer Jefta van Dinther comes to the Sadler's Wells Lilian Baylis Studio this week for its UK premiere. Dark Field Analysis takes its name from an unconventional 'live' blood test, which Van Dinther uses as a starting point to explore the intensity of being alive, as two naked men navigate an intricate duet with spoken word.
Friday
For a hilarious take on Instagram-era self-improvement culture, head to The Place for Sara Blanc's My Feminist Boner, a dance-comedy show about how the world helped Blanc get turned on by feminism, which sees her test a range of over-the-counter beauty contraptions designed for making 'the better you'. This went down a storm at the Brighton Fringe.
Saturday
Blak Whyte Gray at the Barbican is a galvanising triple bill from hip-hop dance stars Boy Blue, created by founders Michael 'Mikey J' Asante and Kenrick 'H2O' Sandy as a personal response to their experiences and observations of the world. Identity, oppression and transcendence are all tackled in this rousing production, which has been nominated for an Olivier Award.
Sunday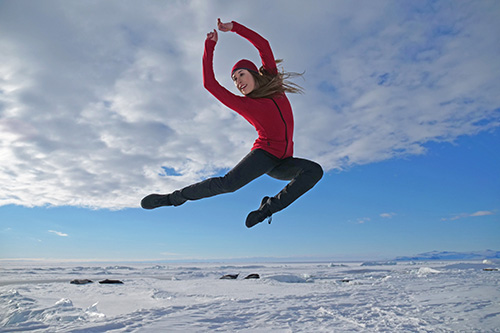 Antarctica: The First Dance is the first dance film to be created on the world's last great wilderness. Created by choreographer Corey Baker and commissioned by Random Acts for Channel 4 and The Space, the five-minute film stars Madeleine Graham of Royal New Zealand Ballet performing in an awe-inspiring landscape. The film was released on Earth Day, and is now available to watch on the Corey Baker website.