News:

The Royal Opera House opens up
Royal Opera House exterior © ROH, Photo by Luke Hayes 2018
The Royal Opera House has opened the doors to its transformed new home, following an extensive three-year renovation project.
At the heart of this project is a brand new Linbury Theatre, which provides an additional world-class stage for The Royal Ballet, The Royal Opera and a host of international artists. The fully flexible space incorporates up to 406 seats, with 25% of seats priced at £25 or less.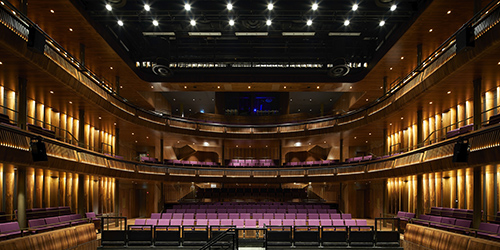 The Royal Opera House's redesigned Linbury Theatre © Hufton + Crow, 2018
The project was designed by award-winning architects Stanton Williams, and includes inviting new entrances, extended foyers and terraces and a new café, bar and restaurant. These new spaces will be brought to life with a year-round programme of daytime events for all ages – from workshops in backstage theatre crafts to performances and exhibits and the return of the popular tea dances – as the building is now, for the first time, open to the public every day from 10am.
The extensive refurbishment was achieved while the building was still in operation. There have been 996 performances in the Royal Opera House since construction began, a process Chief Executive Alex Beard describes as "a bit like having open heart surgery while going for a run".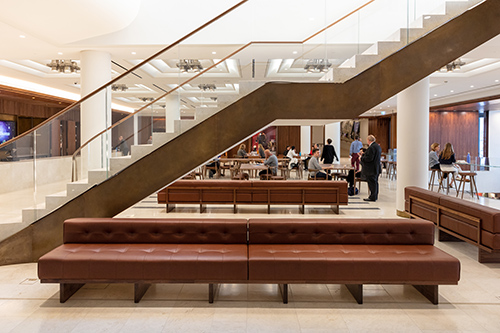 The Royal Opera House's Main Foyer ©2018 ROH. Photograph by Luke Hayes
In its inaugural season, the new Linbury Theatre showcases dance from The Royal Ballet, National Dance Company Wales, Ballet Black, Lost Dog, Cas Public and more.
Emma Southworth, Creative Producer for The Royal Ballet, said:
"I'm delighted to be able to welcome audiences into this beautiful, intimate new theatre, offering an international stage for The Royal Ballet and dance, giving us the opportunity to collaborate with artists from across the country and beyond. It's so exciting to be able to fill the space with such a variety of programming, especially with artists who are so well known to audiences through their past work with The Royal Ballet."
The season includes:
Olivier Award-winning ballerina Alessandra Ferri, American Ballet Theatre Principal Herman Cornejo and pianist Bruce Levingston present TRIOConcertDance, featuring choreography by Demis Volpi, Russell Maliphant, Wayne McGregor, Herman Cornejo, Fang-Yi Sheu and Angelin Preljocaj
The Royal Ballet presents New Work New Music, a collaboration with the London Sinfonietta, including a new work by Aletta Collins performed by an ensemble of female dancers
International Draft Works, a forum for choreographers and dancers to explore ideas and present developing work
National Dance Company Wales presents

AWAKENING

, featuring contemporary works by Fernando Melo, Caroline Finn and Marcos Morau; and Discover Dance, an interactive performance offering children and families the chance to dance on stage with the company
Introdans returns to the UK for the first time in over a decade with the Dutch Masters mixed bill
Ben Duke's company Lost Dog presents Juliet & Romeo, a witty reassessment of Shakespeare's star-crossed couple, which runs alongside The Royal Ballet's revival of Romeo and Juliet
Canadian company Cas Public presents the UK premiere of 9, produced in collaboration with Belgian company Kopergietery. Choreographed by Hélène Blackburn, the piece is inspired by Cas Public performer Cai Glover, who overcame a hearing impairment to become a professional dancer
Ballet Black presents a mixed programme of work, including Cathy Marston's The Suit
The inaugural Young Talent Festival, featuring performances from some of the world's leading junior companies and schools.
In the Clore Studio, Yorke Dance Project presents Playground by Kenneth MacMillan, alongside a new work by Robert Cohan, created as the company celebrates its 20th anniversary. Wayne McGregor, a mentee of Cohan, joins him for a Q&A after the performance.
Looking ahead to the 2019/20 season, The Royal Ballet and Rambert present Aisha and Abhaya, a co-production in association with BBC Films, directed by ground-breaking London-based filmmaker Kibwe Tavares and choreographed by Sharon Eyal. Aisha and Abhaya (meaning 'Hope and Fearlessness') is a contemporary fairytale about two sisters seeking refuge from their homeland in a fantastical world, which proves to be riven with familiar troubles and dangers. Set to a commissioned score by GAIKA and Ori Lichtik, with costumes by visionary artist Uldus Bakhtiozina, this new dance work combines film, animation and live performance by Rambert's extraordinary dancers to tell a compelling parable for our times.
Visit The Royal Opera House website for full programme details.