News:

"This isn't just about fatness and dance – it's also about class and dance."
Artist and writer Scottee creates work that is political and provocative. From exploring working class masculinity in his first stage text Bravado to uncovering a queer community turning to neo-nationalist groups in his critically-acclaimed 2016 show Putting Words in Your Mouth, he has secured a reputation as a uniquely talented and progressive performance artist whose work is bold, brash and with something to say. His new show, Fat Blokes, comes to the Southbank Centre this month, and marks his first foray in to dance.
"I exist in a world in which the seat next to me on train, planes and buses is always left free" explains Scottee by email. "Folk take pictures of me when they think I'm not looking, they nudge their friends, point and laugh. I'm berated publically by those surrounded by their friends or in vans, they shout insults at me for being fat and taking up too much room. When I go to the doctor with eczema I leave with gastric surgery leaflets in my hand. The telly dedicates its prime time programming to wanting to fix me yet I don't feel broken, or that I deserve the violence or abuse – that's why [I created] Fat Blokes, 'cause I'm confused, angry and mouthy!"
In his own words, Fat Blokes is "about flab, double chins and getting your kit off in public", uncovering why fat men are never portrayed as sexy but always as funny, always the 'before' but never the 'after' shot. So what made him choose dance as a medium?
"As fat people, we are told to lose weight, to exercise, to move more and so we're doing just that! I wanted to see what would happen if we gave the public what they wanted – fat people sweating for their supper! However, this comes with a price – it means you have to listen to our experience at the same time.
"Why dance? Well, my only encounters with dance (even the stuff that considers itself 'diverse') has only ever put thin folk front and centre. It feels bloody exciting to make it fat …and common! Most of us are working class, we grew up in poverty so this isn't just about fatness and dance – it's also about class and dance."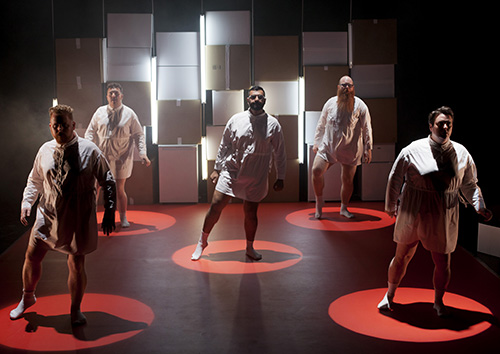 Fat Blokes was made in collaboration with renowned choreographer Lea Anderson MBE, founder of the pioneering all-female dance company The Cholmondeleys and all-male The Featherstonehaughs in the 80s.
"When I was 18 I used to roll around the same arty nightclubs as Lea" says Scottee. "She'd put on turns and acts at Duckie, I shared the stage with her weirdos a few times and so plucked up the courage to ask her for a cuppa tea to see if she fancied making a fat dance show with me – she said yes. It's been magic – we are different sort of artists but we're democratic, like weird stuff and so it's been a right laugh."
All of the cast are new to dance, which was something Anderson took in her stride.
"I think it is important and very interesting to see all sorts of people dancing on stage", she explains. "It enables an audience to identify with the work. As a director or choreographer, that is what you what you are after. Making connections."
"I have worked with many performers who have no experience of dance and also non performers who for some reason find themselves in the position of being choreographed by me. I find all groups of non-dancer people to be similar in that they are all different, and they are all nervous to do something new and demanding. The Fat Blokes company was extremely well behaved and quite charming. They all worked very hard and I think some great stuff was produced by all the newly dancing performers. New dancers try very hard."
"I ran an open call", explains Scottee. "I asked anyone who identified as male / masculine or AMAB (assigned male at birth) who was fat to come forward and give it ago. None of us have ever done proper dance like this before, some of us had never been on stage before. Lea and I wanted a range of bodies to play with, we also wanted the right stories in the room as Fat Blokes explores more than just fat – it's about how we feel about our bodies, violence, growing up, being left out and what utopia looks like for us."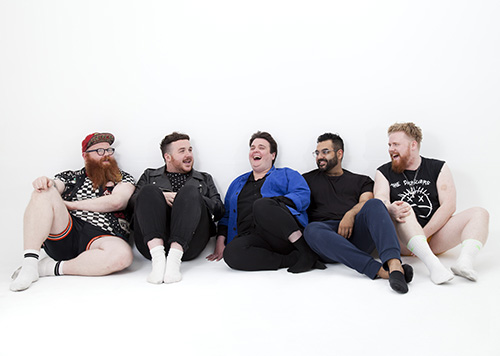 It's a show that clearly resonates with audiences. "So far there's been a lot of audience crying, a lot of them waiting for us in the bar to offload and share their story" explains Scottee.
"I think Fat Blokes is a show for anyone who's ever second guessed themselves, who's worried if they were good enough or pretty enough. All we ever wanted to make was something that told the truth – that wasn't a show about pride or shame. We've made something that is about the confusing head space of being a fat person."
Fat Blokes comes to the Southbank Centre on 8-11 November.
Photos by Holly Revell