Interview:

FILMMAKER LYNNE WAKE ON QUEEN, BÉJART AND BALLET
In 1997, renowned choreographer Maurice Béjart teamed up with Queen for an extraordinary collaboration: the first full-length ballet to rock music. An epic production costumed by Versace, Ballet for Life brought ballet in to a new arena. 21 years later, this landmark work is revisited in a new documentary, Queen and Béjart: Ballet for Life. We spoke to director Lynne Wake to find out more.
"When Ballet for Life was at Sadler's Wells in 2000, I had tickets but then I got the flu so I missed it", Lynne explains of her first (almost) encounter with the work. "I'd seen the unbelievably poor reviews that the British ballet critics had given it and I didn't believe them because I remember seeing Maurice Béjart's company for the first time at the London Coliseum when I was a dancer, and they were just incredible."
In many ways, Béjart and Queen – both known for their showmanship – was a perfect meeting of creative minds.
"The opening of the ballet is intense", explains Lynne. "It's a white stage and the dancers come out from under shrouds slowly to 'It's a Beautiful Day' by Queen. It was as if the dead are coming back to life, one by one. It's quite amazing. I thought, what a genius. This is like the awakening in Sleeping Beauty, or the fourth act of Swan Lake where the swans come out from the dry ice."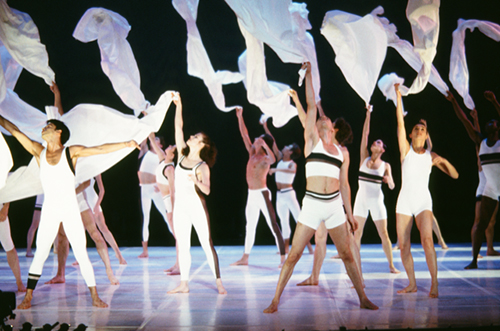 The new documentary looks back to the making of Ballet for Life, using never-seen-before footage from the first rehearsals and performances in 1997, alongside an interview with Béjart and footage of Freddie Mercury rehearsing with the Royal Ballet. It also weaves in new interviews with Brian May and Roger Taylor of Queen, Arlene Philips and Wayne Sleep, alongside new footage and interviews with today's Béjart Ballet Lausanne and the company's Artistic Director Gil Roman, pictured below.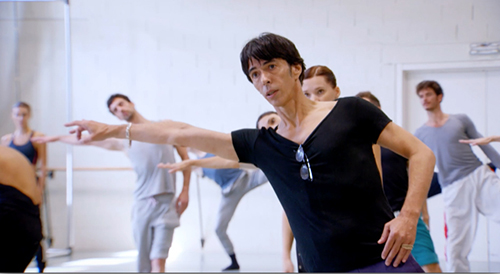 Since its premiere in Paris – with Elton John fronting the band in their first public performance since Mercury's death – the ballet has toured the world, fulfilling Mercury's ambition of taking ballet to the masses.
The ballet also marked the first time that Queen allowed anyone else to use their music, and Béjart took a unique approach. "This is a choreographer who compiled his own score. Even the linking passages – wind whistling, birds – he found in Queen's albums. This was long before the internet. He picked bits from everywhere like a magpie on a reel to reel tape recorder."
As a former professional ballet dancer, Lynne is uniquely placed to direct this documentary.
"I remember a cameraman I used to work with when I first started doing dance film. He was a great cameraman, but he said 'Lynne, dance is another language'. He'd filmed everything, including wars, and he found it very difficult to know how to film a classical ballet. As an outsider you might look at Ballet for Life and think they're all rocking out to the music but they're not – I can see what they're doing. That's my dance training."
Her experience as a dancer also means Lynne can relate to the driving force of the ballet – the loss of two legendary performers to AIDS in the 1990s: Mercury and dancer Jorge Donn. Béjart used these two high profile deaths to mourn the loss of a generation of artists who were dying of this socially stigmatised disease.
"The AIDS scare was very much hitting ballet in the 1990s, and some of my friends who had been dancers, died", explains Lynne. "Béjart made the ballet because he lost Jorge Donn, this amazing, beautiful, strange Argentine dancer. He was the love of Béjart's life, and he lost him in 1992. This ballet was Béjart working out how to work and live without somebody."
This emotion is laced throughout the work. "There's a very strong piece in the ballet performed to Mozart's 21st piano concerto, in which a couple are on hospital trolleys being trolleyed around to this beautiful music. It's very painful to watch: nearly naked people, with people in clothes pushing away from them. It was obviously very strong to Béjart, and I wanted people to talk about how it was."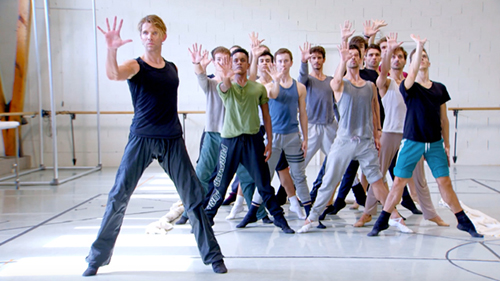 Revisiting the work with today's Ballet Béjart Lausanne, pictured above, proved a poignant experience for the film crew.
"It was a very emotional experience, with Freddie Mercury's voice booming at you and these beautiful dancers. We were overcome; tears welled up. They're a great company, and it is a very powerful piece."
Queen and Béjart: Ballet for Life receives its London premiere at the Ciné Lumière on 12 September.
Lead photo: the original cast of Ballet for Life (soloists: Gregor Metzger and Domenico Levrè)