News:

Hetain Patel - going global
Hetain Patel is a visual artist who works in photography, video – and more recently live performance/dance theatre. He is currently a New Wave Associate Artist at Sadler's Wells. Earlier this year he gave a talk, with dancer Yuyu Rau also on stage, at a TED conference, where the world's leading thinkers and creators give give short presentations on their work (18 minutes maximum). Who am I? Think again appeared for the first time online last Friday (18 October) – and has already been viewed nearly a million times. We asked Hetain how it feels to be reaching a global audience…



As such a big fan of TED, the thought of being able to do one hadn't even crossed my mind, so being invited was a shock to say the least. It happened through one of the TED curators hearing about my performance of Be Like Water at the Royal Opera House last autumn. We were invited to present an eight minute version of the hour-long show at TED Global back in June 2013 in Edinburgh. Quite a challenge!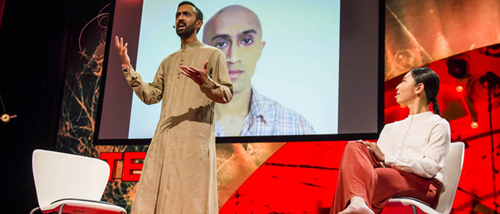 The whole experience, from the prep to the talk itself, was just surreal – it felt like I was watching someone else do it. The most impactful memory is the live response we got to the talk from the TED delegates attending – it was crazy! Such an amazingly warm, vocal and engaged crowd. There were about 800 people in the audience and I've never had so many people react in this way before to my work, so it felt particularly unexpected considering the caliber of all the other talks happening throughout the conference. For the rest of the few days we were there, I was inundated by congratulations and business cards from all types of professionals. My collaborators dancer Yuyu Rau and dramaturge Eva Martinez were there with me, we were so excited to bring art onto the TED stage to such a great response…
I've been recently catapulted back into that world with the talk going live on TED.com. The views in just a few days on their website and You Tube have reached nearly a million. The most I have performed to live is 800 people – so that feels overwhelming. I know what the Sadler's Wells main auditorium looks like when it's full (from sitting in the audience). My brain cannot conceive of what one million people feels or looks like – how many Sadler's Wells auditoriums is that? This, along with all the national and international press I've been getting since, feels bizarre but very rewarding.
It coincides with me launching my new work this week, my first sculpture called Fiesta Transformer where my dad and I turned an old Ford Fiesta into a Transformer robot inspired by the American TV series which TED has shared on their blog, helping reach an incredibly wide audience with both aspects of my art practice: my visual art work and my live performance.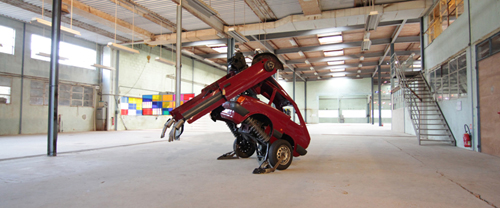 Fiesta Transformer – part of SPHERES 6
26 Oct – 22 Dec 2013
Galleria Continua, Le Moulin, France
More details:
www.galleriacontinua.com



Leave a comment
You must be signed in to post comments.