News:

Dancing from John o'Groats to Land's End
Tutu-clad long distance dancer, 35, seeks rhythmic residents of Devon and Cornwall (WGSOH) for dancing & fun to help him boogie to the end of the world's first John o'Groats to Land's End dance.
Teacher and amateur dance lover Ben Hammond has recommenced the final 300 miles of the world's first ever dance from John o'Groats to Land's End reaching the famous signpost at 3pm on Saturday 27th July. Setting out from Sidmouth on 6th July clad in his unmissable yellow tutu and shimmying along Devon and Cornwall's stunning south west coast path, Ben is inviting residents and holidaymakers to join him whenever they catch a glimpse of his twirling tutu:
"So far I've completed 1000 miles of my country-wide charity conga and along the way I've danced with over 30,000 fun-loving folk – everyone from cheerleaders to pensioners, lollipop ladies (& gentlemen) to Zumba lovers, town mayors to TV news reporters. I'm not there yet though and to help me reach the end I'd love to dance with anyone young or old who fancies dancing free with me anywhere along the coast path from Sidmouth to Sennen!"
Ben isn't hard to spot in his fluorescent yellow tutu and leg warmers, toe-tapping as he traverses the path accompanied by a 10 foot flamenco flag and armed with special gifts and spare tutus for anyone who cares to join him for a shimmy in the sun.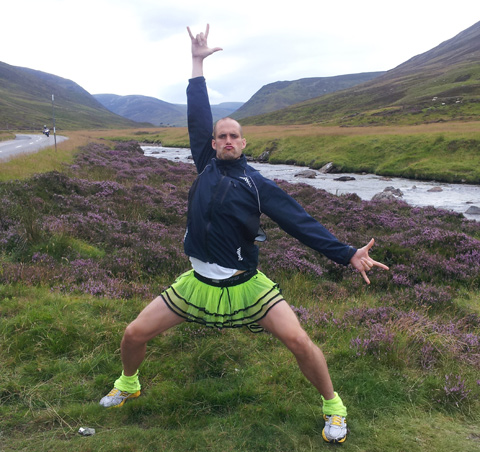 Getting to this point of his mammoth mamboing mission however has been no easy task. Ben set off last summer and even after dancing a marathon distance each day and enduring mountains, appendicitis and fevers, he was run over by a drunk driver in a hit and run as he neared Glastonbury. But even a serious trip to hospital and his plans lying in tatters wasn't going to stop him:
"With the culprit sentenced, three million dance steps behind me, and my fundraising target coming ever closer, I've just got to finish. I originally set out to use dance to show what you can achieve in life by embracing freedom – and how everyone no matter what country they live in, should start off with the right to be free – so not completing the dance would leave this dream unfulfilled. I just hope one or two shimmying superstars out there see the fun side and come and dance along with me!"
Details where Ben's doing his daily dancing along the path – from Sidmouth, Exmouth, Torquay, Plymouth & Falmouth to The Lizard, Penzance and Porthcurno (and everywhere inbetween) – can be found at www.dancebritain.com, where visitors can also sponsor Ben's charity challenge.