Interview:

Steven McRae - Dancer in the Fast Lane
Australian born Royal Ballet Principal Steven McRae is the subject of a new book of photos by Andrej Uspenski who, as a company member himself, has a unique perspective on dance. The title, Dancer in the Fast Lane, reflects not only Steven's dazzling style and rise to the top of his profession, but also his long held interest in motor racing. We managed to catch up with him before he left London on the Royal Ballet's tour to Moscow this week…

---
We have two copies of Dancer in the Fast Lane, published by Oberon later this month to give away!
For your chance to win one
enter our competition
here..
---
How does it feel to be the subject of a beautiful book of photographs?
I am truly honoured to be the subject of Andrej Uspenski's new book in collaboration with the Royal Ballet. I met Andrej in 2004 as we danced together in the corps de ballet. He has always been a big supporter of me. When my wife & I got married in 2011 we asked Andrej to be our photographer. It was one of the greatest decisions we made for the day! Just like our wedding day, working with Andrej on this new book was a pleasure. I was never aware of him taking photos. He knows the way a dancer works so he is very sensitive to the way a rehearsal is going. I always feel so comfortable around Andrej which is why the images in the book are so natural – not one image has been posed for or set up.
Do you have a favourite photo in Dancer in the Fast Lane?
This is almost impossible to answer….. I do love the image of me rehearsing Rhapsody where I am sat on the floor, exhausted and clearly not having a good day and my coaches are looking on, not knowing quite what to say. The image says it all…..
Actually it's not the only book you're featuring in this year is it. In Japan there's a manga magazine – which uses a character based on you – Ballet Hero Fantasy. How did that come about, is it an ongoing project – and any chance we might see an English language version of it over here?
Ballet Hero Fantasy is a manga series I started with Takafumi Adachi and Shinshokan publishing in Japan. It is aimed at inspiring the next generation to pursue their dreams, even if it doesn't involve dance! The dance world transformed my life and has enabled me to embark on an incredible journey. I want to inspire the next generation to do the same and that's what the manga is focusing on.
You've just been dancing in a Royal Ballet programme which included Frederick Ashton's The Dream -and a new work by Alastair Marriott, Connectome…
Yes, I love dancing The Dream. It has been incredible to have the originals, Sir Anthony Dowell and Dame Antoinette Sibley coaching us alongside Lesley Collier. Any new work is always great to be involved with as it is simply new and fresh. This program is quite demanding as The Dream feels like a full length ballet in itself so it's been physically challenging to do both each night.
You got in to ballet via tap dance – and in Alice's Adventures in Wonderland Christopher Wheeldon gave you the opportunity to combine the two. Is that something you'd like to explore further?
I am always encouraging children to learn different styles of dance. Choreographers today are demanding more and more from dancers so the more tools and tricks up your sleeve, the better chance you have of being involved in new works. I'd love to explore more possibilities of combining the worlds of tap and ballet…. perhaps I already am!
You're very active on social media these days. Do you feel a greater connection with audiences through it – and is that important to you?
The dance world is relatively small so I think social media is a great way of spreading our world into the mainstream. I am very proud of my profession and I hope that I am able to shine a different light onto the world of dance that may ultimately attract new audiences as well as inspire those already interested.
After the Royal Ballet tour to Moscow, in July you'll be back in Australia touring Romeo and Juliet with Queensland Ballet – do you think you'll ever be tempted to live back there – or is London home now?
I love London, I love Australia, right now my career is based in London and the Royal Ballet is my home. Who knows what the future holds… my wife & I would love to live in many places so we'll have to wait and see where the future takes us.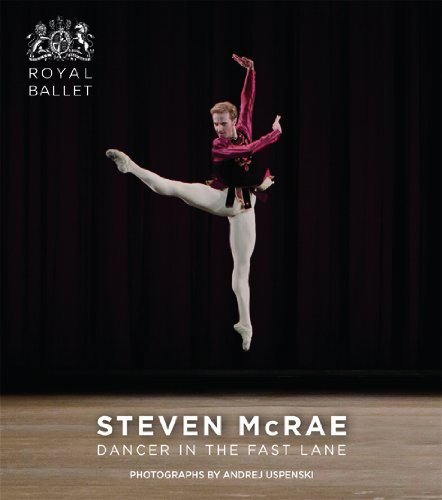 Steven McRae – Dancer in the Fast Lane by Andrej Uspenski is published on 31 July by Oberon Books, rrp: £16.99
www.oberonbooks.com
See some photos from the book in our gallery below