Interview:

Rafaela Carrasco - on twenty years of Ballet Flamenco de Andalucía
Rafaela Carrasco's career has been intertwined with Ballet Flamenco de Andalucía ever since the company started in 1994 (as Andalusian Flamenco Ballet), when she was a young student dancer. Although she went on to formed her own award winning company, has an international reputation for her teaching and choreographed work for many other companies, in 2013 she returned to lead Ballet Flamenco de Andalucía as its Artistic Director. The company will be in London this month as part of Flamenco Festival London. We asked Rafaela Carrasco to tell us about Images: 20 years, which celebrates the 20th anniversary of the company by revisiting five significant works from its repertoire over the years…

Your own career has been closely linked with Ballet Flamenco de Andalucía, even though you've also formed your own company and worked with many others. How did it feel to return to lead the company in 2013?
When the Ballet Flamenco de Andalucía was first formed it was called Compañía Andaluza de Danza, under the charge of Mario Maya. I worked with the company for the first two years, as a dancer and tutor. After that I luckily had the opportunity to work with many different people and form my own company, which I've had since 2002. All this experience provided me with the knowledge that now helps me to be able to tackle the artistic direction of a dance company with as much magnitude as the Ballet Flamenco de Andalucía. It's of course very satisfying to be able to bring to the company my own way of seeing flamenco and understanding choreography. Just as it's also a huge responsibility being, in a way, a global ambassador for flamenco.
Tell us about the programme you've put together to celebrate the 20th anniversary of the company. You had many to choose from – how difficult was it to decide on these five pieces?
Generally, it was all very complicated! When I first took on the task I had no idea how to confront 20 years of shows, directors, artists… But one thing was clear. I wasn't just going to revive and perform old choreographies.
I think that shows are great in their time, with the artists that perform them and in the context in which they're done. Beyond this, I think that repeating old pieces can be a bit of a flop. It's dangerous because in the end they're never quite what they were back in their time. So I began watching videos of all the past directors of the company and by the end certain very clear images had stuck in my mind. I knew that in the same way that they stuck with me, they also must have stuck with the people that saw the piece performed live; and out of these particular images, totally different pieces with their own identities have been created.
Del Maestro (1994) is by one of your teachers – Mario Maya. How has he influenced you?
Mario Maya and Matilde Coral have been my two great maestros. Mario taught me to get to know dance, the stage, choreography, and the ins and outs of the theatre. I took the unforgettable image of him dancing seated on a stool and developed a choreography in which you can see him everywhere. Without a shadow of a doubt, this is for me the most personal piece in the show.
En La Oscuridad De La Luz (In the darkness of light) – why this particular early work by Maria Pagés from 1997?
This is from the work El Perro Andaluz by María Pagés, which was a very successful show with audiences. In the beginning of the piece we see a pas a deux by the light of a lantern. This lighting creates an atmosphere that transforms the stage into almost a dream state.
Jose Antonio's La Leyenda (2002) is dedicated to the legendary Carmen Amaya. Why is she so important in flamenco?
Carmen Amaya is indisputably an icon of flamenco dance. Her race, her lineage, her strength, her personality, all make her an unrepeatable figure. José Antonio made this show as a homage to her and from the show the thing that most stuck with me was the image of the endless white bata de cola (long trained dress).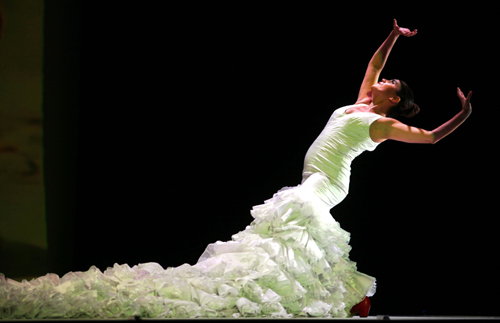 Tell us about Mirando Al Sur (2005) by Cristina Hoyos…
Out of all the shows under Hoyos' direction that I saw, I found Viaje al Sur to be the most personal. The dancers carried suitcases and were constantly moving around. The suitcases were what gave personality to the show; so, we've created a piece out of the image of those suitcases. In fact, the piece could be read in many different ways, which is what makes it so interesting.
And the most recent work in Images is from 2013 – Las Cuatro Esquinas by Rubén Olmo. Tell us about his dance style (Is it true that he also has some training/experience in classical ballet training?)
Rubén Olmo is a very well-rounded dancer. His training has been wide-ranging and he is physically very potent. He has been doing very interesting work with the mantón (shawl) for a while; that's what moved me to create a piece using shawls, in which the whole company dances.
What plans do you have for the future of Ballet Flamenco de Andalucía?
To be honest any plans are quite short term, given that the Ballet Flamenco has a system by which every two years (more or less) the artistic director changes – which is a shame, because in such a short time it's hard to really roll out a line of work. For now the company will be touring the two productions that I have overseen as director, En la Memoria del Cante and Images, which received the Giraldillo award for best show at the Bienal de Flamenco de Sevilla in 2014.
Will you continue with your own company as well?
For the moment my main professional project is the Ballet Flamenco de Andalucía, but I am also working on a new project for my company for 2016.


Ballet Flamenco de Andalucía will be at Sadler's Wells as part of Flamenco Festival London, 20 & 21 February
www.sadlerswells.com
More on Flamenco Festival London, 16 February – 1 March
www.sadlerswells.com
Leave a comment
You must be signed in to post comments.