Interview:

Patrick de Bana - on creating works with Shanghai Ballet
Shanghai Ballet returns to the London Coliseum later this month (17 – 20 August) with a new production by choreographer Patrick de Bana. Unlike Jane Eyre – de Bana's production which the company brought to London in 2013 – Echoes of Eternity is inspired by Chinese cultural history. The ballet is based on The Song of Everlasting Regret, a narrative poem from the Tang Dynasty composed by Bai Juyi, in the year 806 and tells of the tragic real-life affair of the concubine Yang Guifei and her Emperor, Xuanzong. Born in Hamburg to a German mother, and Nigerian father – de Bana has produced a ballet that is evocatively Chinese in every way. Graham Watts met de Bana in Shanghai to discuss the ballet and his work in China…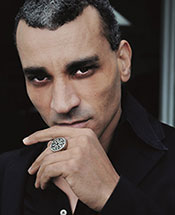 Shanghai must be like a second home for you now. How did you first come to work with the company?
I had been working with the National Ballet of China for two years when I got a call asking if I would like to go to Shanghai to create a new ballet.
When they said Jane Eyre on the phone, there was initially a big silence at my end because I didn't know the story. I was thinking where is the connection between China and Jane Eyre? I found out later that it was one of the first Western books to have been translated into Chinese. It's very popular here. Everybody knows it; they study it in school. I said yes to the project because I like to do uncommon things, so I came here and stayed. I like these people a lot.
How did Echoes of Eternity come about?
When I was in Shanghai, creating Jane Eyre, I needed a new book. I wanted to find something that was Chinese but I could read in English because wherever I am, I like to 'dig into the earth' and take something of the traditions, or culture, home with me. I don't like to play the tourist. I found a book called The Palace of Eternal Youth and loved that title. It was a very thin volume and, reading it quickly, I came across the story of The Everlasting Regret and immediately saw the potential for a ballet in its strong drama. So, I proposed it to Xin Lili [Shanghai Ballet's Director] for our next project and she agreed.
So you didn't know anything about the story before you bought the book?
I didn't know the specifics. But, I always look for the emotional imperative and somehow I felt that I knew the narrative because it has similarities with other great stories of people making huge sacrifices for love, not least Romeo & Juliet and Medea. There are different forms, different intents; but the central emotional power is the same. They are very balletic stories and I saw the same potential in the power of that love between The Emperor and Lady Yang.
Was it hard for you as a Western choreographer to come and make a ballet about something that was so Chinese?
I'm half-German, half-Nigerian, with grandparents and great-grandparents from Hungary and Poland on my mother's side, so I'm a very big mix. Since my childhood, I have had no difficulties in adapting very fast. I see Echoes of Eternity as part of the story of humanity. I don't think you have to be Chinese to tell this story – in the same way that you don't have to be Greek to understand Medea. It obviously depends on your sensibility and how you touch the story. I try to deal with it in a way that is accessible to the whole world.
Is it fair to say that your work is driven by narrative?
Emotions and the human soul are what matter most to me. I'm not trying to become a story-teller but, of course, it happens. When I'm in the studio creating with the dancers, somewhere in the back of my mind is a story. Usually, I spend a long time between getting to know the story and making the work so that I can allow myself to leave it – and come back to it. I like to push the walls of the narrative to create my little freedom and not be rigidly bound by what is already there. If I had wanted to tell the story of Jane Eyre faithfully, I would have needed a 12-hour ballet! For me, my work is like a movie where I'm trying to capture the strongest moments and give them human emotions.
Was there any significance in you changing the name?
In China, The Song of Everlasting Regret is much loved and so Xin Lili and I agreed that we needed to have more freedom, otherwise people would have looked to follow the poem word by word.
So, the ballet is inspired by the poem rather than a linear interpretation?
It is largely true to the story except that I invited another character – the Lady of the Moon – who is only spoken about in the poem. I keep close to the story but I like to focus on what is not written down, to read between the lines.
How different is the process of making work in a Chinese company?
It's easier. When I'm in Shanghai, Lili does everything possible to ensure that the dancers have no other rehearsals, except with me. It is so unusual to have dancers for the whole day. And, because of this you can go very deep and become very intense.
How do you manage to communicate what you need to the dancers?
There's a language thing, of course; you have to find out the diplomatic way to ask for what you need and also to give what they need. There is always the translator as a third person between you and the dancers. I speak in images as much as possible in order to try to avoid misunderstandings. But, the translator is very important. There is one translator that I work with regularly because she really knows me and her imagination is very wide. It's so important to find the right person to help you communicate emotions.
The dancer you cast for the Emperor [Wu Husheng] is the same dancer you cast as Rochester, so you obviously like working with him?
I like him as a dancer and as a person, which is very important. He is very talented but I like to have a human connection. He's growing into something very big and the world needs to see him.
I imagine that your choreography has been greatly influenced by those with whom you danced, notably Maurice Béjart and Nacho Duato. And you have experience of performing fado, Spanish dance styles and tango. Do you bring all that into your choreographic style?
My style is a mixture between Tarzan and Jane, between Africa and the Orient, between Africa and Europe. I would describe it as 'round'. It has many influences, starting from my birth -and includes all the people I've met. Béjart, Duato and John Neumeier [of Hamburg Ballet] have been great influences and I also worked with Sulamith and Asaf Messerer and Azari Plisetsky. With Béjart, we were constantly on tour around the world. When I go somewhere, I like to get lost in the streets and smell the places. And then there are the people I have worked with as a dancer, like Eva Yerbabuena, in Spain, where I danced to music played by gypsies. And. all of this adds to a big vibration in my head.
The score for Echoes of Eternity is a compilation. Do you have the music in place before you start working with the dancers?
The music is so important. Normally, it takes me six to eight months to find the music for a full-length production but in the case of Echoes of Eternity, I had to rush because they had planned to have a Chinese composer and something didn't work out. So, instead of having one bespoke piece of music, I received a call asking if I could find the music and I didn't expect that. I tried my best to make it flow like the sound of the ocean. I didn't want the music to appear as patchwork and I'm sure that when you listen to it you will feel there are lines that connect.
In your everyday life, do you build up a store of ideas for future choreography? Do you have a long list of unfulfilled projects?
Yes, but you always have to wait for the right moments. There is something like a hard disc in my head that automatically records things, for example, like the movement of that tree pointing to a nearbly tree. It looks very Japanese to me and if I would look for a longer time it would jump me onto another idea. I like it when things are very emotional and rough, like a roller-coaster, and it's a bumpy ride.
I saw the Pasolini movie of Medea with Maria Callas. The camera focuses on her with the children in her arms and she is screaming at Jason from the rooftop, with flames all around. And, I thought: "This is a ballet!"
I'm a person that is very connected to reality. When I read your business card I will really read it. I dive into details, sometimes too much. To be a choreographer provides the possibility to escape, to dream, to create worlds that might not exist.
Are you content in your itinerant role? Or, would you prefer the stability of being resident in a company?
I have been thinking about this, a lot lately. Being a travelling choreographer is sometimes very difficult. Its not always sunshine! Tonight I leave Shanghai to go to Moscow, to another adventure, but I will take the flight alone. I get attached to people and places and sometimes, leaving them behind is hard. Basically, all year long, I'm very alone. I would like to have more continuation, to know that what we did, this time, we can take one step further, next time. In China, I know there will be a next time, but as a freelance choreographer, you don't know whether you will ever come back again. It isn't that I'm looking for security. Not at all. Maybe its because I'm getting older, but lately I have felt that I would like to have the same group of dancers and to grow with them.
If I had the chance, I would go more for something a little bit more private and transient. Perhaps something like Akram Khan enjoys, for example; where the choreographer has continuity but also the freedom to pursue other projects. It's also better if the dancers are not so comfortable, if everything is a bit edgy. I would have a hard time staying all year in the same place. I would miss the travel and the airports too much!
What is it about London that you are looking forward to?
I love London so much because of the multi-cultural atmosphere and because it is neither America, nor Europe but somewhere in-between. You will be surprised but I love the Tudor times. I don't think anyone has made a ballet about Henry VIII but there is certainly one to be made! That beautiful song The Streets of London says it all. There's something very special in London's ability to absorb other cultures. And I love that art is so present in London.


Shanghai Ballet Echoes of Eternity *London Coliseum, 17 Aug – 21 Aug 2016
www.eno.org from 7 Aug – 21 Aug 2016.


Graham Watts is a freelance dance writer and critic. He is a regular contributor to Dancing Times and also writes for Londondance.com, Dancetabs.com and other magazines and websites in Europe, Japan and the USA. He is chairman of the dance section of the Critics' Circle in the UK and of the National Dance Awards. Twitter: @gwdancewriter
Leave a comment
You must be signed in to post comments.