Interview:

Mikko Nissinen - introducing Boston Ballet
Finnish born Mikko Nissinen has been Artistic Director of Boston Ballet since 2001, having previously danced with Dutch National Ballet and San Francisco Ballet and been Artistic Director of Marin Ballet (California) and Alberta Ballet. During his ten years in Boston he has repositioned the company, presenting neoclassical and contemporary works alongside the classics, enticing new audiences and winning critical approval – with The Boston Globe saying the transformation was "one of the biggest arts stories of the decade".
It's been 30 years since their last visit to London and this summer Boston Ballet are back in town. Nissinsen says he wants the company to build a new relationship with London audiences and has planned the short season at the London Coliseum as if for a 'first date'. "For me", he says, "the essence of this is getting to know you and so I thought about what I wanted London audiences to understand about Boston Ballet". Leaving the full length classics at home, programme one includes two works by George Balanchine (Serenade and Symphony in Three Movements), Vaslav Nijinsky (Afternoon of a Faun) and the company's resident choreographer, Jorma Elo (Plan to B); programme two has a more contemporary focus, with Christopher Wheeldon's Polyphonia, Jirí Kylián's Bella Figura and William Forsythe's The Second Detail.
Earlier this year our ballet critic Graham Watts met up with Mikko to find out more….


GW: Is this first trip to London for 30 years a specific way of celebrating the company's 50th Anniversary?
MN: Yes and no! 30 years ago, when Boston Ballet came here it was part of the Nureyev Festival and it was really just a backdrop for Rudolf Nureyev. The company was in a different place in 1983, just 20 years old. We have done a lot over the last ten years to change the company's perspective, vision and repertoire. Now there is a tremendous momentum developing for the company and I want to increase our international role. If you have a good thing, don't keep it a secret. London is a big, important capital in the dance world and I'm very excited about bringing and sharing what we are about.
How has the company developed under your leadership over the past decade?
When I took over, the Boston repertoire was dominated by full-length, classical works and very little else. The classical repertoire is nowhere near as deep as, for example, the classical operatic repertoire and so if a company specialises in full-evening classical ballets it will quickly come back to the same ones. I felt that we had over-used the classics and lost some market cachet in this very singular kind of diet, which is really just a Russian perspective on a Russian perspective. I'm not saying that these productions aren't valid but I wanted to diversify the diet, to make sure that if Boston performed Swan Lake, then we hadn't performed it two years before. By spreading the classics across the seasons I felt that they would always feel a little bit more special when we came to perform them.
I also wanted the company to give a deeper exploration of the Balanchine repertoire and to place more emphasis on contemporary dance. I felt this would create more relevance to the individual in today's people. I didn't want Boston Ballet to be an exclusive environment but an inclusive one. I don't care through which door people arrive into our company. My job is to produce the very finest quality we can and I believe we can get to that through cross-pollinating from different inputs.
What was the immediate result of these changes?
The organisation has pretty much flipped in the last ten years. It is causing big excitement for everyone involved although it has required a lot of engineering, especially in terms of more diversity in the artistic staff and we have required dancers to do different things. Some are very capable and can accommodate these variables and others are not so versatile. More importantly, we have got so much more traction with our community in Boston and this has given us the encouragement to continue the evolution.
This must have been difficult in an economic climate where companies need to have a Nutcracker every Christmas to bring in the revenue and where the old favourites – Swan Lake, Giselle – are also required to fill seats?
We have done a lot over ten years to work with the Boston public and to build an enthusiasm for the modern repertoire. They now really want to come and see the latest work by Jorma Elo or a Kylián. I think we now have a happy medium between understanding the value of The Nutcracker and knowing how to do that well and creating a public appetite for contemporary works. The Boston public has come to love works by Jorma, which has been instrumental in forging the link back to Kylián.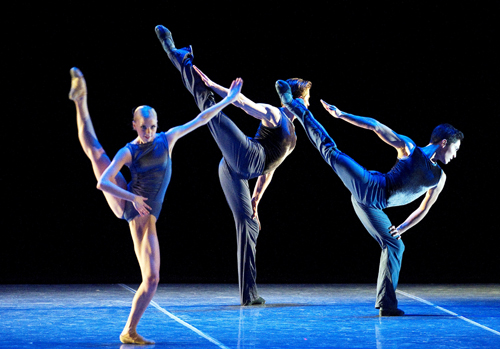 When the Black and White programme of Kylián ballets was performed in 2012 we doubled our box office expectations. The demand was so great we put it into the next year's programme and it doubled our subscription expectations again. Now there is this thirst; people are so excited, and those who only came to see the classical ballets are amongst some of the most excited patrons of this new repertoire.
The contemporary dance community now also takes us seriously. To be honest, I think for the first few years they couldn't believe that our commitment to contemporary dance would last but we have won them over to the belief that this new diversity is here to stay; and now – what do you know – I can see that this crowd are getting into the neoclassical and even the classical repertory. It is this cross-pollination of ideas that I have always wanted to achieve. I just didn't expect that we would get there so quickly.
What balance do you now seek to achieve between classical, neoclassical and modern repertory, or does it change all the time?
I run it in a very structured way. It is never exactly a third each but that it is what I would like to aim towards each year. As you already suggested, The Nutcracker is a different animal in North America as the cornerstone classical ballet for every company and that obligatory Christmas Season inevitably throws the equation more towards the classical ballet. I try to have two full-length ballets in each season but, of course, this would include the neoclassical repertoire as well – Balanchine's Jewels is a 'full-length' work in my calculations, for example.
We have a strong cohort of full-evening ballets in our rep, including, for example, Nureyev's Don Quixote, Florence Clerc's La Bayadère, three Cranko ballets, my own productions of Swan Lake and a new The Nutcracker, but we spread these performances over several seasons. And we have been able to get the mixed bills working really well with a strong public appetite for them. We are always looking to push the envelope and actually it becomes difficult to match the successes that we have had with some of these mixed programmes
When you are auditioning for new dancers are you looking for new recruits that can fit all three styles of dance in classical and neoclassical roles as well as the modern repertoire?
You have touched on one of the hardest things for any artistic director today, because we are asking a lot of our dancers to master all of these different types of choreography. I don't have 100 dancers in Boston and so I simply can't have a group that specialises in any genre. We can attract dancers because of the diversity of the rep but everyone has to be able to master at least two of the three styles and this potential has to be in my mind when I am selecting dancers. It is sad that I have had to part ways with some very good dancers who are only capable of dancing well enough in one discipline. But there is no choice; otherwise an unfair proportion of the workload goes onto the other dancers. At the moment, I would say that 75% of the company is able to cover all three bases, although most will only be really good in two of them.
Given that it is 30 years since you have been here and it is such an important showcase for the company, it must have been difficult for you to choose the works for these two programmes…
I knew immediately that I didn't want to bring a full-length ballet so that was a helpful start! Then, the second guiding principle was that I want to start a relationship and this is like a "first date". For me, the essence of this is getting to know you and so I thought about what I wanted London audiences to understand about Boston Ballet.
I want to be seen as the American Company that is about dance. Yes, we do ballet but I wanted us to demonstrate our widest context. If anyone says "American Ballet" the first thing that will inevitably come to mind is George Balanchine. So, this had to be the initial premise and, as the first ballet that Balanchine choreographed in America, Serenade is our national ballet's equivalent of Chanel No 5. I appreciate that there is nothing revolutionary today about showing Serenade but we are an American company and this is the key American work that we can do very well. Then there is Stravinsky's enormous influence on dance (and on Balanchine, of course) and this took me to the locomotion of Symphony in Three Movements. I then thought about quality and the single most important piece of contemporary ballet is Nijinsky's Afternoon of a Faun and I knew this would create the contrast in terms of finessing detail before leading into an incredibly aggressive short piece from Jorma called Plan to B. It is very easy to stick a thermometer into this first programme, which requires an enormous range of skills, and you can tell straight away what calibre of company we are.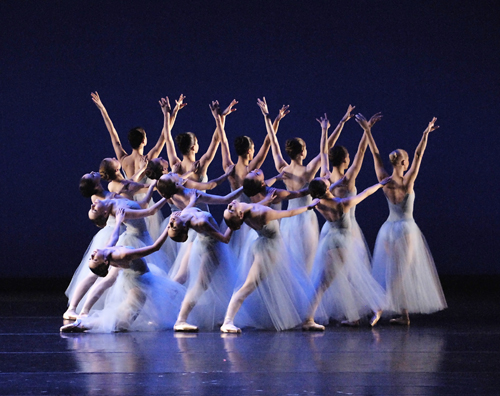 Then the second programme was about showing the flip side. Seeing how far the company can go with the in-your-face aggression and excitement of some Forsythe and in Wheeldon's Polyphonia, which I love. You have seen it here with other companies, including The Royal Ballet, and so I thought that it would demonstrate our quality. I also wanted to achieve a flow to each programme so that each work followed on with some momentum. This is a beautiful and austere work which will lead perfectly into the emotional tidal wave of Kylián's Bella Figura.
That looks like real confidence in bringing work that is already familiar to British audiences, so that comparisons will be made?
Exactly so!
And you are the only company in America to have Kylián's Bella Figura in your repertory?
Yes. There is also newness to what we are seeking to bring to London. I am very well aware of the excellent contemporary dance that can be seen every week at Sadler's Wells. By comparison, the Coliseum is probably more regarded as a place for full evening classical ballets but I wanted to take the risk of showing this kind of work on that stage. I hope people will see the benefit of this type of programme.
Tell us about your Resident Choreographer, Jorma Elo..
We actually grew up together in the same ballet class as young boys in Finland and I commissioned his first ballet when I was at Alberta. Jorma is very interesting because of his balance. He was a classical dancer but he really matured in the contemporary world under Kylián and Mats Ek and then he is so Jorma on top of that. So you have this deep understanding of classical ballet technique, yet a very contemporary approach to dance that is spliced with his total individuality.
I wanted to establish a relationship that allowed our dancers to work continuously with him and also as he goes around the world working with other companies, he carries the name of Boston Ballet with him. I chose Plan to B for London because it turned the tide and led to Boston people really loving Jorma's work, so it is a pivotal point in his history with us. I do want to share some more of his very different repertoire with London and hopefully there will be other times to do this in the future.
You are working with the Royal Philharmonic in London. Is it difficult to get used to a new orchestra in the time allowed?
We generally only have three rehearsals for each work in Boston, so it is going to be no different for us. Actually, the musical content was another criterion in my choice of works and we will have a very challenging musical programme. But, I'm bringing my own conductor who is used to the company.
What will be the great attraction of performing in London for the dancers?
Every company comes through London and so our dancers will be seen by audiences that have experienced everything the dance world can offer and it is so important for them to have that exposure. They are very proud of their versatility and they want to showcase themselves. So I know that they are thrilled and excited to have the opportunity to be seen by such an expert and knowledgeable audience. I hope that it is the beginning of a long-term relationship and the first of many trips here to London. I think it is also good for the London audiences to see some new faces and I hope that they are going to be a little surprised.
Boston Ballet are at the London Coliseum, 3 – 7 July
Tickets from £10
Booking & more details Programme one 3, 4, 6, 7 July
Programme two 5 & 6 July (matinee)


Graham Watts writes for londondance.com, Dance Tabs, Dancing Times and other magazines and websites in Europe, Japan and the USA. He is Chairman of the Dance Section of the Critics' Circle in the UK.
Leave a comment
You must be signed in to post comments.