Interview:

Gianluca Vincentini presents some of the most promising dance makers based in the North of England
This November, Gianluca Vincentini showcases some of the most promising dance makers based in the North of England as part of the Wild Card triple bill at the Lilian Baylis Studio,
Originally from Italy, choreographer and curator Gianluca Vincentini is passionate about nurturing dance artists. Curious about the entwined nature of movement and emotion, Vincentini believes that dance can reveal the complexity of our intimate connections to each other, without compromising entertainment. We chat to him about presenting work from Carlos Pons Guerra, Crystal Zillwood and Jamaal Burkmar.
Q: What was it about these four choreographers that made them stand out for you to pick them this show?
I have always been interested in their professional practice and their personal stories. I believe there is something very special about the entwined nature of their practice, culture and personality. These artists have a clear understanding of their own work and how they want the audience to perceive it. They were also the first artists I was able to support in my previous job, so it felt very natural to carry on the process for this particular and important event; I guess there is a huge sense of respect for their work.
What should the audience expect from the four works – are they all very different or are there some running themes?
I'd describe the programme as theatrical, dynamic, passionate and entertaining. The mixed bill format makes it particularly suitable for audiences new to dance.
Jamaal Burkmar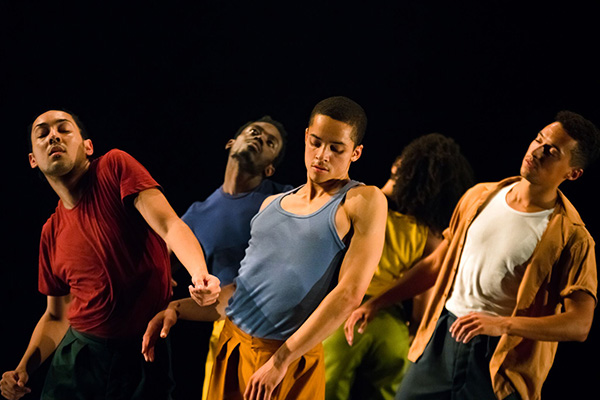 Jamaal Burkmar's The Calm is a physical and 'feel good' work that takes memories about home and family to create an abstract piece rooted in neo-soul music and movement. The work was originally commissioned by New Adventures as part of the New Adventures Choreographer Award Showcase.
Q: His works usually have a strong musical basis. How much does he work to find those great musical and movement connections?
He works really hard to make sure the connections between music and movement works. Jamaals' response to sound is often instantaneous. When I spoke to him about it he said 'I'll see the sound as it plays, each piece of it having a very specific colour. I'll play the music obsessively' and I know he does that because I'm in the studio with him. Jamaal likes 'to see if the colours dull at all and the more I see it the clearer the translation into movement becomes.'
When talking to him about The Calm he said: "The first part of the process requires me to be a part of the work to bring that out as richly as possible. And then in the future I'll eventually take myself out of the work to enhance the composition and structure from the outside. Right now The Calm exists more as a reaction to the music."
Carlos Pons Guerra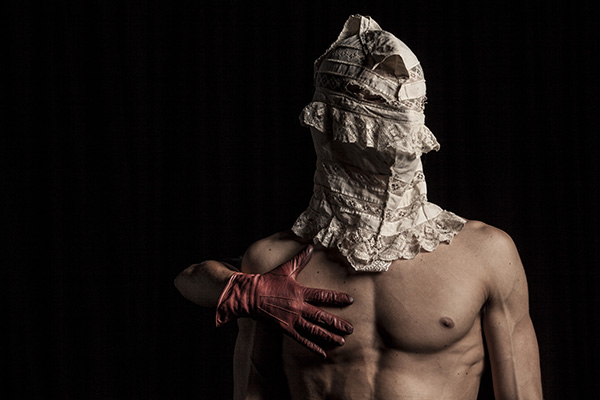 Carlos Pons Guerra presents O Maria: A Divine Comedy of Ham and Bondage, a Spanish kitschy, kitchen drama where a heavenly apparition unleashes a torrent of unquenchable passions for an oddly paired couple.
Q: Is humour a difficult skill in dance? How does he pull it off?
I think that humour can be very difficult in dance. I actually asked Carlos to reply to this question as I thought it would only be fair to hear his opinion as I think his work is full of humour.
Carlos says: "Humour is a very difficult thing in dance. I'm not very sure I achieve it! I am very much attracted to absurd situations, oxymoron, hyperbole and juxtapositions, which are all artistic resources that lend themselves to humour, I suppose. With O Maria, the starting point was me thinking about all the Marian apparitions in the villages of Spain, and I wondered: what would happen if instead of simply appearing on a wall, a towel or on toast, the Virgin Mary stayed for dinner? Which of course would be a very awkward situation. What would you serve her for hors-d'œuvre?
"Comedy in dance also has a lot to do with timing- rhythm can be hilarious, if you work with it in a certain way, but also, it's a matter of direction- how a fan is flicked, how a chorizo is taken out of a bra, how we time a glance, how long you hold an awkward silence. But for me the most important thing is having fun with the work- I'm not necessarily a very serious person and I really believe that dance has to entertain as much as it has to communicate and comment on our world. So if I get bored myself and I can't find some irony in my work- I change it. Casting is a huge part of it and one of the most important (and difficult) elements in creation. I always try to find a group of dancers who share my sense of humour, who have unique personalities and are willing to go to a place of humour that borders on the tragic. That to me is the most emotive place to be, and where I always strive to take my work."
Crystal Zillwood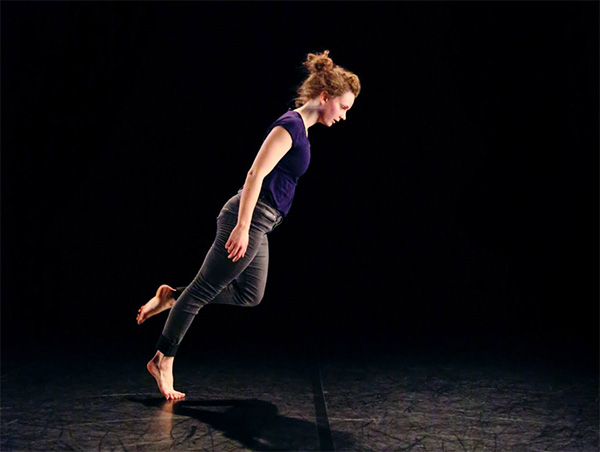 Crystal Zillwood presents Evolutio, an articulate and thoughtful solo which suggests an expansive vision within a miniature work. Evolutio combines an athletic, fluid movement style with clear musicality.
Q: How does Crystal's choreography bring out lyricism in the dancer?
Crystal and I have talked a lot about Evolutio as it was created three years ago and it still is one of my favourite pieces of work. During our conversation Crystal said: "Over the years I have heard many different reactions to Evolutio and mostly people express a deep emotionally reaction, a sense of being engulfed into the piece and feeling very reflective after. The score is of violinist Nigel Kennedy performing Ederlezi, a polish folk song which is rich and beautiful but also sad, which I feel provides a deep strength to the work. The movement does not reflect the music but is simply intertwined in the rhythm of it so I feel the music creates a foundation for the emotion to be heightened and encouraged."
"Performing Evolutio, I have very brief moments when I feel myself going with the music and it's free in that sense. My whole intention in Evolutio is to execute with clarity the movement research and to be present with the choreography and audience. I find this focus and almost neutrality from me allows the audience to watch the piece and gives them space to absorb it and interpret it."
Wild Card – Gianluca Vincentini
23 & 24 Nov
Lilian Baylis Studio