Interview:

ENB's Laurretta Summerscales talks about her Nutcracker debut
Laurretta Summerscales joined the English National Ballet at the age of 17 and has won praise from the critics for her expressive performances as Odette/Odile in Swan Lake and Myrtha, Queen of the Wilis, in Giselle. She makes her debut this year as Clara in ENB's production of The Nutcracker, and took time out from a very busy rehearsal schedule to tell us about the role.
What have you been up to today?
Today I did class from 10.15 to 11.45 and then I had a massage. That's a fairly typical beginning of a day – normally I have a break around 2.30, but today I had my break earlier on so I was able to fix some problems with the muscles in my back.
How are preparations for The Nutcracker coming along?
We start at the London Coliseum this week. We've been performing on tour but it's different to the Coliseum. It's nice to stay in one place for longer so you can settle – you get used to the stage, you get used to the kind of audience. Now we're in London we rehearse daily, lots of different parts of the ballet at different times. Because we do this ballet every single Christmas I think the whole company is used to it, everybody knows how to get through the shows and how to pace yourself – even though it's been a year, it's still in the body.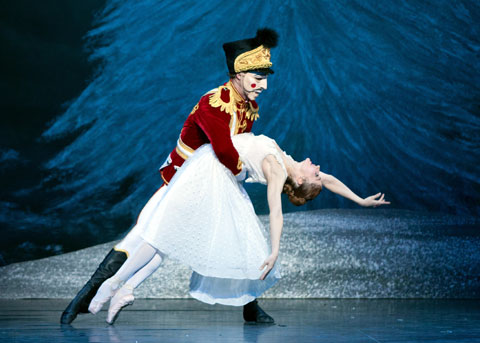 How does it feel to be performing as Clara in the ballet?
It feels amazing really! I've done the ballet for quite a few years now and watched the ways that different people do it and think about what looks good, what I would do, and now I can put that into thoughts and emotions. It feels good because it's very Christmassy, it's got a bit of comedy in it, it's quite a joyful experience.
Tell us a little bit about your background – how did you begin dancing and where did you train?
My mum has a dance school in Woking, and I started there when I was probably two, joining in with tap and modern, and then I started ballet probably when I was four or five. I ended up doing extra classes at another school to get stronger. I did everything with my mum – tap, modern, ballet, singing, drama – and I did a lot of competitions.
When I was 16, I decided to audition and received a place at English National Baller School. I was there for two years and then got into the company. I auditioned for four schools – Royal Ballet School, English National Ballet School, Elmshurst and Central School of Ballet. With English National Ballet when I auditioned, it's like buying a house – it just felt right. So I accepted ENB straight away, because it just seemed like a better place for me.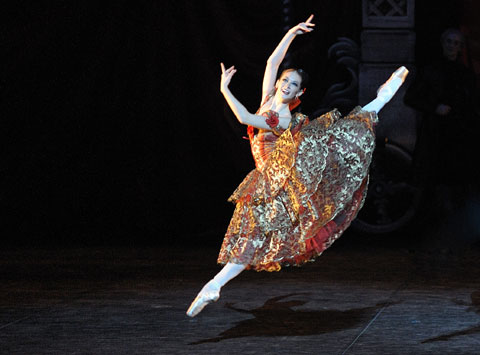 When did you join ENB?
I got to work with the company in my second year, that's how I got my job. Because I worked with them and they liked me that's why I got given a job before I finished my third year at the school – it was quite a surreal feeling! I feel a big connection with everybody, I really enjoy it here. It's nice because it's English National Ballet and I'm British – it feels like it's your home. I'm very fond of the company – the people are down to earth, it's like a family. I'm very happy here.
What is a typical day like for you?
A typical day is class from 10.15 to 11.45, we probably have rehearsals from 12 until 2.30 then a break for an hour, then rehearsals from 3.30 to 6.30 with a 15 minute break. It can really vary, sometimes you don't have any rehearsals at all one day, so it can go from one extreme to the other. It's normally full-on, but you can have the occasional easy day!
What have been some of your career highlights so far?
Rite of Spring was amazing, absolutely a phenomenal piece to do especially in this company. After that, a highlight was doing the Queen of the Wilis when I was 18. I had two days' notice, I hadn't had any rehearsals before that, but I was learning the role. I was cast because people were injured and they wanted to give me an opportunity and that was amazing. I did Odette/Odile in Derek Deane's Swan Lake at the Royal Albert Hall which was phenomenal – that's probably been the absolute best. They're both amazing roles in different ways.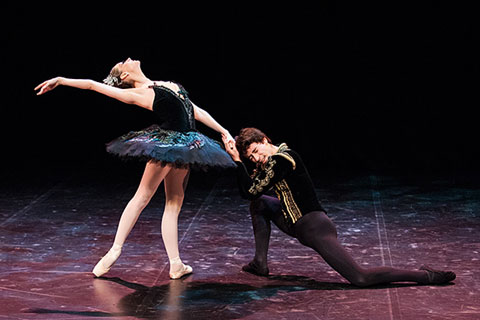 Where do you hope to perform in the future?
At the moment I'm very happy where I am. Of course with time companies change, people change, maybe the director will change but at the moment I'm really happy with everything. I feel that the staff really know me well, and they know how to get the best out of me. I've been given so many opportunities and I feel very lucky, so at the moment I didn't really want to go anywhere.
Which roles would you really like to dance and why?
I would love to dance Romeo and Juliet. Normally, if you're upset you talk about it as people, but in ballet you have to explain a normal situation but without speaking, you have to do it purely with your body. It's nice to not just smile and look pretty, it's nice to be very emotional. The challenge of getting that emotion across to the audience without speaking is a challenge that I really like, to see if you can touch the people in audience by just moving in a certain way. It's very fresh, the music is brilliant, I love everything about it. The two best Juliets are Alessandra Ferri and Tamara Rojo, they're internationally known to be amazing in those roles.
What's the best advice you've received during your career so far?
It's realising that you can't stop if you fail once; if you stop if you fail you've got no chance in this industry. You've got to push yourself even when it gets tough, and generally teachers encourage you to keep on going, and make sure that you know how to cope when you have a dip. Anybody can do anything if everything 's perfect, you have to be able to deliver when things are not good. That's what makes a real dancer – all dancers in companies know that you have bad days and good days but you can't have it any other way.
What advice do you have for young dancers starting out in ballet?
Don't expect it to be easy! If you work hard and you are dedicated, then you will be rewarded. It takes a lot of work and a lot of passion, but if you love it then it's the right thing to do. It's not an easy ride – to go for it you have to know that, you have to be prepared to go through lots of different experiences and still strive for something that you want. But if it's something that you love and it's in your blood then it's the right thing to go for. The other thing is to make sure you enjoy yourself!
The Nutcracker is at the London Coliseum from 11 December 2013 – 5 January 2014.
www.ballet.org.uk/whats-on/nutcracker/