Interview:

Emma Gladstone - introducing Dance Umbrella 2014
Artistic Director Emma Gladstone presents her first Dance Umbrella this month (from 14 – 31 October). We caught up with her to find out what treats she has in store for London…
You've got hip hop, ice dance, flamenco, integrated dance – in fourteen venues around London (some new to Dance Umbrella). What were your main considerations in putting the programme together?
I wanted to use the city, to travel outside the centre, and outside of dance venues. That's why I am excited to be going to the Young Vic, the Unicorn, Alexandra Palace Ice Rink, Watermans Arts Centre, Deptford Albany and so on. The goal was to invite great modern choreography, not necessarily work defined as contemporary dance.
In an interview recently you said "Dance is growing up as an art form – and I'm excited by where it's going." Can you enlarge on that?
When contemporary dance first started it had to fight to be recognised to find its own place within the art world, to be recognised as a legitimate art form, something that was not only entertainment, or educational, or classical. Those pioneers wanted to persuade people to look and think differently at the body, but often still via a recognisably strong technique. When I look around now at what artists are making, and what audiences go to, you can see a cocktail of work mixing art forms, playing with ideas as well as technique, trying different locations and so on. It feels more open, and less defensive.
La Veronal is a case in point, where Barcelona choreographer Marcus Morau uses a mix of artists from film, visual art, and theatre as well as dance in his Siena at the Southbank Centre. Next year we will be heading out of theatres with several pieces, and it has not been hard to find good work.
It's a smaller (but perfectly formed..) programme than in past years – but with nine shows over 18 days, it will be possible to see them all. Are you encouraging audiences to do a dance mini marathon, or do you expect them to dip in and out?
What I hope is that they go to the things that really grab them, so dipping in and out is a good way to go this year. One of our jobs as programmers is to help the right audiences find the right artist. Unlike Theatre we usually do not have a narrative, or big names, or titles that people know, so it is always a leap for audiences, and I wanted to make a programme that was as inviting as possible.
Ice skating as part of Dance Umbrella is probably the biggest surprise for most people! What's so special about Le Patin Libre…
Its quite rare to come across such an amazing bunch, (and all thanks to londondance.com in fact, as it was a link sent by editor Carmel Smith that first alerted me to them).
Vertical Influences is one of this years commissions, and last week I was in France to see how rehearsals were going. At one point two of the guys, Alex and Samuri, were doing a duet, and it made me think how rare it is to see two men skating together. No sequins, no lifts, just some kind of a shared choreographic complicity, Its great to watch movement so full of what Le Patin Libre call 'glide'. Its visceral and joyous in equal measure.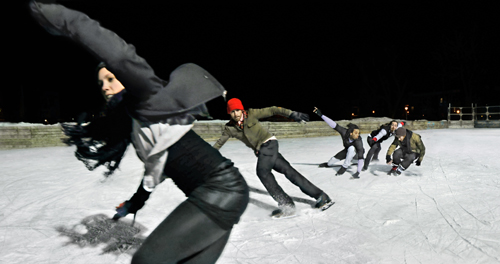 For me it's has been a delight to get to know them. I introduced them to two fantastic women who are now collaborating on the piece – dramaturge Ruth Little and lighting designer Lucy Carter – so it feels like a good journey to go on together.
Dance might be growing up, but Dance Umbrella has a whole lot more for younger audiences this year. Tell us about Shiny ,Dance Umbrella's first ever interactive show for "the very young and their grown-ups"…
Having programmed work for children and young people for over fifteen years now I am still amazed when they are NOT included in a programme. It's a strange idea that I think comes from the assumption that work for children is not serious, or not important in some way. They are part of our world, they are an audience, they are working to make sense of it all just as we are. So of course I want to include them.
Shiny is a show where the edges of the performance area (one cannot really call it a stage) become blurred as the show goes on. Its fun – hallelujah – and babies, toddlers and adults all really respond to it.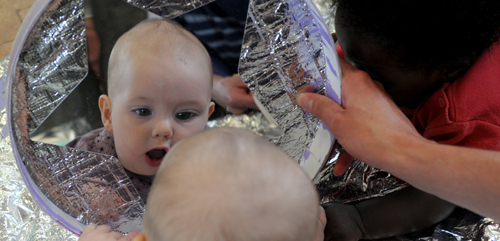 You're also collaborating with the Unicorn Theatre in presenting a Triple bill for Under 12s – "and only under 12s". (Parents and older siblings will have alternative activities.) Why the exclusivity?
The director of the Unicorn Purni Morrell and I wanted a really strong international triple bill of the best work we could find, and we both liked the thought of a crèche for adults, especially one made by kids. The Unicorn is a welcoming place, designed for young people, so we felt it would be a good environment to try something new in half term. We have invited Peter Laycock from The Place to come and compere it, as he does a great job of both relaxing people and helping them into performances, and the kids can come and go at any time, so it should be quite relaxed.
Having said that it is important for me to be as ambitious for this age group as for any other, and I am really keep to see what the response is.
In contrast – Ivan Blackstock's A Harlem Dream at the Young Vic is "designed to tease and please an adult audience". This will be the first time Dance Umbrella has collaborated with the Young Vic – tell us a bit about this co-commission. Will it have a more 'theatrical' feel?
Absolutely. Its one of the few pieces that is narrative, even if in a somewhat surreal way, which was a deliberate choice given where we are presenting it. I have worked with David Lan the Artistic Director there before, and was keen to do so again, as I felt it would bring different collaborators into the mix, along with new audiences, and was delighted when he was up for it.
Ivan was keen to have some hip hop that was not family friendly, but specifically for adults, and the idea intrigued me. I think Ivan would agree when I say that the piece is evolving in a different way than if we have been working in a dance house, and I cannot wait to see where it lands.
Flamenco tends to be 'a bit marmite' (love it or hate it) for people. For those who haven't acquired the taste, why is any performance by Rocio Molina worth seeking out…
The best way to answer this is to say go and see her perform, and then see if you still need to ask the question… Rocio has a fierceness about her that speaks to people, a life-enhancing rebelliousness against giving in, a fight against conformity. She is still young, only in her twenties, but already performing her work on the biggest stages around Europe.
I am happy the Barbican wanted to present her, because I am convinced her power speaks way beyond any one audience, even if the work has come from, and continues to draw from her flamenco base.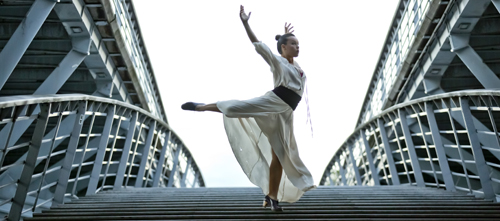 You're introducing a new format for post show discussions. What's the idea behind the Talking Amongst Ourselves events…
Quite simple. I want to try and see how audiences talk about what they have just seen without the expert – the artist – there. This is not in any way because it is not interesting to hear that, but I because I believe as a nation we are very committed to words and logic and narrative, and I am keen to find ways to help people talk about other things, things that dance deals in, such as moods, emotions, images, intangible and evocative sensations. My experience is people do get what they see, even if they sometime think they don't, or are not sure that they have understood it as they 'should'. I want to see what we talk about when there is no 'should' about it.
The season opens with Jerome Bel & Theatre Hora's Disabled Theatre – is this a statement about the importance of inclusivity – and 'part of dance growing up' ?
Actually there are many reasons to invite this show to the UK, so I am not sure it is a statement about any one thing. First of all I think (of course I would say this) that it is a wonderful piece of work. Second of all it is right on the cusp of what I think can be programmed in a dance festival, as there is quite a lot of text in it. Third of all you go on an extraordinary journey as a member of and sitting in the audience, and I am always looking for work that makes us travel. And finally it Is mind-openingly refreshing with regards to questions about disability, and how we judge people.
And yes is the answer to the 'dance growing up' question. This is a theatre company based in Switzerland; who invited a French choreographer to come and work with them; who then came and made a kind of body-centred play, in a way no director would have done I think. I love that mash up.
With your first festival just weeks away, you're probably focussed on the here and now – but looking forwards, how do you want to develop Dance Umbrella in the next few years?
Mmn. In three key ways:

1. This year I have only been able to afford a couple of commissions, but further down the line, ideally by 2016, I want half the programme to have been developed via research time or commission
2. To continue to take dance out to audiences in venues or other locations who are up for trying out live performance but do not (yet) get to see a lot of dance.
3. To develop the level of discussions in and around dance and culture including talks, debates, online via articles like Definite Article, and also via some creative learning plans we are cooking up
Dance Umbrella 2014 – sum it up in three words…
'Step up, step out' – is that cheating?


Dance Umbrella 14 – 31 October 2014, at venues across London
www.danceumbrella.co.uk
Photo: James Keane
---
Leave a comment
You must be signed in to post comments.