Interview:

David Waring Q&A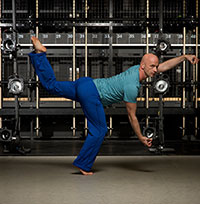 David Waring is the Artistic Director of Transitions Dance Company – Trinity Laban's company made up of graduate dancers. He graduated from Laban in 1987 – danced with Transitions himself – and since then has performed, choreographed and taught with a range of companies and artists including Ricochet Dance Company, Walker Dance, Adventures in Motion Pictures, MotionHouse and The Featherstonehaughs. We asked him a few questions as the company prepare to perform at Laban Theatre this week (25 – 27 May) at the end of a UK tour …


What can audiences expect from this bill?
Work created especially with – and for – these performers. The show has a broad range of dance work which represents different styles of contemporary dance which require various different performance skills. I hope they will be impressed by the dancers' technical abilities, that they will be moved, will laugh and have questions and curiosity as to the different ideas present in each piece.
Fieldwork from performance and research collective Dog Kennel Hill Project explores how, as a newly formed company, the dancers locate themselves now and in relation to their past. Through a deconstructed series of arrivals and departures and a language of stumbles, false starts, surges and going round in circles, the piece asks "when do we truly arrive anywhere?"
Theo Clinkard's my dance, your touch draws on research outlining how physical touch affects our behavioural, cultural, emotional and biological development. Through memories, connections and music, the movements of the piece are each crafted by the touch of another.
12, by Ederson Rodrigues Xavier, is a physically demanding piece, with the dancers following internal impulses or external attractions. It uses a score specially composed by Trinity Laban student Ben Pearson.
How is Transitions Dance Company different from other dance training?
It's a year-long intensive programme with a group of only twelve, the dancers work with professional choreographers and their experience mirrors that of a professional company.
Tell us a bit about your involvement..
The essential ethos of the company is to support the development of performance practitioners, having them contribute to the creation of three dance works and tour those works as a company. As Artistic Director, I choose the choreographers to make a brand new programme each year, act as rehearsal director, teach the company and mentor the performers in their development.
What made you want to work with Transitions Dance Company?
I was a member of Transitions and remember my experience as truly formative in understanding and developing a professional attitude with which to engage in my practice. The company is run as a professional one would be, supported by a big team which ensures that the work and the performers are presented at the peak of their abilities with the highest possible production values. Since I graduated, I have been engaged in teaching and value the opportunity to share my knowledge with young dance artists who are motivated and committed to the art form and their own development as dance artists.
What advice would you give to a dance student?
Be prepared to work hard, question, explore and investigate, be open to different influences, try everything and reflect on how you may further use and develop that experience to serve your own creative drive and engagement in your practice.
And to artists heading out on their first professional tour?
Be ready for very different spaces to perform in, different audience reactions and responses, and ENJOY IT!
Transitions Dance Company
Laban Theatre, 25 – 27 May
www.trinitylaban.ac.uk
Photo: Chris Nash
Leave a comment
You must be signed in to post comments.