Feature:

Bittersweet River - on the streets of London
Earlier this month (1 December), Brazilian-born, London-based dancer, choreographer and actor Tiago Gambogi left his home in north London and, travelling via underground, staged a non-confrontational solo performance called Bittersweet River on the street in front of the entrance to the UK offices of BHP Billiton, an Anglo-Australian multinational mining, metals and petroleum company headquartered in Melbourne. You could say that this action was done in protest, although Tiago himself also refers to it as an 'act of integrity' and the beginnings of a dialogue.
Donald Hutera observed Bittersweet River from the moment it started, noting the responses Tiago generated from those who spotted this quietly determined, clay-caked figure en route to his destination and once he was on-site and in action. He also interviewed him via email both before and immediately after the event.

BEFORE
Why do you want to do this?
Art, dance and theatre have a unique power to touch people. A peaceful intervention is a way to create visual imagery that will stay in people's minds forever – for those who are present, or those who only see photos and documentation of it.
I care about Brazil. I'm originally from the State of Minas Gerais (the name of the State means 'general mines') where two dams broke and flooded the district of Bento Rodrigues and then fully polluted the Rio (or River) Doce. There have been huge consequences for nature and the local communities, and even further in Espírito Santo and along the coastline. BHP Billiton in the heart of London, the capital of capitalism, is one of the biggest mining companies in the world. While the employees were in their offices I wanted to make visible the huge impact their work has had a huge across the Atlantic through the disaster in Mariana – one of the biggest environmental disasters in Brazil of all time. Awareness needs to be raised. Justice and responsibility are essential. Brazil also needs to move from the position of being a country that extracts all of its minerals and sends them abroad.
How will it be done?
I've created a structured improvisation score for a peaceful one-man intervention for thirty or so minutes near in front of BHP Billiton in Victoria. Dressed in white, but covered in mud and clay, a ghost-like figure moves through the streets. I will also print up small papers with a few words about the disaster and a link to an Avaaz petition online that asks the company for more information and to take responsibility for it. I will bring a white flower to be given to CEO Andrew Mackenzie at the very end.
What possible outcomes do you want from this?
To generate curiosity from passers-by, and British press interest through the use of the photos and video of the performance. This disaster hasn't generated a lot of coverage here and will soon be forgotten without that.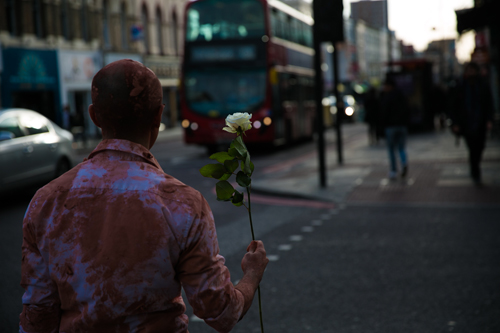 AFTER
What was your experience?
Strong. Scary at times. It made me cry. I was the ghost village person who died, and the Brazilian whore who was f***ed and thrown in the gutter after all the ore, and the profits, had been taken. I felt empowered by my art, and visible in a city in which it's common to feel anonymous. I was fully present and gave my message through dance, movement, imagery, words, humour and the grotesque. I felt protected by my dance, theatre, clowning and the pole dance I did on a lamppost – my tools for communication. I felt heard!
Were any outcomes met?
It was all better than I'd thought. People were interested and watched from all the surroundings; some took the flyers. Photos and video were made which can spread on the web. I got to talk to an employee of the company and give her the white rose. I wish I had spoken to the CEO, and been invited to their offices upstairs as there would've been more space for an authentic conversation, but it was what it was. I made a conversation with the company.
What did you discover from doing this?
That we all have the power to touch and communicate. That people are out there watching, and wanting to know. Some weren't interested, or 'didn't care,' but underneath that, there is a soul that cares. It's my job to connect and bring that soul alive.
And what now?
It's my responsibility to acknowledge that the company has been negligent in its actions. They have the responsibility of honouring the consequences, and clearing up the environmental, financial and social mess they caused. It's time to spread the word, images and videos because BHP Billiton will only care about Brazil and Minas Gerais if we keep being pro-active about the case. So I'm contacting Green Peace, Reuters, NGO green organisations, The Guardian, The Times, the Brazilian magazine Leros and others.
Any tips for those who might want to create a performative art response to something they perceive as unjust or 'not right' in society or the world?
Act on instinct. Follow the first ideas that come to your mind, then develop them. Be ruthless and bold, unreasonable and wild with your actions. Think, plan, believe, do, dance and have an artistic orgasm! But be precise and disciplined with your choices regarding dance, acting, words and props. Be fully present in what you do, but above all do it. Take action. You're responsible for your art and the world that you create.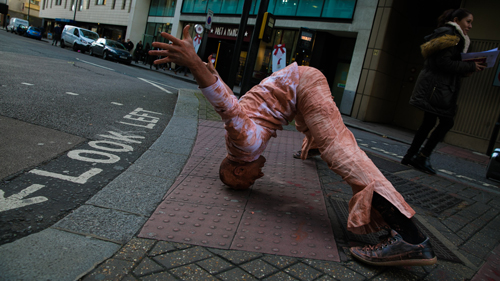 More about Tiago's work here:
www.transamazonia.wordpress.com
This performance of Bittersweet River was supported by Chelsea Arts Collective
Photos: Kristina Kashtanova


Donald Hutera is a long-time free-lance writer (The Times, People Dancing and more), curator (GOlive, Chelsea Arts Collective), dramaturg and workshop leader (English National Ballet's Dance is the Word). Find him on Twitter: @donaldhutera
Leave a comment
You must be signed in to post comments.