Feature:

The Print Room at the Coronet
The Print Room, a performance and creative arts space in West London started life in a former print warehouse off Westbourne Grove in 2010 and quickly gained a reputation for the quality and ambition of its work. Now the organisation has found a new home in the Coronet, a former Victorian Playhouse and latterly a cinema. The theatre is now undergoing a transformation, as the building is restored it to its full glory, with plans to renovate the main auditorium, and install a black box studio theatre. Next week Hubert Essakow, Associate Artist presents the first dance work to be seen in the building for one hundred years. The Print Room at the Coronet's Artistic Director Anda Winters tell us about the Print Room's journey – and how dance will be an important part of the programme…



It is January 2014 and we're looking for a new space for the Print Room. (We're housed in a former printing workshop on Hereford Road, but are falling victim, like so many, to residential development.) We go to look around the former Coronet cinema in Notting Hill.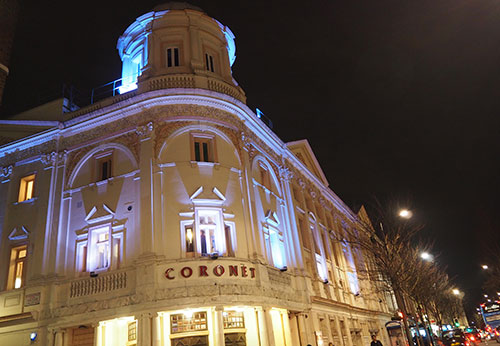 The Coronet began life as a Victorian opera and playhouse. It was designed by the renowned theatre architect WGR Sprague, who also designed Wyndham's and the Aldwych. It's his oldest surviving London theatre. Despite an auspicious early history that included frequent visits from Edward VII and appearances from Sarah Bernhardt and Ellen Terry, it was converted fairly early on in its life into a cinema.
The first thing I see is the Formica construction in the sticky-carpeted foyer which served as the cinema's box office, it's like a ticket office in a Siberian railway station. We go through the building with torches. Much of the backstage area has been empty and unvisited for decades. It is dark, damp and cold. The windows are painted black, inside and out, the dressing rooms are nailed shut. But the whole building brims with enigma and surprises. We go through one room and discover a suite of three others. Studying the walls with torchlight we find graffiti from the Second World War, depicting Japanese aircraft, alongside names and dates, slogans and caricatures. The ghosts of stories are everywhere. The main space of the building, Sprague's wonderful auditorium, with its ornate plasterwork ceiling and proscenium arch, has been hidden for decades in the cinema's darkness. It is tired, tattered and covered in dust. It's too great a task to take on, I think as I leave.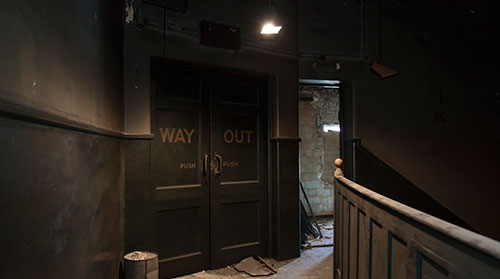 Two years later…it's February 2016 and we're about to present a full-length dance piece, Terra, in the Coronet's auditorium. It's the the third piece Hubert Essakow's trilogy on the elements that began in 2013 with Flow (inspired by water) and continued in 2014 with Ignis (inspired by fire).
We are about to begin in earnest the project to restore and fully modernise the Coronet, which we expect to take five years. By 2021 we hope to have a restaurant and bar, a renovated 35mm cinema facility and the original stage and auditorium, sympathetically restored. We'll have flexible configuration options here so we can keep presenting the intimate theatre and art for which the Print Room is renowned.
In the meantime we have elevated a temporary stage to the height of the dress circle where the audience sits. Underneath, in the temporarily empty stalls area, we've created a beautiful cocktail bar (housing possibly the finest display of vintage handbags, mirrors and rugs in London).
Terra will be the first dance performance to take place in the Coronet's auditorium for almost one hundred years and I am pleased and proud about that. When I first started the Print Room I wanted to create a space with an open, diverse artistic programme that would welcome and engage the broadest audience possible. It was particularly important to me that dance was a major element of our work. Dance has always been a huge part of my life. I began my artistic career studying fashion, specifically theatre costume, in New York and later in Paris. I remain fascinated by the ways in which we communicate through clothing and the body, by the silent speech that transcends the limits of national languages. Discovering and introducing new choreographers is central to my artistic mission. I want the Coronet to support talented lesser-known and mid-career choreographers, such as Hubert, and to help them develop audiences and build sustainable careers.
I've had some incredible dance experiences – Alvin Ailey at Dance City Center in New York, Saburo Teshigawara in Tokyo and also Butoh Dance in a skyscraper, Anne Theresa de Keersmaeker at Sadler's Wells and Nederlands Dans Theater at the Met New York City, two years ago to name a few. Impossible to reproduce, impossible to forget, but I want to try and create the same memories for audiences here at the Coronet.
The Coronet has a unique character and theatrical history. Our spaces are quirky and idiosyncratic. We're different to other dance houses. The building has a place in the heart of west Londoners and I think it is becoming a special place for dance artists – and audiences too. We are going to grow together!
Print Room Dance Company, Hubert Essakow's Terra
23 February – 12 March 2016
www.the-print-room.org
Photos of Hubert Essakow's Terra in rehearsal at The Print Room by Stephen Wright
---
Leave a comment
You must be signed in to post comments.