Feature:

Pink Jukebox Trophy at the Rivoli Ballroom
Whether vast formal Ballroom and Latin dance competition or small local show, the world of same-sex dancing as exemplified by the Pink Jukebox Trophy is warmer, friendlier, more egalitarian and wonderfully transnational. Carole Edrich reports on (and photographs) the latest competition, which took place at the Rivoli Ballroom in Brockley, South London, last month…

Over the years I've covered most (if not all) of Europe's ballroom dance competitions and it is the openness and warmth of everyone present that differentiates them from the rest.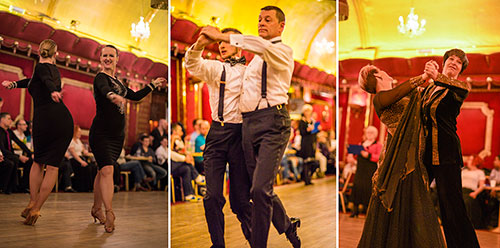 MC and organiser Ralf Karl Schiller and his team keep the day running with pleasant but military precision, and the event follows the European Same Sex Dance Association (ESSDA) rules. These are as even-handed as is possible. Classification rounds mean that a couple who placed in one class last year might find themselves in a lower or higher class this year, depending on whether they're having a particularly good or bad day. In a world that still has scarily heteronormative places, one might think that a competition that has arisen to serve the needs of the LGBT community would create something exclusive. This is far from the truth, they practice what they preach and everyone is welcome regardless of their sexual orientation to the extent that a pair of husbands had decided to compete because their wives were competing together this year.
Ralf, who can't quite believe the success of what he started, gave me a brief potted history of how the event came about:
Around 1989 I was taken to the then Lesbian and Gay Centre in Farringdon for a tea dance where I met a guy called Tony. He was a dancer too and when people saw us dance together they asked us where they could learn so we started a class just before the Tea Dance that December. We only had 10 people – all men – and just before we broke for summer we were asked to run a class before a big party at the Camden Town Hall. About 200 people attended, then 80 joined our classes the next term. It grew from then.
After a while we started the Pink Jukebox – around 11 February, 1996. We started a small competition which we called Dancearama to celebrate its anniversary and discovered there were already competitions on mainland Europe, with big things planned for 1998. That's when we started the Pink Jukebox Trophy and it's why this year is our 20th birthday but only our 18th trophy.
40 of us decided to go in a group to the Rivoli when someone living nearby suggested it. We doubled their numbers and the owner, Bill Mannix, was really pleased to see so many young people. Some of the regular dancers left out of disgust when they saw two men dancing together. Bill didn't mind and wanted us every week, but we couldn't make it that regularly. In 1993 or 1994 he asked Jacky Logan to do the music once a month and this turned into Jacky's Jukebox.'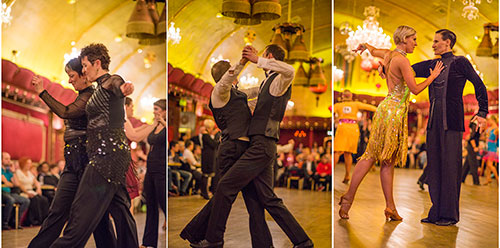 People wander around, catch up with friends, make new ones and mix to such an extent that, apart from the competitors, you can't even tell which country they're from. I could end by telling you that I'm looking forward to the next Pink Jukebox Trophy (which would be true), but instead I'll quote one of this year's competitors, Roswitha Wetschka, a London-based dance teacher who also organizes the Vienna Dance Contest, told me 'What I like the most about the Pink Jukebox Trophy is its friendly and euphoric atmosphere, the support of the LGBT community and friends, the cheering, the friendly words. Joining the energy flow of music and movement on the dance floor while being carried by the loving audience is amazing. You're carried by love and respect.'
If this piques your interest, the UK Fun Competition organised by Vernon Kemp takes place at the Rivoli on 1 October this year and next year's Pink Jukebox Trophy is on 18 February 2017.


Pink Jukebox Trophy, 20 February 2016
Rivoli Ballroom, London SE4 2BY.
Article and photos by Carole Edrich, publisher, photographer and writer specialising in dance, extreme and adventure sports and travel. Find her on Twitter @CEimages
Leave a comment
You must be signed in to post comments.