Feature:

On the Waterfront - dance at Latitude 2016
The British summer may have been a long time coming this year but it arrived in time for the start of Latitude 2016, the long weekend festival of arts and music held in the beautiful fields and woodlands of Henham Park, Suffolk. Our contributor Rachel Elderkin was there…


For the dance line up, hosted by Sadler's Wells on the festival's Waterfront Stage, the appearance of summer couldn't have been more perfect. The lakeside setting provides an ideal spot for audience members to relax in the sun – and its dance performances attracted festival goers across the weekend, with spectators lining the bridge and banks on both sides of the water for a glimpse of the action.
Late on Thursday evening as darkness fell, Hofesh Shechter Company opened proceedings with an atmospheric performance of tHE bAD, the middle section from Shechter's recent work barbarians. Created during a series of night time rehearsals, the opening of this work is heavy with a sense of frustration and madness; emotions that such a process might cause. Dressed in skin-tight gold catsuits the dancers thrash their bodies, throwing their limbs outward from contracted torsos. As it progresses they seem to relax into this movement and tHE bAD transforms into a rave, the five dancers at one with the loud bass of the dubstep soundtrack – infiltrated by occasional bursts of baroque music. It's mad, aggressive, in-your-face dance but placed on an outdoor festival stage in the gathering darkness it feels uniquely appropriate; a punchy and promising opening to Latitude's dance line up.


Friday, the first full day of the festival, saw performances by Botis Seva's company Far From the Norm and the dancers and musicians of Vamos Cuba!, who arrived at Latitude direct from Havana. Although by early evening the weather had cooled, they brought a fiery Latin spirt to the Waterfront Stage with an excerpt from their new show which runs through the summer at Sadler's Wells from next week (26 July – 21 August). A mix of Latin dance styles, the fiesta vibe of this high energy performance transports you to Cuba, in a scene where couples drink, flirt and break into group dance routines. It's a fun, uplifting performance and the company's warmth and energy was infectious.
Earlier in the day Seva's company performed H.O.H, or House of Hooligans, a work that addresses football hooliganism. Loud and riotous, the piece threads hip hop dance around football chants, jeers and a colourful flag waving sequence filled with joyful patriotism. H.O.H is lively and upfront but in this open air setting its plot gets a little lost. The company also ran a morning workshop, open to anyone who wanted to try Seva's blend of hip hop and contemporary dance. The fun, relaxed atmosphere was popular with all ages. "We had many different people taking part, from old to young to middle aged," said Seva. "It was great to be able to see people enjoy themselves with dance – we really love and enjoy that." Nine year old Maisy from Essex, who took part in the workshop with her mum and brother told me "It was really fun and I liked how fast it was."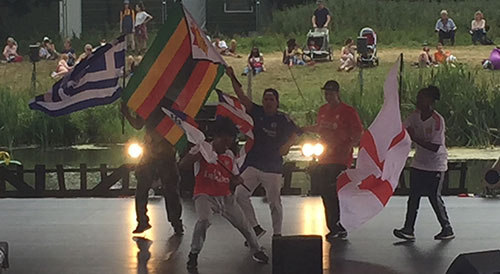 After Far From the Norm's performance I spoke to Seva about H.O.H
"When I was 15 I used to play football and I love it, but there's also a lot of politics around the game and I wanted to show that in a piece. I can't change things in the work I create but I can bring awareness to the people watching it, encourage them to talk and debate about it, and I think that's what promotes the message in a work – if it makes people talk that's a good thing." There were some challenges in the festival setting though. "It's been hard performing H.O.H here at Latitude," said Seva. "Normally we do it in a round and here it's been more of a performance so it's quite hard not having the audience interaction, but it's been good because we've met new audiences and it's a good experience!"


Saturday saw a selection of short works from New English Ballet Theatre (NEBT), Karen Pilkington-Miksa's recently established neo-classical ballet company committed to commissioning new works – especially those by female choreographers. The stand out of the three performed was Kristen McNally's Mad Women, a piece addressing female madness through the image of the '50s house wife. Although slow to convey its premise, it gradually began to develop the idea that the housewife's perfect appearance was not quite what it seemed, contrasting a flirtatious, preening persona with a stuttering, robotic breakdown of her movement vocabulary. Mad Women was accompanied by a spaghetti Western style work, Lonesome Gun also by McNally (a Royal Ballet Soloist) and a sweet, playful pas de deux Wundarra by Daniela Cardim (ex-Dutch National Ballet).


The evening may have been the headline night for music with The National performing on the main stage, but it also included a performance that proved to be the highlight of the dance programme. The early evening slot on the Waterfront Stage provided the perfect setting for Veils, a collaboration between choreographer Lynne Page and electro acoustic jazz trio GoGo Penguin. The band opened with a number of their own songs, their quick, intricate rhythms building a tangible energy and in turn a growing sense of anticipation. From this opening set it was clear that this work had attracted an audience of both music and dance lovers. As GoGo Penguin launched into Veils, a composition written especially for their collaboration with Page, a cast of eight dancers joined the band on stage. Fast moving with rare moments of pause, the dancers filter in and out of the space engaging in virtuosic solos, duets and energetic group routines. Page's technical but fluent contemporary choreography picks at the accents in the music, the dancers and musicians seemingly at one. The cast are all accomplished dancers and perform with a flair and joyfulness that is uplifting to watch. It's a relentless, thrilling work and in this outdoor setting the music and dance envelops your senses – and it deserved the first standing ovation for the Waterfront's dance line up.
[Featuring dancers Julie Ann Minaai, Alice Laidler, Daisy West, Edd Mitton and Harry Alexander]
Afterwards I asked Lynne what inspired her to create Veils, which was originally performed at the Barbican as part of the EFG London Jazz Festival
"I had an idea to do something that put the subculture of the London Jazz scene on stage – it was a subculture in the '80s, and I'm quite interested in subcultures. I went to see GoGo Penguin play at Dingles, with Giles Peterson. They're so tight as a band and so orchestral, yet they use all these incredible rhythms and I just instinctively thought their music would be perfect for a dance piece. I was quite brazen and asked them if they would write a ballet and they said yes! It went from there really."
"Music always comes first. With the guys composing the piece I just spoke to them about what is helpful in dance. In a piece over five minutes it needs to have ebbs and flows and different dynamics. That helps the choreographer as then it's not always the same tempo. After that I just see pictures in my head when I hear the music."
And how did she adapt it for a festival setting?
"There's not much we had to adapt for Latitude, except that here there's no lights, so I just had to make sure that the performers were really physical, because without lighting to help you out then the performers need to be extraordinarily visceral and charismatic because they're doing three times as much work – they're not getting any help from lighting."
The last day of the festival, Sunday, was no less eventful with performances from Richard Alston Dance Company (RADC) and the National Youth Dance Company (NYDC). RADC led a lunchtime workshop on the Waterfront Stage, which again proved popular with a range of ages. The session served as a warm up for the company dancers; a friendly, technical class led by Alston dancer Liam Riddick, which offered dancing festival goers the chance to share the stage with the company.



Speaking to Liam after the workshop he confirmed the company also enjoyed this opportunity: "It was absolutely fantastic, I didn't know what to expect – the participants who did it ranged in age from about nine upwards. There was a fantastic energy, they were really keen and up for it and it was just so nice to share that stage with so many special people."
RADC performed two works from their repertoire – Stronghold and Nomadic. The driving force of the movement in Martin Lawrance's Stronghold makes for a gripping, fast-paced piece, but the excerpt performed at Latitude did not quite do the energy of this work justice. Nomadic felt better suited to the festival stage setting. Its African rhythms are accompanied by flying leaps and quick footwork as the dancers move powerfully across the space, switching direction with small springing steps and spins. Although a high energy piece it's performed with a relaxed vibe, elements of hip hop interwoven with Alston's technical language. It's touches such as these that help keep this long established company up to date, maintaining their position as a leading force on the contemporary dance scene and, as usual, the dancers of RADC gave festival goers a performance of high quality dance.
For a company used to performing in a theatre setting, dancing at Latitude offered something a little different. "Performing on the outdoor stage is completely different," explains Liam. "Here it's in the round whereas normally we just perform to the front. It's great to have this incredible stage on the lake and to literally play energy out in every direction. It's such a great feeling."
"These two works are so different but the music is fantastic in both. Stronghold is very energetic and dynamic – you can really get into it. In Nomadic there's playfulness – it's about travellers and you can really have a sense of togetherness.
"Latitude has been incredible – it's such a different environment for us. I hope this lets us carry on now with more things like this, whether festivals or other things. It's been great, we absolutely love it here."
NYDC brought Latitude's dance line up to a close with their performance of In-Nocentes, created with the company by Michael Keegan-Dolan. Much like a dance version of follow the leader, one repeated action began by a solo dancer is gradually taken on by the rest of the group. The work builds in this way, groups of varying sizes taking to the stage as the others watch, waiting at the sides. Despite it being a lengthy work (about an hour) the way In-Nocentes steadily builds holds the attention.
NYDC are a promising group of young dancers and occasional virtuoso sections allowed the company to display acrobatic skills alongside their contemporary dance abilities. Dressed in colourful everyday clothing, this spectacle of mass dance created a strong visual on the festival stage and received the second standing ovation of the dance line up, ending the Sadler's Wells programme on a vibrant, uplifting note.


Away from the main stage and the Sadler's line up there were other dance-related performances to be found. Swing Patrol and tango group A Curious Invitation both led popular workshops, again held on the Waterfront Stage. A Curious Invitation also performed a late night set in the Faraway Forest, a trio of musicians accompanying this relaxed but sultry midnight tango beneath the trees.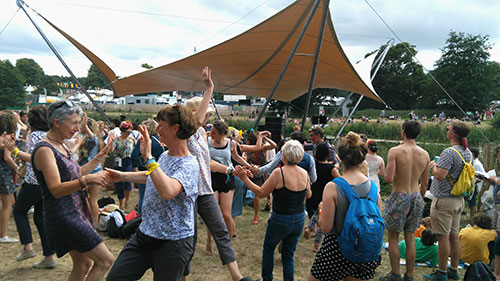 Passing by the Forest Fringe tent on Sunday afternoon, I found Rhiannon Faith's Scary Shit. More performance art than dance, the show is an upfront spoken word discussion of feminine, vagina-centric issues, with brief moments of movement thrown in. It's certainly not a work to everyone's taste but the duos bold and unabashed approach brings a fresh perspective to issues many women may rather not address.
For those who enjoy circus or physical theatre, festival highlights included CIRCA, whose new work Landscape with Monsters proved an exciting, daring and inventive piece of theatre, as well as Famille Floz, a masked theatre company blending mime and physical theatre. They performed the touching Teatro Delusio, a lengthy but intelligent and entertaining work.
The varied dance line up of Latitude '16 played host to some strong performances, especially those from RADC and, in this festival setting, Hofesh Shechter. It was Veils that stole the show on the Waterfront Stage though; its infectious rhythms and sophisticated, energetic performance making it an ideal festival piece.
See more of Rachel's photos & video clips on Instagram – danceinlondon


Rachel Elderkin is a freelance dancer and dance writer. She has written for a number of arts publications and regularly contributes to The Stage, Fjord Review and British Theatre Guide. Twitter: @Rachel_Elderkin
Leave a comment
You must be signed in to post comments.