Feature:

Hearing the sound of the dance...
Choreographer Joss Arnott's latest production is a collaboration with internationally famous percussionist Evelyn Glennie. The UK tour of 5|0 opens in Ipswich at Dance East on 16 October – and stops off for a London date at artsdepot on 3 November. Lyndsey Winship went to meet them both, with composer James Keane….



Evelyn Glennie's studio is like an Aladdin's cave that magically appears in the middle of a business park off the A14. In a place of red-brick uniformity, inhabited by insurers and accountants, one door leads to a grotto of gongs, chimes, drums and cymbals, marimbas and metallophones – including a xylophone made of spanners – and the huge rack of bells called an aluphone that Glennie played at the Olympic Opening Ceremony at London 2012.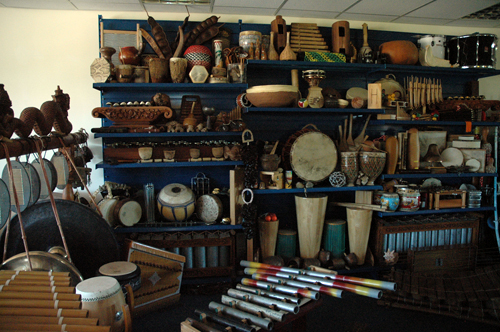 Dame Evelyn Glennie's studio
As the world's first solo percussionist, Glennie has played these instruments around the world, collaborating with acclaimed orchestras and big name music stars like Mark Knopfler and Björk. She's a musician at the top of her game, recently awarded the Polar Music Prize (music's equivalent of the Nobel), but she is as curious as ever about seeking out new sounds. And thanks to that curiosity, some of these instruments (as many as they can fit in "a reasonably sized truck") will soon be going on tour again, this time with Joss Arnott Dance, as part of a new show 5|0, the brainchild of Artistic Director Joss Arnott.
It's not Glennie's first foray into dance. She worked with choreographer Marc Brew in 2012 and got the dance bug. "It was challenging, it was pushing my boundaries," she says. "The way you were feeding off the dancers and their energy and they were feeding off the music, you realised you were part of a collage. And I love how they use space, how they musically use space, so that you can almost hear the sound of the movement. It changed the way that I listened actually."
Glennie wanted to explore this world further and had her eye out for another dance project. Meanwhile, in Yorkshire, Arnott was looking to do something special to mark his company's fifth anniversary. "Evelyn has always been someone I wanted to work with," says Arnott, describing how he'd choreographed a piece to one of her tracks for his A-Levels. "But I thought, nah, we'd be pushing above our weight, it's never going to happen." While some people would leave it at that, for Arnott, the idea just wouldn't go away. "We thought: If you don't ask, you'll never know…"
So Arnott emailed Glennie's office, "And they emailed me straight back and said come for a visit!" he recalls, in the manner of a man who can't quite believe his luck. The pair met, along with Arnott's regular composer James Keane, and Glennie was immediately impressed by Arnott's artistic ambition and vision.
"Is that person bubbling with creativity? Do they care? Have they got the quality?" These are the questions she asks of any potential collaborator, and Glennie decided that Arnott certainly did. "I liked the fact that Joss specialises in the female form," she says (Arnott's company is made up of five women, embodying what he calls the 'alpha female'). "And then of course Joss's collaboration with James was also interesting, so I knew that musically we would be in good hands." The fact that Glennie celebrates her fiftieth birthday this year, while Arnott's company has its fifth seemed neat too, hence the title, 5|0.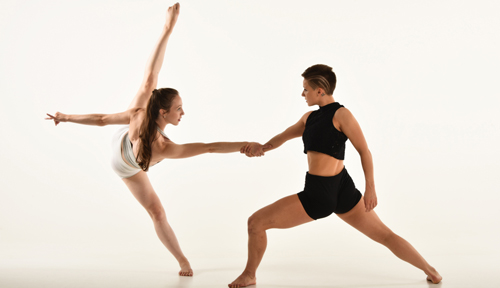 Joss Arnott Dance. Photo: Brian Slater
When I meet the trio at Glennie's HQ, Keane is two-thirds of the way through writing the music – the piece, which will be the climax of the triple bill, has been named Wide Awakening – and is about to go into the studio with Glennie where they'll start to explore sound palettes with different instruments (and work out which ones they can fit into that van). They'll also experiment with mixing live and synthesised sounds.
So what will it sound like? "Big loud drums, a lot of very delicate metal and some very beautiful marimba," says Keane, with a smile. The inspiration for the music comes from Arnott's choreography, he says, "which tends to be very powerful, very physical and quite physically extreme, so it's choreography that can withstand very powerful music. The music is about rhythm, drive and complexity," he goes on. "And it's about space – there has to be space, because the first ten minutes will hopefully make their brains melt."
"The interesting thing about writing for percussion is you've so many different attacks," Glennie adds. "You've short sounds, long sounds, sharp sounds, mellow sounds and everything in between. And – this is my analysis – that's often how dancers deal with space and move the body, they can be extremely percussive."
Glennie thinks there is a huge affinity between percussionists and dancers, something that's often noted by people who see her perform, skipping from instrument to instrument, moving in time with the rhythms she's making. "A lot of people say to me: Do you dance?" to which she always answers no. "If I don't have something in my hand I don't know what to do with myself, so I'm not a dancer, but I admire what the body can do," she says. "And as a percussion player, the body is everything – your posture, how you listen to the body, it's really crucial." (For Glennie, as a profoundly deaf musician, you'd imagine this may be even more pertinent, although she's not sure that's the case.)
For Arnott, the link between dance and music is intrinsic, and it's the driving force behind his movement style – which lies somewhere between classical and contemporary dance – and chooses dancers who can embody that ideal. "I can always tell what makes a musical dancer", he says. "You can almost see the music, it's not two separate things. You hear it, you feel it, you see it."
"Wide Awakening will be based purely on James and Evelyn's score," he states "I have always worked in collaboration with the dancers and for this particular work I want to portray a modern and athletic sense of power through adrenaline fuelled movement."
Arnott cannot wait to get in the studio. "When I listened to some of the music for the first time, my heart was going," he grins. "I start to embody the variety of textures and tones the percussive sounds create and begin to build profiles and styles of the sections. Then my body is ready to get in the studio with the dancers and create the movement that really is reflecting what we hear." His movement is abstract not narrative, and he invites his audiences to see in it whatever they wish, but what's more important is what they feel. "It's ok to think, 'Oh, I'm not sure what that was about but I was really moved by it," he says. And he wants to entertain people. "This piece is going to have a really assertive feel to it, it's going to be an audience pleaser," he says. "I want it to be something that will stick around for a while."


The nine venue tour opens at DanceEast, Ipswich on 16 October and concludes at Wiltshire Music Centre on 21 November. The triple bill also features 24, a quartet inspired by the themes and concepts within the recent Alexander McQueen V&A exhibition Savage Beauty and a solo, V.
London date: artsdepot, 3 November. Tickets £14
More details & booking
Full tour dates & venues:
jossarnottdance.com


Lyndsey Winship writes about dance for the London Evening Standard, the Guardian and many other publications. She is the author of a new book – Being a Dancer .
Leave a comment
You must be signed in to post comments.