Feature:

Looking back on a hip hop London summer
Hundreds of people of all ages took part in – and thousands watched – two hip hop dance events in London this summer, organised by producer Kate Scanlan and her company Scanner's Inc. Words & photos (see full gallery below) by Carole Edrich.
It's been a great summer for hip hop in London. As part of Southbank Centre's massive Summer of Love festival, The Bridge, an Outdoor Jam occupied the spaces under nearby Hungerford Bridge on Sunday 27 July. This sizzling celebration of hip-hop culture was the event of the season for many who attended. "This is the second year. The Bridge really shows people what hip-hop culture can be," says Scanner's Inc producer Kate Scanlan (who conceived and produced the event in association with Southbank Centre)."People who have known each other and danced together for 30 years now bring their kids. They've been asking since last September when this year's Bridge would happen and they're already asking again."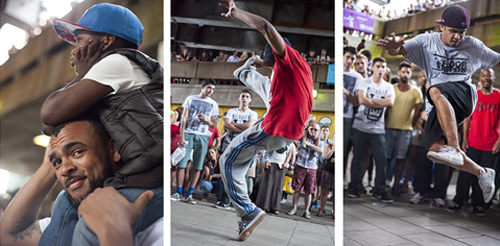 Hosted by MCs TY and Breis from midday until 10pm, this outdoor jam was an open and welcoming event which evolved over the course of the day, starting with an hour of graffiti and tunes, moving on to an early afternoon popping hour with DJs Jutsu, Sam and Holistic before moving on to a house jam with Sheila Attah and Kendra J Horsburgh who said: "I really enjoyed the Bridge event and it was magical to see so many cultures and ages come together on such a sunny day. House is such a "good energy" dance and I was so excited by the many smiles Sheila and I could put on peoples' faces."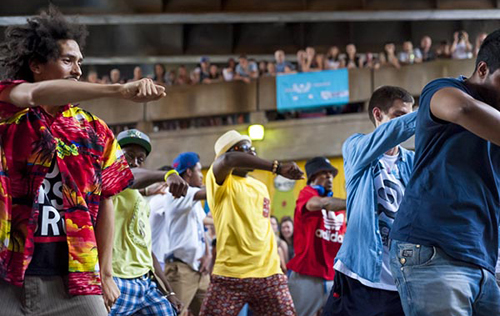 After breaking circles with Pervez of Live 2 Break Crew was an all styles concrete jam where the final winners were decided by the loudness of the audience's roar, Elaine and Sharifa (on this sunny Sunday of Love surnames didn't seem to matter) Mouse from Hammersmith suggested that he share first prize with the much younger Joel rather than letting the audience make a decision between them.
DJs Billy Biznizz and Ty maintained the good vibes with a final two hour social dance party. I heard one dancer say to another in jest "age is catching up on me, I danced so much I nearly had a heart attack" as the already-busy concrete dance ground filled to bursting point, while a fascinated and very appreciative audience of several hundred passers-by looked down from the bridge and the ramp.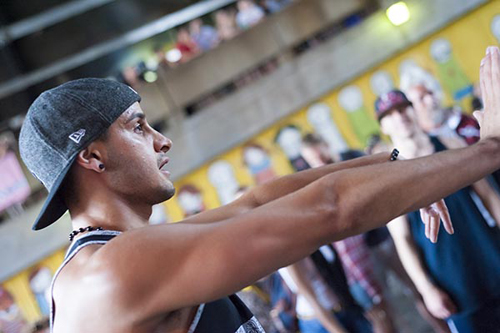 In the Electric Slide danced to Cameo's Candy, at one time over a hundred dancers spontaneously joined what seemed to onlookers to be an impromptu group choreography lead by first one dancer and then the other with seamless transitions. One of the dancers, Bismark Anobah, said later "I was reminded why I love dance so much. [The Bridge] is good for the scene and the [hip-hop] community." Alex Mechanikool Peters said: "It certainly has become one of my anticipated highlights in the annual dance calendar! Just what the UK needs. This thing becomes magical when members of the public feel more than comfortable to party alongside the [hip-hop] dance community. The vibes got real hectic especially towards the end when connecting together became priority."
"I really am overwhelmed by the response and my face hurts from smiling so much," said Kate Scanlan afterwards. I asked her what we could expect next year. The answer's more of the same, and it's already looking really good.

Artists who took part in The Bridge included: Billy Biznizz, TY CHikioke, Breis, Pervez, Andry Oporia, Sarah Love, DJ Jam Fu, Jutsu Hok, Samantha Haynes, Rajib 'HOlistik' Manandhar, Kendra J Horsburgh, Sheila Attah, ASTEK, Mr Dane.


Popin' Pete's Pop Shop
In August (21 – 25th), Scanners Inc took over the Londonewcastle Project Space, E2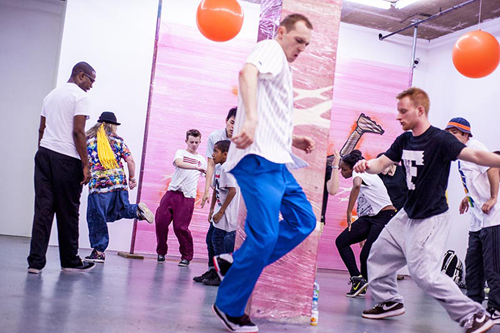 The second in what London's hip hop community is united in hoping will become an annual event, it features
Popin' Pete, DJ Biznizz
and
Mr Dane
. One of the originators of the dance style (although he always points out that he was inspired and learned from his brother
'Boogaloo' Sam Solomon
) he is a first-generation member of the
Electric Boogaloos
. With a career spanning over thirty years since the first emergence of popping dance to the development of funk culture (and integration of popping into it). Hip hop, popping and boogaloo are now so embedded in the culture that fathers, mothers and children still in primary school attended Popin' Pete's workshops and the socials that came with it.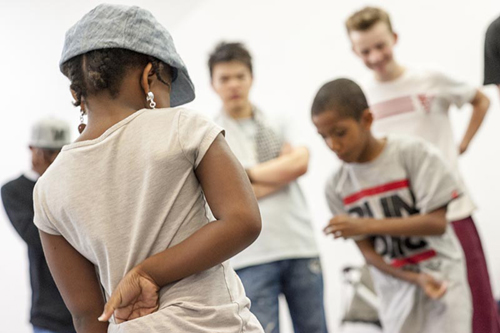 The event is extremely popular as is demonstrated by the lengths people will travel to attend. I met a lady from Edinburgh, a couple from France and a Londoner who had cut his holiday short to get back for it. This is partly because of Popin' Pete's clear, patient teaching style – and also because it's a pleasure to learn from someone who has stayed grounded despite his success.
As ever, Pete was happy to share his experiences as he grew up, as well as the dance. I particularly like Pete's lessons because he is clear about the basics and expects people to master a move before tweaking it to make it their own. It's the Electric Boogaloos who choreographed Michael Jackson's Thriller and Beat It videos, and Popin' Pete has gone on to innovate styles that include crazy legs, ET, spider man and sleepy style – all of which he was happy to teach so his visits to England are always well attended.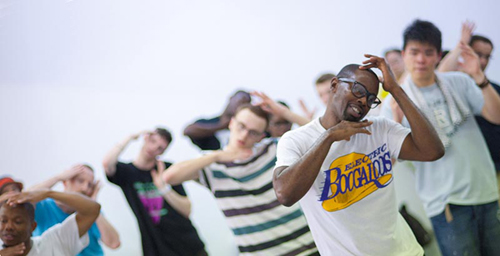 Other artists who took part included London poppers Dickson Mbi (FIYA House Crew / Russell Maliphant Company); Vicky 'Skytilz' Mantey (Boy Blue Entertainment) and Boogaloo Sam.


Summer might be drawing to a close, but London is due a further hip hop fix when Boy Blue Entertainment's hit show Five and the Prophecy of Prana returns to the Barbican Theatre from 2 – 4 October, as part of a UK tour
www.barbican.org.uk


Carole Edrich is a London based freelance photojournalist. See more of her work on dancetog.com
Leave a comment
You must be signed in to post comments.