Feature:

A year of London dance performances
Having seen, and usually reviewed, 148 dance performances at 27 different venues (and four live cinema relays) across London during 2014 (an increase on the 133 performances at 17 venues he saw last year) – as well as another 22 performances around the UK and in Russia, Poland, Spain, France and Belgium – Graham Watts gives a month by month run down of his highlights (and occasional lows) in 2014…
JANUARY
Hagit Yakira, Theo Clinkard Laban Theatre, 23 & 28 January
Two fascinating and entertaining shows in a week at the surprisingly roomy Laban Theatre beside Deptford Creek showed that venturing outside the centre of the capital can pay an excellent dividend.
First up was Hagit Yakira's …in the middle with you, a work for five dancers that was co-commissioned by Greenwich Dance and Trinity Laban. This new addition to Yakira's repertory is brimful of ideas and was danced with passion and conviction by her small company, amongst whom Mariana Camiloti was especially notable.
Five days later, I returned to Herzog and de Meuron's award-winning Laban building to see Theo Clinkard demonstrate his remarkable command of the complex layers of repetitive hand gestures in Trisha Brown's celebrated work Accumulation as a substantial hors d'oeuvre for his own new work Ordinary Courage. This non-narrative work about loss and vulnerability being overcome by moments of kindness and compassion included a wonderful coup de theatre that I won't spoil by revealing. Clinkard has drawn together an integrated theatrical experience, which shows a sure sense of class and a robust structural integrity in choreography that makes its point with purpose and vigour.

Honourable mentions
An indelible matinee performance of Sir Peter Wright's Giselle by the Royal Ballet, (18 January) led by Steven McRae, Roberta Marquez and Claudia Dean – who was surprisingly to resign from the company in May, followed by a performance of outstanding range in the title role by Natalia Osipova (22 January)
English National Ballet's restaging of Anna-Marie Holmes' Le Corsaire at the London Coliseum with splendid starry performances by Vadim Muntagirov and Alina Cojocaru (9 January)
A very personal promenade through individual excerpts of Siobhan Davies' back catalogue in Table of Contents at the

ICA

(7 January)
Disappointment
The Strictly Come Dancing tour, with all the integrity of a WWW wrestling match (20 January)
---
FEBRUARY
1980 – A Piece By Pina Bausch
Sadler's Wells, 8 February
Once again my February choice comes via the late Pina Bausch and her collaborators at Tanztheater Wuppertal.
1980
is one of her seminal never-to-be-forgotten works, the first to follow the death of her partner,
Rolf Borzik
. This revival at Sadler's Wells dominated an excellent month for dance in London.
1980
is a transitional work, signposting the way to her later, monumental, landscaped works for which
Peter Pabst's
designs are so vital. The 19 long-serving dancers in these performances included four who had performed in the work's premiere, 34 years earlier, and their collective maturity provided an appropriate relevance to a performance that is all about the passage of life. The work is littered with episodes reflecting the consequences of aging but it also ripples with comedy, rebellion and life-affirming optimism.
Honourable mentions
Arthur Pita's sexy, cheeky new frolic for Ballet Black – A Dream Within a Midsummer Night's Dream – had _"genius writ larger than a Banksy wall mural" (25 February)
Drew McOnie used the intimate setting of the Brideswell Theatre to create an all-singing, all-dancing theatrical experience with a great score and outstanding choreography in Drunk (14 February)
Slanjayvah Dance's thoughtful take on dancers and injury in Jenni Wren's Minor Tears (11 February), just one of many excellent performances during the annual Resolution! Festival at The Place.
Annie Hanauer's sexy, futuristic portrayal of a Queen Elizabeth I clone in Lea Anderson's Miniatures for Candoco Dance Company at Laban Theatre (28 February)
Lauren Cuthbertson's triumphant return as Aurora in the Royal Ballet's The Sleeping Beauty (22 February)
Disappointments
Cloud Gate Dance Theatre's Rice proved to be a dull and unappetising subject for dance theatre (22 February)
The cancellation of a performance of Tetractys – the Art of Fugue by the Royal Ballet because of a lack of cover for injured Natalia Osipova (8 February)
---
MARCH
Flamenco Festival London, Sadler's Wells
This annual festival continues to showcase an exciting array of both the traditional and contemporary aspects of an art that fully integrates dance, song, guitar, percussion and dress into great emotional performance. Highlights included
Sara Baras'
sentimental tribute to the great guitarist,
Paco de Luciá
(who had died a few days' earlier) at the conclusion of
La Pepa
, her tribute to the birth of the Spanish nation (1 March); the flamenco royalty of
Belén Maya
and
Manuel Liñán
in
Trasmin
, a lively modern take on traditional flamenco (10 March); the noble, deeply expressive and imperious dancing of
Mercedes Ruiz
in
The Five Seasons
(11 March) ; and the charismatic ebullience of
Farruquito
in
Improvisao
(18 March). This was a really exhilarating fortnight.
Honourable mentions
Ivan Vasiliev's towering account of the young man's journey towards death in Roland Petit's Le Jeune Homme Et La Mort as part of the Kings of the Dance programme at the London Coliseum (19 March)
Luca Silvestrini's hard-hitting Border Tales at The Place, introducing the staggering new talent of Kenny Wing Tao Ho (13 March)
Disappointments
Hofesh Shechter's Sun still didn't warm me at the second sitting (20 March)
The gothic-infused array of random thoughts spawned by the Professor Branestawm-style imagery of James Thiérrée's Tabac Rouge (25 March)
---
APRIL
English National Ballet's Lest We Forget
Barbican Theatre, 2 April
Tamara Rojo's
Statement of Intent for
English National Ballet
in this programme of new works inspired by the centenary of the outbreak of the Great War proved to be one of those rare evenings of dance that lives long in the memory. Eighteen months into her job as ENB's artistic director, Rojo stamped a more contemporary, cutting edge into the company's ethos with a trio of new works by
Liam Scarlett
(
No Man's Land
),
Russell Maliphant
(
Second Breath
) and
Akram Khan
(
Dust
), which between them have earned a slew of nominations for the 2014
National Dance Awards
. The outstanding critical and popular success of the programme demonstrated that Rojo is taking
ENB
towards new horizons, as later confirmed by the performance of an extract from
Dust
at Glastonbury in front of a live audience of tens of thousands and TV viewing by millions.
Honourable mentions
Christopher Wheeldon's outstanding achievement in turning The Winter's Tale into a ballet in which the central themes of Shakespeare's drama are delivered with notable clarity (10 April)
The visual spectacle and outstanding dancing, notably by Oleg Gabyshev in the title role, in Boris Eifman's Rodin at the London Coliseum (15 April)
Another successful output from the Royal Ballet's Choreographic Affiliate programme, bringing Mayuri Boonham's diverse and fascinating choreography to wider attention in*

ATMA

Dance's* Ex Nihilo/The Human Edge (29 April)
Disappointment
The confusing narrative lines of Alain Platel's Tauberbach by Les Ballets C de la B at Sadler's Wells (8 April)
---
MAY
Northern Ballet
Linbury Studio Theatre, Royal Opera House, 10 May
The cavernous
Linbury Studio Theatre
underneath the
Royal Opera House
came into more effective use in 2014 as exemplified by this first visit to the theatre by Leeds-based
Northern Ballet
. Three episodes of pure dance, each of which differed substantially in style, were equally lifted by the expressiveness and precision of the dancers. The programme also introduced three choreographers not much seen in London, two of whom (
Lar Lubovitch
and
Hans van Manen
) are masters in the genre of modern ballet and the third (
Kenneth Tindall
), a young man embarking on a similar journey and clearly travelling with some style. His
Luminous Junc.ture
was powerful emotional choreography handled with considerable sensitivity. It was an unusual and special occasion to see one of the UK's best companies in these intimate surroundings.
Honourable mentions
Nuno Silva's tribute to his homeland of Portugal by examining A Darker Shade of Fado, a mix of Portuguese song, dance, food and wine in a dining/cabaret experience at Greenwich Dance (16 May)
Rambert's

ABC

of Contemporary Dance (Alston, Bruce, Cunningham and Childs) at Sadler's Wells (20 May)
ENB's Emerging Dancer Award (jointly won by Junor Souza and Alison McWhinney) gained in professionalism, spectacle and excitement through an upgrade to the Lyceum Theatre (usually home to The Lion King) (19 May)
Disappointments
90 minutes' of mind-numbing, naked tedium in Ballet Du Nord's Tragédie at Sadler's Wells – a "…catwalk for the Emperor's New Clothes" (24 May)
The pre-packaged slickness of Flash Mob at the Peacock Theatre where the rawness and spontaneity of earlier iterations of the brand had all but evaporated (28 May)
---
JUNE
English National Ballet's Romeo and Juliet
Royal Albert Hall, 11 – 22 June
ENB's annual summer season of in-the-round performances of
Derek Deane's
unique choreographies returned to
Romeo and Juliet
for 2014 with a series of unforgettable performances. The opening night was taken by artistic director-come principal dancer,
Tamara Rojo
, appearing with
Carlos Acosta
in an evening where the whole ensemble rose to the task as one. Rojo's charisma and passion for the role of Juliet absorbed the voluminous space like a sponge, creating a magical kinesphere of intimacy in which to radiate the power and subtlety of her sophisticated sense of drama. The season also saw two farewells, firstly with
Elena Glurdjidze
saying goodbye to performances at the
Royal Albert Hall
and then on the final day, the last performance of ENB's long-serving senior principal ballerina,
Daria Klimentová
, retiring on the eve of her 43rd birthday. After an emotional performance, reunited with her partner,
Vadim Muntagirov
(who transferred to the
Royal Ballet
at the beginning of the year), the whole stage was filled with people and flowers in a rapturous, sentimental goodbye from a loving public, which left few dry eyes in the Hall.
Honourable mentions
Rasta Thomas and his Bad Boys of Dance rocked the Peacock Theatre with the appropriately-named Rock the Ballet , led by the show's artistic director and choreographer, Adrienne Canterna, who was also its star turn (13 June)
An unusual deconstruction of the Swan Lake story by young South African choreographer, Dada Masilo as part of the Sadler's Sampled season (18 June)
Also in Sadler's Sampled – a very satisfying package of Eastman and Sidi Larbi Cherkaoui's "greatest hits" in a programme entitled 4D (24 June)
Disappointment
The very short (45 minutes) show by Bruno Beltrão and Grupo de Rua de Niteroi at Sadler's Wells (3 June) although it was considerably enlivened by the breakdance jam of the curtain call
---
JULY
The Russian Seasons of

XXI

Century
London Coliseum, 8 – 13 July
The jewel in the crown of this excellent season, (a co-production of the
Natalia Sats Theatre Moscow
and the
Marius Liepa Foundation
) vying for our attention in the final days of the Football World Cup, was the opulent recreation of
Rimsky-Korsakov's
satirical opera-ballet,
Le Coq d'Or
, by former Bolshoi Ballet star dancer,
Andris Liepa
, and opera director,
Georgiy Isaakyan
. The sumptuous, colourful designs, delicious music and glorious singing outweighed the more modest descriptive dancing but the production brought back to life a significant piece of arts history. Later programmes included delightful performances of
Petrushka
,
Chopiniana
and
Scheherazade
in stellar evenings that were concluded by the rip-roaring finale of the
Polovtsian Dances
from
Borodin's
opera
Prince Igor
with
Pavel Okunev
becoming a human crackerjack in delivering
Nijinsky's
famous role as the Polovtsian warrior, criss-crossing the stage in an explosion of leaps and somersaults.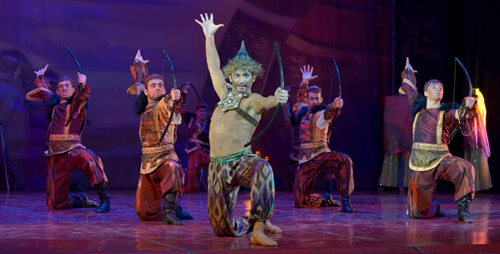 Honourable mentions
The 'unfailingly absorbing, enduringly profound' pairing of Sehnsucht and Schmetterling by Nederlands Dans Theater at Sadler's Wells (1 July)
Opening on the night of Brazil's soccer humiliation (losing 1-7 to eventual World Cup winners, Germany), the excellent musicians and dancers of Brasil Brasileiro replaced soccer with the samba as their triumphant national emblem (10 July)
The soulful experience of the final London performances at the London Coliseum of

PUSH

by Sylvie Guillem and Russell Maliphant, still delivering dance entertainment of the highest order (30 July)
Also still dancing at the very peak of her form, Wendy Whelan (for 23 years a Principal at New York City Ballet) gave a rare opportunity to appreciate her considerable skills and expressive presence in Restless Creature at the Linbury Studio Theatre (25 July)
Notwithstanding its museum feel, the Leonid Lavrovsky choreography for Romeo and Juliet, still has the capacity for surprise and an opening of the Mariinsky Ballet season at The Royal Opera House brought back English dancer, Xander Parish, as Romeo, alongside Viktoria Tereshkina's Juliet (29 July)
Disappointments
New English Ballet Theatre's ambitious programme of five new works at the Peacock Theatre didn't quite match up to the achievement of last year's show (9 July)
Carlos Acosta's Cubania didn't gel as a structured programme, seemingly more a haphazard compilation of past highlights (21 July)
---
AUGUST
ZooNation Youth Company's
Groove on Down the Road
Queen Elizabeth Hall, Southbank Centre, 8 August
Known as "Zick", the ZooNation Youth Company delivered
Kate Prince's
modern-day take on
The Wizard of Oz
(and
The Wiz
) and in a flight of fancy equal to anything conjured up by
L. Frank Baum's
imagination, this show's greatest sleight of hand was to have constructed a truly professional West End-worthy production from the performances of young, amateur dancers under the age of 19. This satire on the running down of the creative arts within the school curriculum has been brought to the stage with an eclectic and fast-moving score by
D J Walde
and was held together by some remarkably mature performances.
Honourable mentions
A rare opportunity to see George Balanchine's A Midsummer Night's Dream, as performed by the Mariinsky Ballet (9 August)
Xander Parish's engaging performance as Apollo in the Mariinsky Season (8 August)
Arthur Pita's Facada provided the highlight of Solo for Two for a bouquet-wielding Natalia Osipova in this story of a wedding gone badly wrong (6 August)
Disappointments
Facada aside, two extraordinary dancers – Osipova and Ivan Vasiliev- were not well enough served by their material in the opening works of Solo for Two (6 August)
The modern designs for Alexei Ratmansky's Cinderella, which made the fairy tale magic harder to achieve, despite Diana Vishneva's lovely performance in the title role (15 August)
---
SEPTEMBER
INALA
Sadler's Wells, 17 September
The serenity of
Ladysmith Black Mambazo's
hauntingly beautiful sound, coupled with the earthy neo-classical choreographic language of
Mark Baldwin
, as performed by an ensemble of excellent dancers including
Mbuelo Ndabeni
and
Dane Hurst
, created the unique experience of this 'Zulu Ballet'. The show was at its best when the dancers and singers were one single harmonious unit and the intuitive rhythmic movement of the choir was indistinguishable from the professional dancers. This was a remarkable debut success for the new production company, the
Sisters Grimm
(comprising Royal Ballet dancer,
Pietra Mello-Pittman
and composer
Ella Spira
).
Honourable mentions
The second GOlive festival in the intimate setting of the Lion & Unicorn Theatre, Kentish Town, comprising many interesting first runs and some welcome returns, notably a second chance to see Hanna Wroblewski's uninhibited visceral solo My heart became this monster (14 September)
The inaugural Strike! festival in the unique surroundings of Wilton's Music Hall, and in particular a remarkable solo of impactful serenity and softness by Ieva Kuniskis performed by Darius Stankevicius (25 September)
Disappointments
Some peculiar affectations in Mats Ek's curious interpretation of Juliet & Romeo for Royal Swedish Ballet (25 September)
An underwhelming opening to the Royal Ballet's 2014/15 season with a lack of spark and impact in Manon (26 September)
---
OCTOBER
Birmingham Royal Ballet
Sadler's Wells, 14 and 17 October
BRB
lit up the autumn with two programmes at Sadler's Wells, which were about renewal and reinvigoration. The opening show brought back
David Bintley's
dark and gothic interpretation of
Beauty and the Beast
, enriched by the decaying grandeur of
Philip Prowse's
designs. This was followed by a triple bill of works lurking obscurely within the
Shadows of War
, beginning with the glamorous, languid insouciance of
Kenneth MacMillan's
Le Fin du Jour
and ending with the boundless, Scottish bounce of Bintley's
Flowers of the Forest
. Between these pieces came the reconstruction (as closely as possible) of
Robert Helpmann's
Miracle in the Gorbals
, with music by
Sir Arthur Bliss
, designs by
Edward Burra
(reawakened by
Adam Wiltshire
) and Helpmann's lost choreography reshaped by
Dame Gillian Lynne
(one of the last surviving performers from the original 1940s casts).
Miracle in the Gorbals
was a major landmark in the development of British ballet, especially in terms of its no-holds-barred realism, and this close facsimile of the original is a very welcome return.
Honourable mentions
Zoi Dimitriou's deconstruction of the art of creating choreography set a new benchmark for a retrospective on an artist's body of work in The Chapter House at Laban Theatre (2 October)
Wendy Houstoun's daring, draining and disarmingly charming Pact with Pointlessness at The Place (7 October)
Rocío Molina continued her visionary quest to marry explosive flamenco artistry with modern dance theatre in Bosque Ardora, part of Dance Umbrella at Barbican Theatre (17 October)
The absorbing impact of superbly structured and well-paced dance theatre in New Adventures' and Re:Bourne's Lord of the Flies at Sadler's Wells (9 October)
The freestyle skating dudes of Le Patin Libre at Alexandra Palace Ice Rink – Dance Umbrella's impressive alternative to Dancing on Ice (29 October)
Olivia Cowley's assured and ethereal performance in the title role of Ludovic Ondiviela's Cassandra at the Linbury Studio Theatre which also saw the very welcome return of Mara Galeazzi to performing at the Royal Opera House (31 October)
Disappointment
It is hard to find one in an excellent month, but perhaps one might cite the repetitive chorography in the programmes at Sadler's Wells by Grupo Corpo (1 October) and Tao Dance Theatre (20 October) although both shows had many redeeming factors.
---
NOVEMBER
Akram Khan and Israel Galván in Torobaka
Sadler's Wells, 4 November
Masters of their own universes,
Akram Khan
and
Israel Galván
provide flashes of kathak and flares of flamenco in this mutual association of two classical dance forms, but mostly their show is about the shared command of rhythm. Tapped, clapped and tutted by feet, hands and voice in this heavyweight contest featuring two of the most outstanding and charismatic dancers of the current generation. In this conversation between two giants of the stage the expressiveness of their spell-binding dancing is enriched even further by
Michael Hulls'
lighting designs.
Honourable mentions
Revisiting Mark Bruce's superb interpretation of Dracula at artsdepot, Finchley with Jonathan Goddard's towering performance in the title role (26 November)
A forceful, absorbing double bill by James Cousins Company Without Stars and There We Have Been at The Place (21 November)
The irresistible charm of Marianela Nuñez and Carlos Acosta in Don Quixote (25 November)
The varied and fascinating mix of Phoenix Dance Theatre's quadruple bill at the Linbury Studio Theatre (27 November)
The emergence of a new and exciting Spanish choreographer in the Provisional Landscapes programme by Avatâra Ayuso's

AVA

Dance Company in the Lilian Baylis Studio, Sadler's Wells
New Movement Collective's continued breaching of the fourth wall in Please Be Seated at Southbank Centre's Purcell Room (19 November)
Disappointments
Liam Scarlett's The Age of Anxiety for the Royal Ballet (13 November)
A weighty triple bill without sufficient variation of theme or narrative by Rambert Dance Company (18 November)
---
DECEMBER
Dominic North in Matthew Bourne's Edward Scissorhands for New Adventures
Sadler's Wells, 10 December
This melting pot of '50s Americana is the recipe for a frothy, wholesome production of
Edward Scissorhands
(faithfully based on
Tim Burton's
eponymous film) that underlines
Matthew Bourne's
credentials for being both the best storyteller in dance theatre and the greatest showman since Barnum.
Dominic North
gave a superb account of the wide-eyed innocent "boy" manufactured by the love of a grieving father and the spectacular visual appeal is derived from
Lez Brotherston's
designs, oozing with a particular sense of a timeless, wholesome, mid-American Community where Hope Springs eternal, but something sinister lurks behind the veneer. Melting, tingling, uplifting and above all – great entertainment.
Honourable mentions
Tamara Rojo's endearingly expressive object lesson in stagecraft as the grown-up Clara/Sugar Plum Fairy in Wayne Eagling's The Nutcracker for English National Ballet (13 December)
ZooNation's ebullient, exciting account of The Mad Hatter's Tea Party at the Linbury Studio Theatre, topped off by a richly comic performance by Teneisha Bonner as the Queen of Hearts (18 December)
Disappointment of the month
None!
---
Top Ten Performances of the Year
Alina Cojocaru in Le Corsaire; Oleg Gabyshev as Rodin (in Boris Eifman's Rodin) as Rodin; Israel Galván in Torobaka ; Jonathan Goddard as Dracula; Akram Khan in Dust and Torobaka ; Dominic North as Edward Scissorhands ; Marianela Nuñez in Don Quixote ; Pavel Okunev in Polovtsian Dances ; Natalia Osipova as Giselle; Mercedes Ruiz in the Five Seasons (Gala Flamenca)
Event of the Year
Daria Klimentová's farewell performance at The Royal Albert Hall
Company of the Year
English National Ballet
Five young choreographers to watch
Avatâra Ayuso, James Cousins, Drew McOnie, Kenneth Tindall, Hanna Wroblewski
---


Graham Watts is a freelance dance writer and critic. He writes for Dancing Times, Dance Europe, Shinshokan Dance Magazine in Japan, Londondance.com, Dancetabs.com and other magazines and websites in Europe and the USA. He is Chairman of the Dance Section of the Critics' Circle and of the National Dance Awards in the UK. Find him on Twitter @GWDanceWriter
Photo: Tanztheater Wuppertal Pina Bausch 1980 by Ulli Weiss
Leave a comment
You must be signed in to post comments.