Feature:

Report from the Fringe
Anyone with an interest in dance would have been spoilt for choice at this year's Edinburgh fringe, which featured a programme packed with some of the most interesting companies and choreographers creating work today, writes Rachel Elderkin.
Zoo venues, with its two theatres Zoo Southside and Zoo Sanctuary, played host to a brilliant programme of works, as did Dancebase with a selection focused more on solo artists and small companies. The Welsh dance strand had a stand out piece in Gwyn Emberton Dance with My People. The fringe also featured the first IF platform, a showcase for integrated companies and disabled artists and, given the strength of the work on show, there will be many more to come. Marc Brew's For Now, I Am… offered a captivating and strikingly honest look at Brew's journey of reconciliation with his transformed body following the car accident which nearly took his life. A powerful and very personal work, this piece was a clear highlight, of both the platform and of dance at the fringe.
While there were some big names at this year's festival, ( like Sylvie Guillem touring her final show Life In Progress), there were many real gems to be found at the smaller venues. Zoo and Dancebase, with their dance filled days, had a definite buzz about them. It's difficult to select the highlights from the wealth of work on offer, difficult even to see all the shows you would like to see. Here are my reviews of some of the work I saw at Zoo…
SWEETSHOP REVOLUTION: I Love You and I Loved You
Zoo Venues: Zoo Sanctuary
Sweetshop Revolution's new work I Loved You and I Loved You tells the story of Morfydd Owen, a prolific but little known Welsh musician and composer who died at just 26. Directed by Sally Marie, I Loved You and I Loved You explores Morfydd's relationships both with her husband, the psychoanalyst Dr Ernest Jones, and the man she yearned to love.
Three dancers portray the roles of Morfydd and her lovers and each full heartedly embodies their character. They are accompanied by the gorgeously pure voice of soprano Ellen Williams and pianist Brian Ellsbury and together, these performers bring Morfydd's story, and music, to life. Through a combination of speech, song and movement her tale unravels, the occasional letter offering a personal and touching insight into her thoughts and emotions.
The petite Faith Prendergast is ideally suited to the role of Morfydd. She imbues her character with a youthful innocence that shimmers in the opening scenes under the attentions of her admirers, but which later slips into a sense of Morfydd's distress and longing. She has a delightful way of using every inch of her partners' bodies, no more so than in an early trio where, doll-like, she is repeatedly passed between the two men, her body rigid in a seated pose.
The duets that run throughout this piece beautifully capture the developing relationships between the three characters. In Morfydd's meeting with Jones (Daniel Whiley) the two flirtatiously pass an apple between them, Jones holding it just out of her reach. It's a charming scene with an underlying image of fatal temptation. It lies in contrast to a later duet with dancer Karl Fagerlund Brekke where, against a backdrop of Jones' psychoanalytical ravings, Morfydd seeks solace in her lovers' imaginary presence.
The staging throughout I Loved You and I Loved You is so finely tuned that each moment in this story has the space to take its place. Even the nude male solo, which could so easily become more for effect than purpose, is perfectly placed; a fitting image of Jones' intense attachment to his work. Not one movement in this work is wasted, each has an element of its story to tell, an aspect of its character to reveal, and the dancers bring Morfydd's tale to life with every step they take.
The last mournful song, sung with a tender sorrow and danced with raw emotion, offers an ideal closing note. You feel you understand Morfydd's tragic story, so sensitively has this work been choreographed, each character been portrayed. In I Loved You and I Loved You Sweetshop Revolution have produced a work of beauty and quiet brilliance.


STOPGAP DANCE COMPANY: ARTIFICIAL THINGS
Zoo Venues: Zoo Southside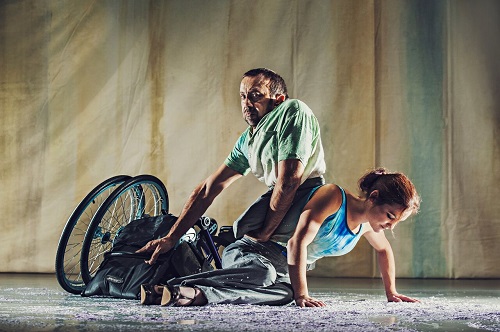 This year's Edinburgh Fringe plays host to the first IF Platform, a showcase featuring some of the UK's best disabled artists and integrated arts companies. Among these is Stopgap Dance Company with one of their newest productions, Artificial Things, a work that aims to question our notions of co-existence. While most of this piece is open to interpretation there is an overriding sense of the company's five performers (plus unusual guest artist Henry the Hoover) each finding a way to work with one another.
The result is an inventive and visually stunning production. Like snippets of scenes from a movie, the performers move through a series of vignettes, each giving a fleeting impression of the relationships that exist between them. Tentatively they discover one another, using props, bodies and objects in the most imaginative of ways.
Stopgap's creativity is one of the strengths of this company and in Artificial Things it leads to many memorable moments. In the opening scene a glass cabinet encloses David Toole, like a mannequin from a vintage fairground. His charismatic performance, trapped behind the glass, is both visually striking and sorrowful; a nod towards the artifice of entertainment. In another beautiful twist, dancer Amy Butler holds up a mirror exchanging faces with Chris Pavia who, anguished by the image he sees, takes his own life.
The inventiveness of Stopgap's choreography allows a unique insight into the on-stage relationships being built before us. A gentle duet, where wheelchair dancer Laura Jones rests against her upturned seat while Toole weaves around its metal structure is a moment which captures both the intimacy and awkwardness of human relationships.
Through its cinematic style of heightened reality, Artificial Things hints at the endless possibilities of existence in a world of differences. It's a bold and colourful look at life and friendship and, intentionally or not, a touching celebration of individuality.

JOSEPH MERCIER/PANICLAB: R.I.O.T
Zoo Venues: Zoo Sanctuary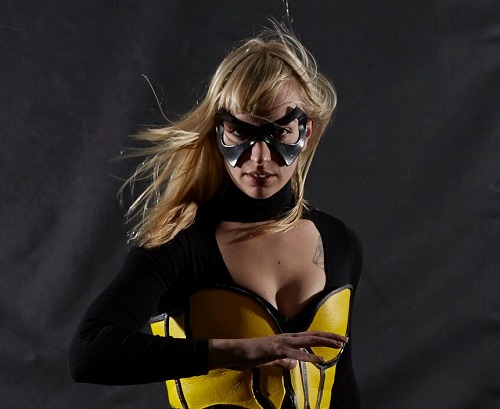 Even if you're not a comic book fan there's probably been a time when you've wished for superhero powers. In R.I.O.T, PanicLab's four performers get to bring this dream to life with their hilarious and highly entertaining take on the comic book genre.
Performance maker Joseph Mercier leads the way as idealised superhero Captain Patriot, accompanied by his energetic 'Sidekick', Jordan Linnie, and seductive supervillains Mind Games (Sabrina Gargano) and Vixen (Tess Letham). The somewhat convoluted plotline moves through many twists and turns as the performers reveal how they gained their powers and forged their alliances. Any confusion though is completely intentional. Mercier himself steps out of character to question what's going on as his fellow performers re-arrange the story at their will.
This on-stage bickering is the key to R.I.O.T's success. PanicLab pull apart comic book conventions as origin stories are made and re-made, superhero powers grown bored of and re-invented. Mind Games and Vixen question their sexualised stereotypes, flatly refusing to fight in high heels or put on a "sexy" voice. The company's tongue-in-cheek approach is both funny and intelligent and lifts this show above that of a simple comic book replica.
Of course, a superhero show wouldn't be complete without some action packed fight scenes and R.I.O.T has these aplenty. The sharp and punchy choreography is packed with lifts and tricks, the performers throwing themselves, and each other, across the stage. They are as much stuntmen as dancers; their highly physical feats of daring are flawlessly executed, the punches thrown surprisingly realistic. This on-stage action is accompanied by bold and colourful projections which add the obligatory 'splat' and 'kapow' and a catchy, upbeat soundtrack.
Ultimately, R.I.O.T is a lot of fun and the performers seem to enjoy themselves as much as their audience. Yet it also manages to offer a moral take on comic book culture, questioning truth, gender stereotypes and the controlling influences of power.

JAMES WILTON DANCE: LAST MAN STANDING
Zoo Venues: Zoo Southside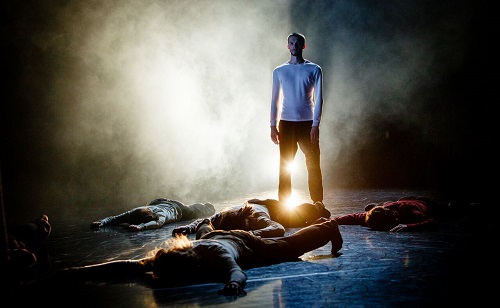 From the moment Last Man Standing bursts onto the stage with its physically powerful, fast-paced choreography, it barely pauses for breath. The dancers dive and fly around the space, leaping across each other's bodies with moves that test their trust and timing. James Wilton has been touring this work since 2014 and this experience shows in the assurance of the dancers as they run headlong through his challenging choreography.
Based on Terry Pratchett's novel The Last Hero and the Greek myth of Orpheus and Eurydice, Last Man Standing explores the will to survive and it is this theme which leaves the strongest impression in what is otherwise an abstract work. Driven by a heavy guitar soundtrack Wilton's movement tests its dancers' stamina, pushing them to exhaustion until just one is left standing. It's a pattern that repeats as the piece moves between scenes, interspersed with the occasional duet. These duets allow for a break in the onslaught of movement but among their close contact work there remains a vying for control, the same individualistic sense of survival.
There is no doubting the strength of the dancers or choreography, but as Last Man Standing ploughs steadfastly along it begins to feel somewhat self-indulgent; impressive movement danced for the sake of making an impact. It redeems itself in its rather beautiful closing solo, danced by Sarah Jane Taylor. Slowly she peels herself off the floor, like a broken creature regaining its body. Granted, the movement builds again, returning to Wilton's highly physical style, but it's a moment that adds meaning to the surrounding choreography. It leaves a lasting image that resounds throughout the piece; an image of our instinctive will to survive.


2FACED DANCE: DREAMING IN CODE
Zoo Venues: Zoo Southside
Three tents glow softly on stage. A single man emerges, lamp in hand, and calls out into the darkness; a monologue of broken phrases, hinting at loneliness and fear. Eddie Kay's Milk Night, the first work in 2Faced Dance Company's double bill Dreaming in Code, plays on the company's all-male status to question how men would survive in a world without women.
The piece moves through a series of scenes as it explores these ideas providing the audience with a tantalising glimpse of a wider picture; one which, confusingly, is never quite revealed. One moment a dancer is hunched, twitching, stuttering snippets of dialogue; the next they are disco dancing beneath the glittering light of a mirror ball. Milk Night flits between such moments of seriousness and light-heartedness, giving the work a distinct vulnerability that continually challenges its scenes of male bravado.
The only female presence is a brief projection of a skype call, watched by a shadowed male figure. It's an uncomfortable image of longing and frustration and a recognition of the necessity of both sexes.
The short film that follows the live performance develops the playfulness of the male relationships seen on stage, but does little to progress the narrative. In Milk Night there is no real escape from its opening sense of loss and confusion – but perhaps that is the point.
Tamsin Fitzgerald's Lucid Grounds bursts onto the stage in an explosion of energy. It offers a change in pace and allows the dancers to showcase their technical skill. Their movements breathe strength and masculinity as they throw themselves across the space; one instant diving, balancing and lifting each other, the next switching to a graceful ease as they move through more intricate choreography.
Inspired by memories, Lucid Grounds explores the blurred line between what is remembered and what is reality. This may not be obvious on watching, but it matters little. The relentless pace of the choreography builds a mounting tension like caged energy and this resounds through every element of the piece. The backdrop of mirrored sheets shimmers with the pulsating bass of the music, while in their surface we catch glimpses of reflected movement as the dancers swirl by in grey, matrix-style coats. Even as the dancers melt into the blackness of the stage the tension of the piece remains, like an ever tightening elastic band which never quite breaks.
A contrasting double bill, Dreaming in Code may allow 2Faced Dance to demonstrate both their theatrical and technical abilities, but it is Fitzgerald's Lucid Grounds which leaves a lasting impact.


Rachel Elderkin is a freelance dancer and dance writer. She has written for a number of arts publications and regularly contributes to theatre site downstagecentre.com. Twitter: @Rachel_Elderkin
Leave a comment
You must be signed in to post comments.