News:

Nobody's Baby dance marathon - 100 hours on...
In June we reported on the start of Arthur Pita and dancers' 100 hour dance marathon at Greenwich Borough Hall (home of Greenwich Dance) – part of the research for a new production Nobody's Baby inspired by the dance marathons of the 1930s. Ambra Vernuccio went back for the final few hours to take more photographs and talk to Arthur…


Ambra Vernuccio: When you started the marathon it was all very upbeat, but you said you expected things would transform over the week. So how did it go?
Arthur Pita: The aim of this Research & Development project was to experience the endurance as experienced by the contestants in the 1930s, as well as R&D concepts, movement, characters, structure for the actual show we aim to create next year called Nobody's Baby – a dance marathon . So in fact there were two aims. The dancers and I were working to the schedule of the 1930s dance marathon, which is dance 45 minutes then rest for 15. Every 12 hours an hour is allowed for showers. We also eat the correct period diet and eat at the times as they had originally scheduled.
We worked physically developing movement, tasks, building characters and improvising till we reached 17 hours. The dancers had reached full exhaustion both mentally and physically, and when I noticed how pale and weak they were looking I decided we all take a two hour nap to refresh. This helped and it was it this point that I realised in order to achieve both aims of endurance and to do proper research for a show we would need to do cot periods (naps) so I could keep working the 100 hours as a R&D as well as experience what happened in the 1930s. So by the end we had slept 17 hours within the 100 hour goal. I made it clear from the start the need to "discover and not suffer" and discover we certainly did.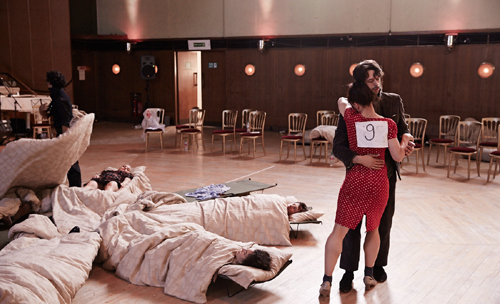 Tell us about the lows & highs..
Even though we were enduring exhaustion, I was surprised that were no low moments. I thought perhaps we would have got moody and irritable and some arguments or walk outs would have happened, but we did not experience any of that behaviour. It might have been the fact that we had 1930s songs constantly playing or Frank Moon's wonderful music with the live band. Music is an powerful influence on behaviour and it's difficult to get moody when for example Louis Armstrong is singing a gorgeous tune.
The highs were many. 2am in the morning always seemed to be the high of the day, just in terms of creativity and giddiness. 'We're in the money' a number we created to celebrate 50 hours was total joy to watch. I also got very excited about Boulevard of Broken Dreams where the band played quietly, parading around, while the contestants were asleep. The MC would then wake them up with a bang and they would dance what I called an "opium tango".

Will you work with the same dancers for the production in 2014?
ABSOLUTELY ! They are all amazing performers and committed to the idea of the 100 hourrs R&D with full passion and compassion for each other. I could not have been in the room with a better group. [ Helen Ashauer, Bettina Carpi, Amir Giles, Benny Maslov, Kate Emma Nelson, Scarlett Perdereau, Nuno Queimado, Jordi Serrats, Ewan Wardrop ] They took ownership of their characters and now have a true sense of what it really felt like in the 1930s. The audience are in for a treat.
Has this experience changed your original perception of the dance marathon? Did you learn anything unexpected?
I had perceived the marathons to have been quite simple in terms of organisation. This is certainly not the case. It took a lot of people just for us to achieve 100hours – in terms of organising meals, showers, technical needs, bedding etc. They ran for months, and had to plan ahead.
One of the big questions I had was whether it was possible to sleep standing up while your dance partner supported you. Of course we had to be exhausted enough to try this out. We certainly reached this point of exhaustion and the dancers did in fact achieve sleeping standing up while being supported. Watching it I realised why these marathons were so popular in the '30s as this exercise was both touching and humorous to watch, as well as a high anticipation that they might fall to the ground (which would have meant disqualification). Gripping.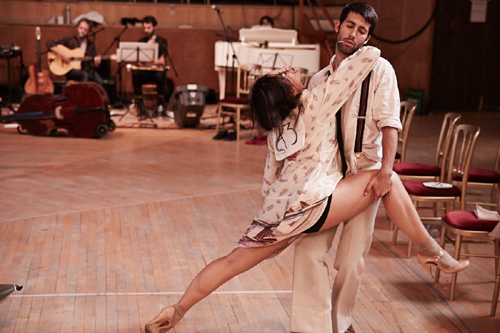 Did this workshop follow your usual creative process – did you do something similar for The Metamorphosis?
Every piece I do seems to have a different process. I enjoy finding the process which I hope will help me earn the piece. During the creation of The Metamorphosis I was having major work done on my house. I used to come home, open the front door and fall into a dark hole. I then had to climb up a ladder into the existing living room to then get to the bedroom. There was no hot water and one working plug for a lamp. I could have stayed with a friend, but I decided to stay home and embrace the domestic challenge as it was feeding into the creative process. For Nobody's Baby I decided we needed to discover what it felt like being in the same room for 100 hours.
I do always like to have a structure of the piece before I go into the room. I write it on cards so I can change the order around. I always need a desk with research books, notes and always coffee.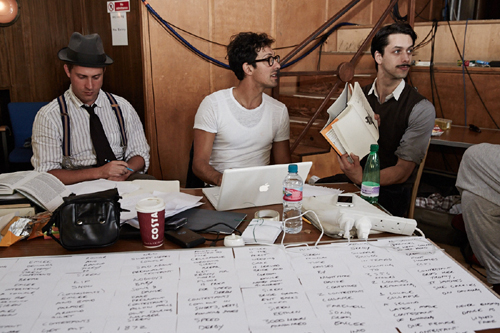 Arthur Pita's Nobody's Baby will be produced in 2014
www.arthurpita.com
Photos & report: Ambra Vernuccio
Leave a comment
You must be signed in to post comments.