Feature:

Kenrick Sandy & Michael Asante on the return of 'The Five...'
The Five and the Prophecy of Prana ,Boy Blue's epic production combining hip hop, martial arts and manga inspired video animation is back at the Barbican for four shows next month. Lyndsey Winship talks to co-creators and directors, choreographer Kenrick 'H2O' Sandy and composer/musician Michael 'Mikey' Asante…


The seed for Kenrick Sandy and Michael Asante's latest show, The Five and the Prophecy of Prana, was planted long before they ever started a dance company. As sixth formers in East London, the friends were fans of Japanese manga films and comics. Sandy would draw his own cartoons, and the pair created their own manga character Wang Tang.
A decade or so later and that cartoon became the central figure in The Five… a fast-moving comic caper, mixing hip hop and martial arts. "It stemmed from a picture," says Sandy. "This is what happens when me and Mikey create work – it could be from a joke, a conversation; one person inspires the other and it just becomes a volcanic eruption."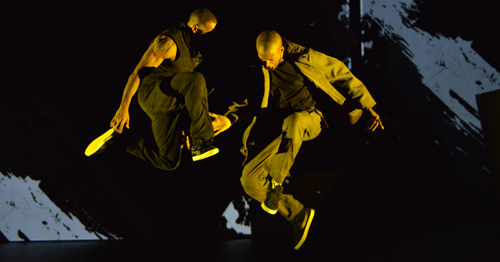 Sandy and Asante, aka Boy Blue Entertainment, first erupted onto the dance scene in 2006 with their 21st-century take on the Pied Piper story, transplanted from medieval Hamelin to urban London with a tightly choreographed chorus of street rats. Transferring from Theatre Royal Stratford East to the Barbican, the show scooped an Olivier Award and announced choreographer Sandy and music producer Asante as a new voice in British hip hop.
The company went on to work on more shows, the film StreetDance3D and Danny Boyle's triumphant Olympic Opening Ceremony, for which Sandy choreographed the 'Thanks Tim' segment, a digital love story that led up to the appearance of world wide web creator Tim Berners-Lee. After that it was back to the stage, and they set out to create a new production, which was to be their most ambitious work so far.
The first idea was that they wanted to do a comedy. "Up until that point we'd done a lot of dark work," says Asante. "We wanted to make something that was lighter." Then came manga – their love for which had not waned since school. "It's a known fact that no matter what, men will always look at cartoons," says Asante. "It's a geeky thing for us." They thought of Wang Tang, and things started falling into place.
The appeal of manga is partly about bending the rules of real life, something called 'manga physics', where flying leaps can be suspended in the air for minutes on end, but also about the surrounding philosophy. Manga stories are often based on ancient ideas, noble quests and serious morals. "It's always rooted in something quite deep," says Asante.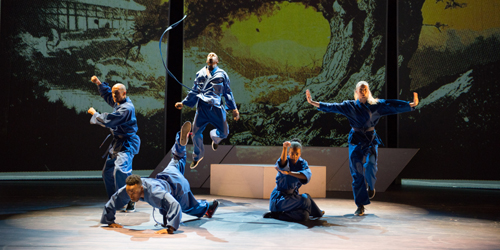 They took a research trip to Japan, working with manga artist Akio Tanaka, soaking up influences from the Tokyo streets, visiting manga libraries, and watching kabuki and noh theatre. Asante met kodo drummers, for whom physical training is as important as musical practice. It's based on the idea of the drum as a mirror, he explains. "Anything you're putting in you're going to get back; if you're not hitting it with purity you're not going to get that back," says Asante. "That changed my process and my way of thinking about the work I create."
Sandy took instruction in wushu martial arts from the monks of the Shaolin temple, from whom he learned the importance of form – "Not just throwing moves out", Sandy explains. "If your form is right and your centre is strong then your power becomes great," he says, sounding like a true sensei. Sandy was also impressed by the monks' creativity and the parallels between their martial arts practice and b-boy battling, where they are forced to be endlessly inventive within a basic repertoire of moves. "Even though you have your stances and your foundation, you can't go by the book, you have to be creative."
All of those experiences fed into the creation of The Five…, a story of five ne'er-do-well delinquents who are sent off to a rehabilitation camp run by a martial arts grand master. Little do they know he's the Guardian of Prana, a secret warrior group who protect a peace-keeping spell, and when one rogue warrior tries to seize power, an epic good versus evil battle ensues.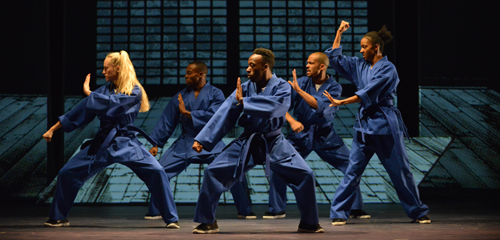 Sandy ultimately combined elements of taekwondo and wung chun martial arts with his armoury of street dance moves, to create a hybrid dance form for the show that's full of explosive energy and stylish set pieces. Those moves are performed by a cast of fantastic dancers, including Tommy Franzen, a finalist on TV's So You Think You Can Dance, and a hugely versatile and in-demand performer who has appeared with contemporary choreographer Russell Maliphant and popular hip hop company ZooNation in their hit show Some Like it Hip Hop.
The Five… debuted at London's Barbican theatre in 2013, and Boy Blue were pleased with the response. "People said they hadn't seen anything like it before," says Asante. "We're pushing the genre to another level," he says, "not just churning out the same stuff, the standard dance movie plots: girl meets boy; trying to save the youth centre because it's going to get closed down, so they put on a show…"
The pair are eager to keep breaking new ground. "Doing this show has made me hungry to push Boy Blue further in the next couple of years," says Sandy. "Watch this space."
Boy Blue The Five and the Prophecy of Prana
Barbican Theatre, 2 – 4 October www.barbican.org.uk
and touring the UK until 15 November. Dates & venues: http://thefivetour.co.uk/tour-dates



Lyndsey Winship is the dance critic of the Evening Standard and contributes to many other publications.
Photos: Hugo Glendinning
Leave a comment
You must be signed in to post comments.