Feature:

Edinburgh - a risk assessment
Ben Duke, Artistic Director of Lost Dog, is one of the hundreds of artists who are taking a show to Edinburgh this August. The show has already been premiered as part of The Place at Battersea Arts Centre season earlier this year (to full houses and several enthusiastic reviews) – but he still finds it necessary to conduct a risk assessment…


This August I am performing a one man show I have created at the Edinburgh festival. It is called Paradise Lost (lies unopened beside me). It is an attempt at staging Milton's epic 80,000 word poem in 70 minutes.
What do you risk?
I risk failure. In this case I think failure would look like this – a slightly desperate, financially ruined, middle aged man dressed like God performing to a crowd of three people who came in hoping I was in some way connected to Paradise Lost, the UK gothic rock band. Success looks surprisingly similar only there are more people watching.
But actually that image of failure is not so frightening. I am used to small audiences, an ever present feeling of desperation and financial embarrassment. I think what scares me is that these symptoms trigger something more profound, something biblical. It is a large disembodied hand which writes on the wall of the dressing room 'You have been weighed in the balance and found wanting'. I think most performers have a version of this hand, some are probably more modest, a note on a napkin maybe that just says, 'has anyone found you out yet?'. They both amount to the same thing, a sense that out there, there is some kind of universal authority that knows you are not good enough. The psychotherapist would say my sense of inadequacy comes from within. Either way, be it a disembodied hand or a microbe in my gut, it is hard to fight, and usually I would choose not to. If I saw the hand preparing to write that phrase I would enter into a series of deflecting tactics that would make it disappear. My two favourites are to blame the performers or to blame the lack of time. Or both. The excuses not only deflect – they also make me feel better. They build up this idea that my process is so complicated that it is only with a few incredibly gifted people and months of time to spare that I am able to create anything half decent. But for this show my excuses are worthless. I am the only performer and if I can't make sense of my own contradictory choreographic instructions then no one can and also I've had plenty of time. Plenty. So this is why Edinburgh is risky. Because if it goes badly there are no excuses. There is no one else to blame. This is all about me.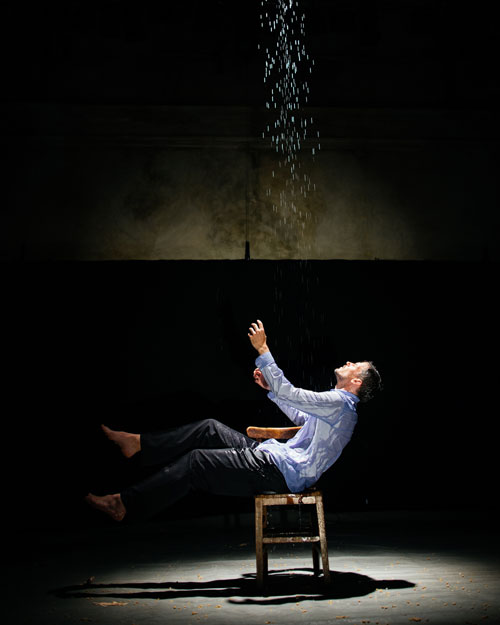 I am choosing to express myself. But the medium in which I am choosing to do that means I am asking for judgement. Today there are much easier ways to publicly express oneself. The internet for example. It is so easy to express yourself publicly that there is no time to consider the world's need for what it is you are expressing. The picture of your dog licking its balls is sent before you really considered the pros and cons of sharing that with the world. Were I the owner of that dog, and I wanted to share that particular moment with the world, I would be considering how to turn it into a piece of theatre. And because it would take me a great deal of time and money to create that piece of theatre, (rehearsal space, performers, designers to design and build the animatronic dog, or maybe a highly trained dog that could perform the licking at a precise moment, but then that dog would come with a dog wrangler who would be expensive to tour with… etc) I would have plenty of time to consider if this was a piece of theatre the world needed to see. And if I decided that it was, I am making a presumption that other people should see this. If I'd just sent the picture via Instagram the presumption is a lot less. Non-existent even because it was done so quickly. And so if people abuse me and my picture I am immune to their criticism because I just did it for a laugh, it doesn't say anything about me, if you hate it what do I care? But the piece of theatre is not done so easily; it is a commitment and because of that it is saying 'This is me, and my dog, and I want you to see it because I think it has the potential to make your day better than it would otherwise have been'. And so if then people hate it I cannot deflect their criticism by saying it's not me, I don't care, because it is me, and I do care.
So that is the end of my risk assessment. I feel better for it. I have outlined the worst case scenario and it looks like this… It is August 30th and I am sitting in a makeshift dressing room in Summerhall, there is a disembodied hand writing on the dressing room wall and I am setting up an Instagram account and trying to buy a dog. It could be much worse.


You can catch Ben Duke in Lost Dog's Paradise Lost (lies unopened beside me) from 5 – 30 August as part of The Place at Summerhall in the Edinburgh Fringe Festival programme.
Ben Duke is a Work Place Artist at The Place.
www.theplace.org.uk/workplace
This article was first published on the South East Dance blog.
Photos: Zoe Manders
Leave a comment
You must be signed in to post comments.