On 29 May 1913, Sergei Diaghilev's Ballet Russes performed Le Sacre du printemps [ The Rite of Spring ] with music by Igor Stravinsky and choreography by Vaslav Nijinsky, at the Théâtre des Champs-Élysées in Paris, for the first time. Things were never quite the same again. The avant garde nature of the music and choreography caused a near riot amongst the audience – and the effects of the groundbreaking score are still felt today.
The centenary is being marked with performances around the world and across London you can catch a range of work showing how Stravinsky's Rite continues to resonate. At Sadler's Wells, 28 May – 1 June Akram Khan presents a new work iTMoi [In the Mind of Igor] especially commissioned for the centenary and RIOT Offspring 8 June is a large scale community piece produced by the theatre's Creative Learning Department; at Chisenhale Dance Space, on the actual anniversary, Birthday Rites promises to be a provocative programme of three new commissions and at Southbank Centre, Meryl Tankard – who danced in Pina Bausch's hugely influential Rite of Spring – presents the UK premiere of a solo she's made on dancer Paul White, using Stravinsky's music. We asked some of the artists and directors involved in these celebrations – and some others – how Stravinsky's masterpiece has influenced them…
Stravinsky said that The Rite of Spring was inspired by the violence of the cracking ice that heralded the beginning of the Russian Spring and I love this idea. I heard the piece first on a cassette tape when I was 18 and to me, at that time it sounded more like rock music then the work of one of the greatest classical composers of the 20th century. The first production I saw was Pina Bausch's masterpiece. I was 25 and it was in Amsterdam. I still remember the energy that rose from the pit. I think it was inevitable that I would eventually create a production working with this music. It is the music that inspired me. I will never grow tired of listening to it. It's almost supernatural in its power to effect change. Stravinsky was truly a genius! Michael Keegan Dolan, Artistic Director, Fabulous Beast Dance Theatre
Fabulous Beast Dance Theatre's The Rite of Spring & Petrushka is part of Sadler's Wells String of Rites & was performed in London in April. Further performances take place in Galway in July]
The première of The Rite of Spring has gone down in history as a moment when a work of art created huge controversy, as it demonstrated a gap between what an artist created and what the public were ready to receive. History later proved it to be a work of genius and one that has influenced and stimulated other creators ever since – particularly choreographers who have seen it as a kind of rites of passage moment in their creative lives.
I wanted to celebrate the centenary but not by creating a whole batch of new choreographed versions. So the three evenings in the String of Rites are responses to the themes in the original work, but also responses to Stravinsky as composer, artist and human being. So Michael Keegan Dolan takes two major works of Stravinsky including the Rite, Akram Khan looks to the man and his mind as the inspiration and our Creative Learning team will give 80 non – professionals of all ages the chance to say what this music means to us now in RIOT Offspring. Alistair Spalding, Artistic Director/CEO, Sadler's Wells [ Akram Khan Company iTMOi 28 May -1 Jun; RIOT Offspring, 8 June]
I can pinpoint exactly when I first became aware of Stravinsky. It happened when I was 13, in Bangladesh, passing a music shop with my cousins. A cousin asked if I knew whose music was playing, and when I replied that I didn't, my cousin said, "Well, that's Stravinsky and he's from Paris." I was embarrassed, so that first encounter with The Rite of Spring left an indelible mark. That moment was really revealing because I was showing off as 13 year-olds do, telling all my cousins that I knew classical music, and then I was caught out not knowing something composed in my own back yard. My cousin explained all that he knew about Stravinsky but I didn't really listen to him as much as I did to the hurt voice in my own ego! Akram Khan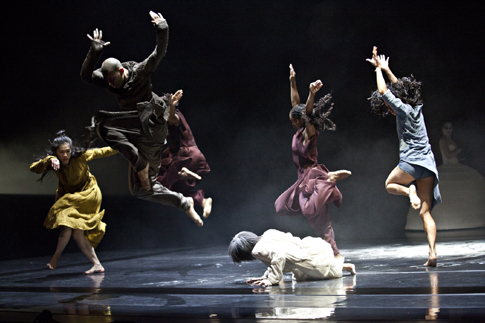 Akram Khan Company's iTMoi (In the Mind of Igor) is part of the A String of Rites series at Sadler's Wells, 28 May – 1 June [Photo: J Louis Fernandez]
I never wanted to make a Rite of Spring ever, because I had danced in Pina's masterpiece when I was in the Wuppertaler Tanztheater in the '80s. In 2009 I was working with Paul White and Regis Lansac in a studio, developing ideas and movements inspired by the paintings a of Scandinavian painter, called Odd Nerdrum. This was a period of pure experimentation. Having just one dancer to work with, and filming the results every day, allowed me to really focus on small details of the body, as a painter would do. Odd's paintings take you into a world of strange, lonely, humans lost in desolate, harsh landscapes struggling in their environment. This world brought back memories of Ingmar Berman's Virgin Spring; a film that really made a deep impression on me as a young child. During this creative time we were using mostly medieval music, but one day Regis and I were looking at the footage of Paul dancing an 'earthquake', and I felt I wanted to overlay the sound track from one of the movements in The Rite of Spring. It was a revelation and at that moment the idea of creating a choreography on the whole Stravinsky score seemed a possibility. Paul could be all the characters and I felt this version would have nothing owing to Pina's version. From that moment on, it all made sense. Meryl Tankard [choreographer of The Oracle – UK premiere at Southbank Centre, 31 May]
The Oracle explores the forces of nature, and the strengths and vulnerabilities of man. It's about foreseeing inevitable futures, and the sacredness of the earth. The epic score of Stravinsky's The Rite of Spring drives these themes with full force. It is a humbling experience to hear and dance to this wondrous music and at each performance I am touched by its power and command. Once the piece commences, I feel I am propelled forwards into an inescapable passage. The music is incredibly complex, and each theatre season, I discover subtle rhythms and instruments newly, which alter how I hear and interpret the entire piece. At times I am lifted into the air by its whimsy and then pummeled into the earth. The sacrifice is unavoidable and each note is one step closer to the ultimate moment of doom and surrender as the last bar is played. Paul White [dancer]
The UK premiere of Meryl Tankard's solo for Paul White The Oracle is at Southbank Centre, Fri 31 May
I discovered the Rite of Spring through Pina Bausch's heart pounding spectacle. I was hypnotised by those dancers in the earth, and those rhythms seeping under my skin. I was left in awe and speechless. Since then, I've had years of dance-watching. And not much has been able to deliver quite the same power. Since then, I've also discovered the Ballets Russes, and the role of Diaghilev as a creative producer in the context of the early 20th century, has been a very inspiring one for me: producers can initiate, bring together artists, shape a vision, and have great impact. To mark the 100th anniversary of this heritage, of the untamable score, the outrageous costumes, the provocating artistic offerings, I've commissioned three artists to respond to it. On the exact day of the celebration, Chisenhale Dance Space will resonate with the notes of the Rite of Spring, but contemporary artists will bring it to another level and direction, shaking and twisting this heritage to say something about the now. the here. the us.
Clara Giraud, Producer, PanicLab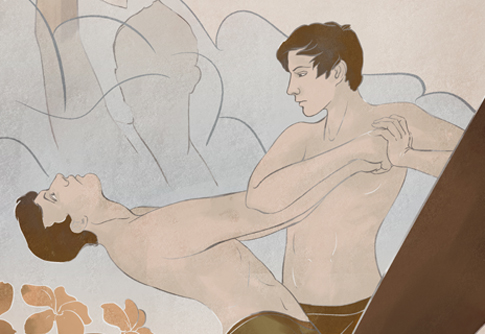 Birthday Rites an evening of new work, Chisenhale Dance Space, 29 May



The Rite of Spring changed the way dance moved forward. Stravinsky's score was an assault on the senses and Nijinski's original choreography inverted every tradition of ballet.
My first experience of a live performance of The Rite of Spring was a concert I attended as a student at the Royal Opera House. I was taken to it by Sir Kenneth MacMillan as part of choreographic prize and I remember him talking about his own production which I later saw – It was inspirational. Even though the story is complex and layered, there is a great simplicity in its composition and themes which I wanted to bring to my version – making it relevant to today. So while my version differs greatly to his in that it involves only three people as opposed to a large ensemble cast, it still explores rites and sacrifice but is a very clear story about two brothers.
Christopher Hampson, Artistic Director Scottish Ballet [Scottish Ballet's version of The Rite of Spring will be performed at the Edinburgh International Festival, 18 Aug & as part of a double bill at Theatre Royal Glasgow, 26 – 28 Sept ]
The first time one hears Stravinsky's extraordinary score for The Rite of Spring, is rather like the first time one encounters the sea or tastes Indian food – it's an experience like no other. The music is so rich in tone and colour, so rhythmically dynamic, and so unique in its expression, that it would be very surprising for it not to evoke a strong response in any listener. For choreographers therefore, 'Rite' offers both an immense source of inspiration, but also a significant challenge: not only, to be able to offer a vision as compelling as some of the iconic dance works already created to this music by master choreographers such as Pina Bausch and Kenneth MacMillan, but above all, the huge and inescapable challenge of matching the sheer intensity of Stravinsky's score and doing justice to the primal imaginations that it conjures so effortlessly as it builds to its breathless climax.
Kenneth Olumuyiwa Tharp, Chief Executive of The Place
I first came in contact with the Rite of Spring in History of Ballet in school. This involved both listening to and studying the original work. It was both fascinating and inspirational and I longed to step back into history and be a part of that incredible choreographic and musical depart from the traditions of the time. I did end up dancing the version by Constantine Patsalas in the National Ballet of Canada my very first season. In fact I danced five different places in the first season. This became one of my favourite leading roles, always a physical challenge, and I will never forget performing it in Hamilton to the full orchestration. Later in my career I became familiar with the Béjart version which I did not end up dancing because of knee problems. It remains one of the most powerful pieces of music written for dance and seems to continue to act as a gauntlet to challenge many choreographers. I myself prefer to watch others attempt to find their way through this music and will always remember dancing it.
David Nixon, Artistic Director, Northern Ballet [Northern Ballet's The Great Gatsby is at Sadler's Wells, 14 – 18 May ]
To me, Rite of Spring was an insurmountable mountain. It also represents a classic work that transcends any one era. To this day I still have an intense passion to create something to it, to communicate with it! TAO Ye, TAO Dance Theatre, [Sadler's Wells New Wave Associate Artist]
I first saw the Rite of Spring as a student at the Royal Ballet School and remember feeling a mixture of fascination and confusion at the strange and unfamiliar movement vocabulary set to the pounding rhythms of Stravinsky's music. Learning that this piece had originally been choreographed in the early twentieth century opened up a new perspective on ballet for me by showing that this pure, codified form of movement was being challenged and deviated from almost a century earlier, and a lot had clearly happened since. The place the Rite occupies between classicism and modernism has made it for me a constant point of reference, which has unsurprisingly been the case for many other choreographers whose versions of the Rite I've had the pleasure of watching and learning from over the years. The ability of the score to connect dance with something deep and raw, a pureness of feeling, perhaps, as opposed to form, has been an appealing prospect for so many great dance makers and is undeniably so for me.
Alexander Whitley [ A New Wave Associate Artist at Sadler's Wells, will perform an excerpt from his new work The Measures Taken at Sadler's Wells Sampled, 28 & 29 June ]
Many years ago I took the boat across from Copenhagen, where I was working, to Malmo in Sweden. Pina Bausch was performing Café Muller and Rite of Spring in a double bill there. I stayed in the auditorium during the interval, and watched the most intricate stage choreography take place as the technical team wheeled on metal trucks with mattresses on top, and proceeded to put the mattresses on the floor, tip the trucks up, and rake of huge amounts of earth very carefully and evenly all over the huge stage. When the piece was performed I remember thinking that I had to try and drink it in hard. To experience it totally in the moment. It dawned on me, in my rather slow way, that this was a masterpiece, that I was witnessing first hand, live, and intense, right in front of me. Years later we presented it here at Sadler's Wells, and I thought just the same. A work to be lived with and lived in and lived through as intensely as possible. Wonderful.
Emma Gladstone, Artistic Programmer and Producer, Sadler's Wells & Artistic Director of Dance Umbrella from October 2013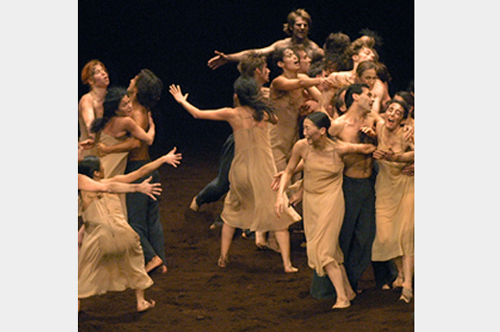 The Rite is a landmark of modern thinking in dance, and a piece that was to inspire some of the best choreographers to come. Stravinsky's score unleashed a force that will keep us dancing for ever.
Eva Recacha,choreographer. [Place Prize 2013 Finalist.]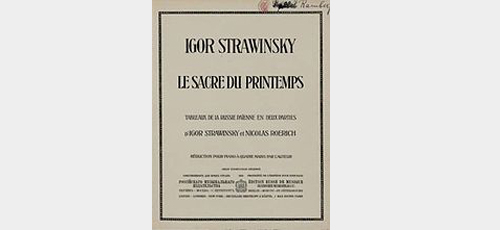 Akram Khan Company,iTMoi, Sadler's Wells, 28 May – 1 June
Birthday Rites, Chisenhale Dance Space, 29 May
Meryl Tankard, The Oracle, Queen Elizabeth Hall, Southbank Centre, 31 May
Leave a comment
You must be signed in to post comments.