Feature:

Africarmen - Bizet's tale, Tavaziva style
From Matthew Bourne's re-staging of The Car Man at Sadler's Wells in the summer, to Carlos Acosta's version for the Royal Ballet this month, London has seen a flurry of Carmens lately, but Bawren Tavaziva's Africarmen, set in Equatorial Guinea, with music from Fayyaz Virji of Warriors International, promises something different yet again. It was Mats Ek's contemporary dance version, first created for the Cullberg Ballet back in 1992 – alongside the musical film Carmen: A Hip Hopera (starring Beyonce Knowles) – that inspired Zimbabwe born and now London based Bawren to make his own twist on the classic tale. Rachel Elderkin went to meet Bawren and see the show in rehearsal at the Bernie Grant Arts Centre, where his company are based, before the show set off on a UK tour, which includes two nights at The Place on 13 & 14 November…


Set in an oil rich, military dictatorship in Equatorial Guinea, Tavaziva's Africarmen follows the lives of a group of villagers, working tirelessly for a tyrannical gang master. The main connection to the traditional story is through the alluring temptress, Carmen. "'I kept the idea of the love triangle relationship" explains Tavaziva. "This woman Carmen, everybody loves her, she knows she can get any man and takes advantage of that." The old themes of desire and deceit may be to the fore but Africarmen's modern day setting gives Tavaziva a chance to bring light to issues he feels concerned by – the corruption of power in oil countries and human rights. "There is a lack of equal rights in Equatorial Guinea; I wanted to show how corrupt the big people are in oil countries. My work gives me a chance to speak about this, about human rights". Brought up in Zimbabwe, such issues are important to Tavaziva. _"I have to believe in the story that I'm trying to tell. I couldn't manage to get to Equatorial Guinea for research so I looked at my upbringing [in Zimbabwe]; my fears basically, things I was scared of – and women who behaved in 'certain ways'. That helped to create something I could believe in."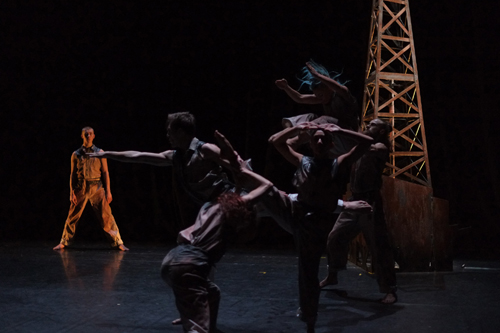 The relentless movement of Tavaziva's choreography pushes his cast of six dancers to their limits, evoking a sense of forced labour and an uncomfortable scene of attempted rape. Yet it's not all darkness and simmering tension. Somewhere along the line we end up in the "city", at a boxing match complete with ring girls clad in neon wigs and tropical print bikinis.
When you think of Carmen it is likely that the music of Bizet's famous opera comes to mind. His score captures the flamenco spirit, a tradition of Spanish culture which, with its percussion and rhythmic movement, is not so far removed from the strong rhythms of African dance. It's a parallel that influenced Tavaziva when he chose Equatorial Guinea, the only Spanish speaking country in Africa, as the setting for Africarmen. "The Spanish feel to Carmen, its movement and percussion, is something that attracted me and that I thought would work well with the African rhythms. I watched a lot of versions during my research – the whole company went to watch the opera [at English National Opera] – but I thought the 'Hip Hopera' was very different; they rap when they are talking. In the village section at the beginning of Africarmen I thought about playing around with voice, with shouting, perhaps teaching the company my language, to see if this added anything. Then I thought, 'if I could be quiet what happens? I tried it in silence and in the end this worked better."
Strands of Bizet's score can still be detected, but most of the music in Africarmen is a new composition by Fayyaz Virji of Warriors International. As a choreographer who usually composes his own music, this collaboration was somewhat unusual for Tavaziva, but one he was keen to pursue. "Working with Fayyaz was amazing. He's a very creative, very experienced musician. I would send him some music of a similar idea to what I wanted and he'd come up with something unique, something fresh. I learnt a lot from working with him."
When an operatic score is so closely associated with a story using a new musical composition not only creates an artistic challenge but brings risk as well. However, when music is a central part of your creative process it's probably a risk worth taking. "The right music brings out ideas for the choreography," says Tavaziva, and it's a risk that's paid off. In Africarmen the music is a driving force, propelling the dancers through their tireless movement and building an ever tightening atmosphere that suits the work's dark themes of desire and unrest.
Virji was not the only collaborator on the production. Alongside creative advisor Neville Campbell, Tavaziva also worked with dramturge Chris Fogg (who has recently collaborated with choreographers including Shobana Jeyasingh and Alexander Whitley). For someone who describes himself as an 'abstract' choreographer, working with a dramaturge whose ideas had a more literal form was another of Africarmen's creative challenges. "My work is about what I know and feel, so I wanted to challenge myself to do something risky and Carmen is a risky piece to re-make. That challenge drew me to create Africarmen and working with Neville and Chris was part of that challenge as I knew I'd work differently with them."
The result is an abstract, dance-led work, where a hint of a narrative just pushes through. It gives an intention to the detailed, highly technical choreography that is characteristic of Tavaziva's work. The thread of the story does at times get a little hard to follow but the dancers attack their movement with an energy and power that dominates the piece. You could go and see Africarmen purely for the joy of watching the company dance but it also does something different with an oft told story. As Tavaziva puts it, "Africarmen is its own vibe. We are keeping it fresh, challenging our perceptions of something that's been done before. I would like people to come and see that."
See Africarmen at The Place on Friday 13 & Saturday 14 November
www.theplace.org.uk
UK tour dates, until February 2016
tavazivadance.com
Photos: Manoj Nair & Photo: DILLONROSE.COM


Rachel Elderkin is a freelance dancer and dance writer. She has written for a number of arts publications and regularly contributes to theatre site downstagecentre.com. Twitter: @Rachel_Elderkin
Leave a comment
You must be signed in to post comments.